Management, Marketing & Supply Chain
The Department of Management and Marketing at East Tennessee State University offers programs in management, marketing, and supply chain management. These programs provide students with managerial and leadership skills to prepare them for jobs in industry, government, and not-for-profit. Our students learn how to help businesses and communities cope with the challenges and complexities of today's ever-changing world.
The College of Business and Technology's Department of Management and Marketing offers both undergraduate and graduate level degrees, as well as a number of concentrations that allow students to specialize in their field of study.
AACSB Accreditation
Both the Bachelor of Business Administration (B.B.A) in Management and the B.B.A in Marketing are accredited by the Association to Advance Collegiate Schools of Business (AACSB). Less than 5 percent of accounting and business programs worldwide have received this accreditation.
Career Services
Our Career Services department is geared toward your specific major and career goals. Career Services' dedicated business focus gives students the necessary resources and networking opportunities to excel post-graduation.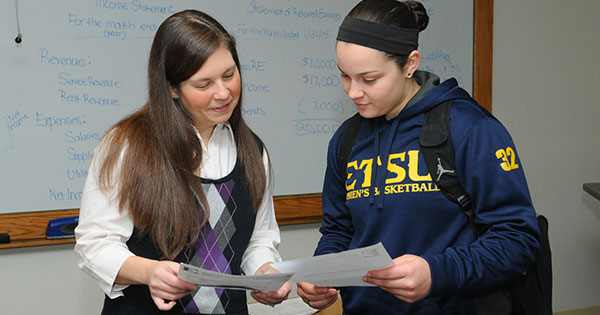 Student Organizations
There are 10 professional student organizations that business students can join. These organizations are designed to connect members with other students in the same field of study, give them real-world experience in their desired career path, as well provide them with networking opportunities.
Cross-Disciplinary Collaboration
While they come from diverse programs of study, they each play a vital role on the team. Because of each member's unique skills, the ETSU Analytics Team won 2nd place in the Champion® Analytics Case Competition this year. They competed against 11 other universities from across the United States.
Dawson Maddox (Mathematics, Chemistry, and M.A.T.


Jessica Owens (Communications, Marketing, and working on her MBA)
Aaron Barlow (Computing with a concentration in Information Technology)
---