LGBTQuillen+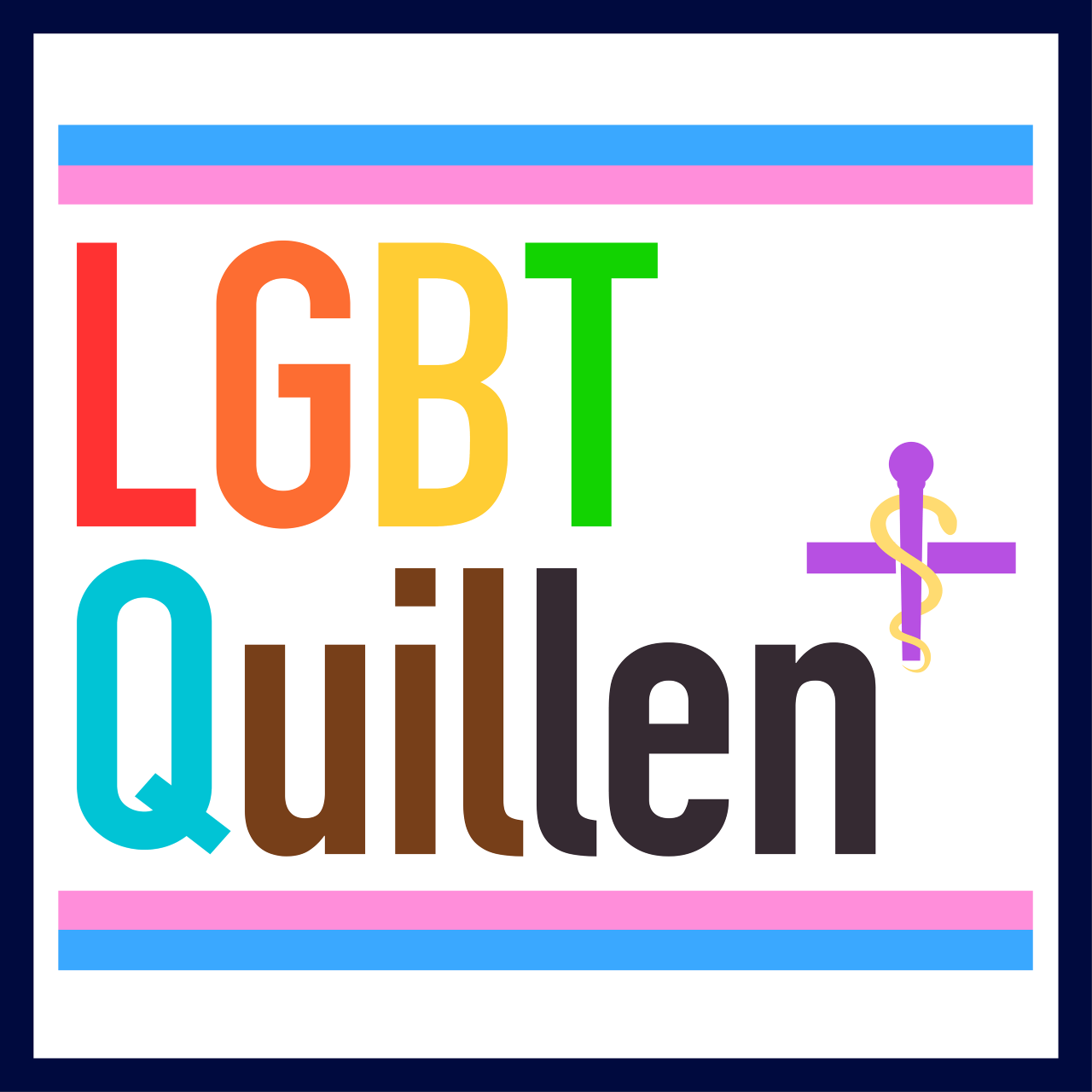 Welcome to LGBTQuillen+
Our group is made up of almost 90 individuals from four different colleges and professional programs. We want to make sure our organization's programming represents all colleges and professional programs under the ETSU Health umbrella. If you are a student who identifies as part of the LGBT+ community and wants to help lead our group, please click here to get in contact with us about joining our leadership team. Know someone who might want to join? Forward this email to them! Not a member yet? Join here!
The Library
Each month, we'll give you a book, a podcast, and movie or TV show that highlight the diverse experiences of LGBT+ folks around the world. Sometimes it will be related to medicine. Other times it won't. Depending on what is happening in the world, we'll cater our recommendations to fit larger social issues we may be living through collectively. If you have any suggestion for something to include here, email us! Please note: We are not being sponsored or receiving any compensation for the recommendations we include. These all come from our own book shelf, podcast apps, or movie watchlist.
Anti-Racism Resources for healthcare professionals, families, and LGBTQ+ allies
Every form of systematic and systemic oppression runs counter to the core values and beliefs of medicine: respect for autonomy, beneficence, non-maleficence, and justice. However, we must acknowledge historic and recent actions, research, and policies created and sustained by healthcare professionals and healthcare organizations that have marginalized and exploited peoples from different racial and ethnic communities.
At LGBTQuillen+, we are committed to connecting our members with resources specifically aimed to integrate anti-racist practices and resources into your current healthcare training programs, future healthcare practices, and daily conversations and interactions with friends and family. Below you will find resources from universities as well as Black and LGBTQ-led organizations specifically on these topics. We provide these in hopes of helping start or further your journey to become more aware of your own biases and privileges and to better understand how to be an active ally for the Black community and those within it who identify as LGBT+.
Anti-Racism and Healthcare
University of San Francisco - Multidisciplinary Resources
University of Washington - Healthcare equity and anti-racism
Black History Month - LGBT+ Stories
GLAAD - Black History Month Series
Pride Foundation - Black LGBT+ Stories
Anti-Racist Toolkit for Families of All Ages
Family Equality - Anti-Racist Toolkit for Families
Current books:
The Death and Life of Marsha P. Johnson
The Death and Life of Marsha P. Johnson (2017) chronicles the lives of Marsha P. Johnson and Sylvia Rivera. Johnson and Rivera were prominent figures in gay liberation and transgender rights movement in New York City from the 1960s to the 1990s and co-founders of Street Transvestite Action Revolutionaries. Marsha P. Johnson is now one of the most venerated icons in LGBTQ+ history, has been celebrated in a series of books, documentaries, and films. Her actions and words continue to inspire trans activism and resistance, and will continue to do so well into the future.
Marsha P. Johnson was tragically murdered on July 6, 1992 at the age of forty-six. Her case was originally closed by the NYPD as an alleged suicide, but transgender activist Mariah Lopez fought for it to be reopened for investigation in 2012. The film centers on activist Victoria Cruz's investigation into Johnson's death in 1992, which was initially ruled a suicide by police despite suspicious circumstances.
Black. Queer. Southern. Women. - An Oral History by E. Patrick Johnson
Drawn from the life narratives of more than seventy African American queer women who were born, raised, and continue to reside in the American South, Black. Queer. Southern. Women. - An Oral History powerfully reveals the way these women experience and express racial, sexual, gender, and class identities--all linked by a place where such identities have generally placed them on the margins of society. These narratives raise important questions about queer identity formation, community building, and power relations as they are negotiated within the context of southern history. Johnson uses individual stories to reveal the embedded political and cultural ideologies of the self but also of the listener and society as a whole. These life histories show how Black and queer women will and always have been an integral part of the patchwork quilt that is the South.
Click here for a list of 24 other books about and written by Black queer folks that you can read now and throughout the year to celebrate Black history and Pride.
Food 4 Thot's "Black Lives Matter"
A multiracial mix of queer writers talk about sex, relationships, race, identity, what they like to read, and who they like to read on Food for Thot. It's not about food — they just really like the pun. On June 5, 2020, the podcast came out with a special episode addressing Black Lives Matter on the day that would have been Breonna Taylor's 27th birthday. In this special edition popcorn episode, the podcast tackle specific aspects of the current moment: anti-racism, the police state, and protesting safely — among others! Find the podcast on Spotify, Apple Podcasts, or wherever you listen. Please note this podcast uses strong language.
UPCOMING AND PAST EVENTS
We are currently finished with our Spring 2021 series! Look forward to more events in Fall 2021!
Past events
Put Some PEP in Your Step (Feb. 3, 2021) with Dr. David Cluck (ETSU-BGCoP) - A discussion of PrEP, PEP, and other common medications that are invovled in preventing HIV/AIDS. Recording available
LGBTQuillen+Film Series: Paris is Burning Watch Party (March 13-15th, 2021) - Paris Is Burning (1990) chronicles the ball culture of NYC and the lives of Black, Latino, gay, and transgender communities involved in it in the late 1980s. The film is considered an invaluable work of art documenting the "Golden Age" of New York City's drag balls, which have been popularized in more recent media such as the hit TV show Pose.
Considering the intersection of gender identity & health (March 16, 2021) with Dr. Stacey Williams (ETSU-Psychology)