Spotlights Archive 01
Appalachian Highlands Home for Two East Tennessee Cardiologists
For cardiologists Dr. Vijay Ramu and Dr. Manar Jbara, Johnson City feels right at home.
Appalachian Highlands Home for Two East Tennessee Cardiologists 
For cardiologists Dr. Vijay Ramu and Dr. Manar Jbara, Johnson City feels right at home. 

Manar Jbara, MD, Assistant Professor of Cardiology, began his journey with ETSU as an Internal Medicine resident. While considering fellowships, he wanted to keep his options open. Dr. Jbara interviewed across the country but chose to continue his training with ETSU. This is due in part to the support and mentorship he received from the faculty and staff of the program. 

Toward the end of his training, a faculty opportunity became available within the division of cardiology. At that time, Jbara had been considering returning home, but soon realized how at home he found himself in Johnson City. "I feel connected to this region and the people, it would be very hard to leave. Johnson City is my new home—I feel like a southerner now." In 2020, Jbara accepted a position as Assistant Professor, and in 2021 was appointed Associate Fellowship Director.  
Before starting his career, Jbara knew it would be important to work in a place where he would be supported by his colleagues. Part of his decision to join ETSU was due to the relationships he developed with faculty. Recalling his experience with one faculty member Jbara states, "Over the years, I have learned a lot from Dr. Ramu — he has become a mentor to me. When I made the transition to faculty, Dr. Ramu treated me like a colleague right away. I can call him any time for anything."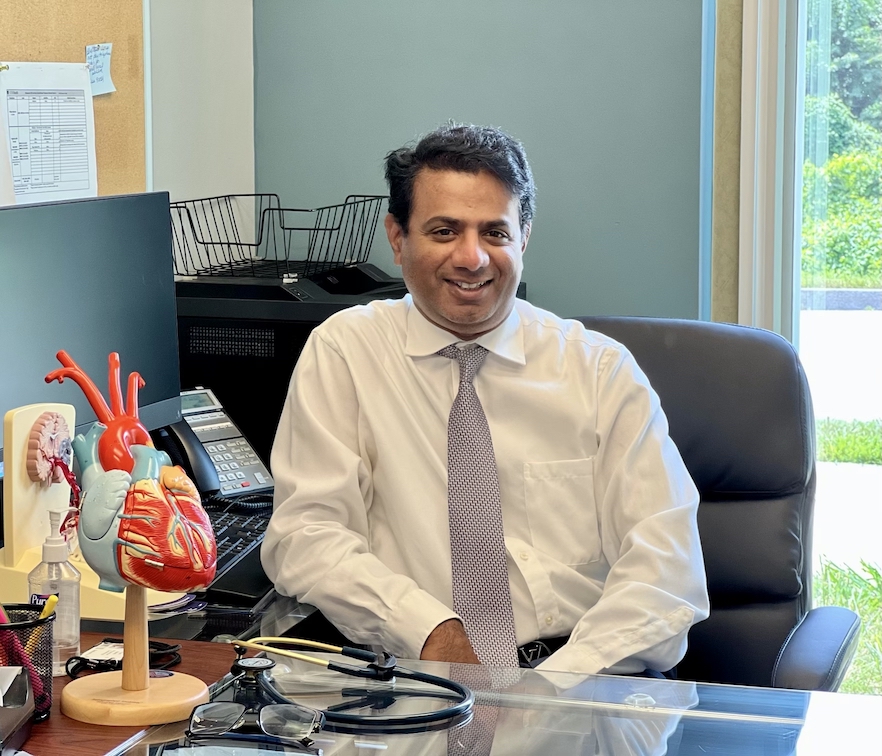 Vijay Ramu, MD serves as the Division Chief and Fellowship Director of Cardiology. Like Jbara, he also chose to complete his residency and fellowship with Quillen College of Medicine. Ramu explains, "Day to day life here is so good. I come from a very big city in India, population 11 million. When I came to Johnson City, I fell in love with this place. I always tell everyone, Johnson City is the best kept secret in the south." Dr. Ramu has been a member of our faculty since 2009 and was appointed as fellowship director in 2013. 

The patient-physician relationship is another reason Dr. Ramu and Dr. Jbara both chose to stay in the area after training. Speaking to the type of connections that can be made here, Dr. Ramu explains, "I feel there is something more in this area of Appalachia, people here genuinely care about you. They ask how you are, how your family is doing. I get to know my patients well." Ramu goes on by saying that as a young doctor, the way in which he wanted to care for his community, he was able to create here in Johnson City, exclaiming "you can't put a dollar sign on that!" 

Not only do they find value in their interactions with patients, but also from the climate in which they work. "There are many perks to working at ETSU, one being the environment," says Jbara. "The faculty and staff feel like family to me." Likewise, Dr. Ramu recalls a time when the staff went above and beyond to help him. "This is a fantastic place to work. The people here are family minded and have good values. I may have gone home tired on many occasions, but not once have I gone home regretting my decision to work with ETSU and the Appalachian community."

Aside from their work as cardiologists, Dr. Ramu and Dr. Jbara share an enjoyment for golfing, sports, spending time with family, and taking advantage of the region's many recreational opportunities. The Department of Internal Medicine wants to thank Dr. Ramu and Dr. Jbara for their contributions to the department and Quillen College of Medicine.  
this article originally appeared online on 7/25/22