Engineering, Engineering Technology & Surveying
Addressing Medical Shortages During Covid-19
Personal Protective Equipment Projects
Addressing shortages during coronavirus crisis
Despite the extraordinary circumstances surrounding the COVID-19 outbreak, the East Tennessee State University community remains united and committed to our mission to improve the lives of the people of our region. Whether you are a proud graduate, a student, a supporter, a fan or an employee, we are all 'Bucs' and we are all in this together. We can use our talents to help health care professionals and first responders on the front lines of the pandemic.
ETSU is home to many "makers" and "doers" working to meet the demand for personal protective equipment (PPE). This page is updated regularly with projects and opportunities for Bucs to contribute their time, talents and supplies to help our neighbors across the Appalachian Highlands, and beyond.
If you would like to add your project to this page, please contact virusresponse@etsu.edu.
Are you a maker?
Do you own a 3D printer?
Do you sew?
Are you interested in making personal protective equipment such as masks?
Are you able to donate supplies?


We want to hear from you!


Please fill out this form
A special THANK YOU to the following businesses and indivdiuals for donating products, services and time to make this project possible:
Eastman - Great appreciation to the Specialty Plastics Division and their wisdom in planning and design and products for the face shield.
Summers Hardware of Johnson City for hardware and materials.
Hillman Group of Cincinnati, Ohio – manufacturer of threaded screws, nuts and washers for shield assembly
Lowe's of Johnson City and the region. Special Thanks to Jason Bullis and his partners for their product contributions for early prototypes and manufacturing materials TO COMPLETE ASSEMBLY.
Ferguson Enterprises for specialty items for this unit that bring the shield together and make it comfortable.
Pryn Consumer Products of Spartanburg, SC, National distributor for Dritz strapping and sewing materials
Richard Diehl, Inc. of Jonesborough. Providing distant transportation of shield materials for the project.
INNOVEX of Surgoinsville, Tennessee. Their contribution of resin materials for the shields.
STREAMWORKS, a regional youth STEM education partner and collaborator on this project.
Borla Performance Exhaust Systems headquartered in Johnson City provided material cutting and design assistance. Special appreciation to Alex Borla for his design input and willingness to bring his resources to help our region's healthcare workers.
The Tennessee Department of Corrections and the corrections industrial wing, TRI-COR. Their willingness to help facilitate a larger scale assembly with the help of offenders that qualified to serve in the programs were a great addition to production to meet regional demands.
The Northeast Tennessee healthcare Coalition of hospitals, health care organizations and providers that provided the pipeline for delivery of face shields to the highest priority needs in the region.
Build Emergency Face Shields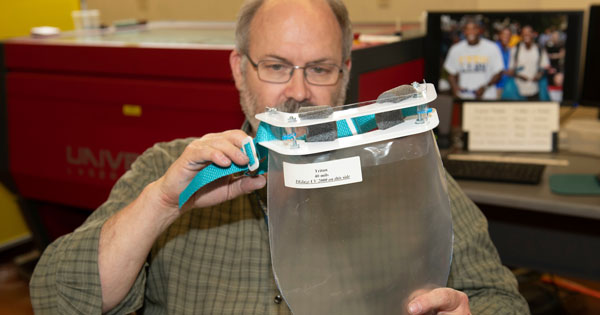 Health care workers on the front lines of the COVID-19 outbreak need personal protective equipment, or PPE, to reduce exposure and limit spread of the disease.
East Tennessee State University and community partners are addressing the shortage of medical equipment by developing and manufacturing face shields. Dr. Keith Johnson and Bill Hemphill from the Department of Engineering, Engineering Technology and Surveying developed a prototype that does not require a 3D printer.
You can help, too! This site provides a bill of materials and all the design and assembly files necessary for building face shields.
View and Download all the files you need to build Emergency Face Shields