Bachelor of Science in Professional Studies
Effective 10/7/2020, the Professional Studies program will suspend new applications.
The Bachelor of Science in Professional Studies can be completed totally online. Students must complete a concentration in either Information Technology or Organizational Leadership. The Information Technology concentration provides students with knowledge of the management information systems field and prepares them to work in information systems departments in business, industry, education, or government. The Organizational Leadership concentration provides students with the opportunity to develop management and communication skills applicable to work in management areas.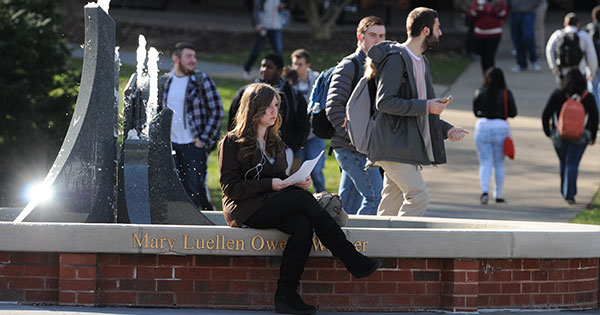 The BSPS program is offered through a partnership between ETSU and TN eCampus; the degree is conferred by ETSU. The BSPS may also be completed with a combination of online and on-ground courses at ETSU. Students completing the BSPS degree entirely online will take the majority of their courses via TN eCampus. These courses can be taught by faculty members from any Tennessee public institution of higher education and are completely online with the exception of proctored exams, which can be required in any course at the instructor's discretion. ETSU Online also offers online courses taught by ETSU faculty members. You will work with your advisor to determine which courses are appropriate for you.
BSPS Program Requirements
All Bachelor's degrees from ETSU require a minimum of 120 earned credits. All students must have an ETSU GPA of 2.0 and (if applicable) a transfer GPA of 2.0 to graduate with any degree from ETSU. All students within the Division of Cross-Disciplinary Studies must take a minimum of 12 credit hours as a declared BSPS major in order to receive a degree from the Division of Cross-Disciplinary Studies. All students earning a degree from ETSU are required to earn a minimum of 30 credits at ETSU (or online as an ETSU student) and a minimum of 50 credits at a 4-year institution. A student cannot graduate without having met all degree program requirements.
Learn more about Professional Studies (Information Technology concentration) program requirements and course sequence by visiting ETSU's Academic Catalog, here.
Learn more about Professional Studies (Organizational Leadership concentration) program requirements and course sequence by visiting ETSU's Academic Catalog, here.
What is the Bachelor of Science in Professional Studies?

The online Bachelor of Science with a major in Professional Studies is especially designed to meet the needs of those with limited access to higher education: typically, adult students whose work, place of residence, family obligations, or other responsibilities have made attendance difficult in traditional on-campus courses.

What is the Program of Study?

Your Program of Study is the written summary developed by you and your advisor. Together, you will chart the courses needed to meet ETSU graduation requirements and the BSPS degree program requirements. Overall, you will earn 120 hours of total coursework. The plan includes your previous college credit. Your advisor will give you a copy of this written summary for future reference.

Who is the typical BSPS student?

This program is most suitable for adults who have completed an Associate degree, or, at minimum, some college credit. Many students in this degree are already in a career and looking for opportunities to advance in their fields. Professional Studies is ideal for those students looking to move into information management or leadership positions within their organizations.

How can the BSPS help working adult students?



Because of its pre-determined concentrations, students wanting to change career paths or move up within an industry often find that this degree is desirable to management. For many BSPS students, the degree program offers the opportunity to hone skills already in existence. The BSPS degree program provides students with the opportunity to examine content and learn theory in the fields of their choice. It also encourages a high level of critical thinking and flexibility. Students will learn how to apply critical thinking in every facet of their degree program.

What is required to get started in the BSPS?

Apply and be accepted into ETSU. On the application, Identify Cross-Disciplinary Studies interest as your major.
1. Complete an interview. The application process for these degrees
2. includes an admissions interview designed to help students choose the best degree program for their objectives. The department will contact the applicant to schedule an interview online, in person, or by phone.
3. Be recommended for admission to the appropriate CDST degree. After the interview the academic advisor makes a recommendation on admission to a CDST degree program or refers them to another department.

Can I go on to graduate school?

Students interested in graduate school should check the prerequisites of the program to which they are interested in applying to determine alignment between their undergraduate program of study and graduate program admission requirements.
Speak to an Advisor
Lindsey Campbell
Academic Advisor
Division of Cross-Disciplinary Studies
Nell Dossett Hall, Second Floor
339 S. Dossett Drive
423-439-4223