Mathematics & Statistics
College of Arts & Sciences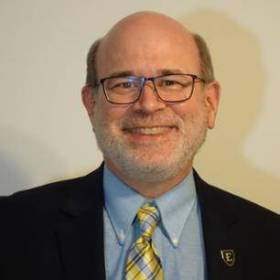 Daryl L Stephens
Interim Chair, Associate Professor, Math Minor Advisor, and Math Education Major Advisor
---
http://faculty.etsu.edu/stephen/
Dr. Daryl Stephens teaches mostly math education courses. Previously he taught learning support courses, initially in the Division of Developmental Studies, which was absorbed into the Department of Mathematics and Statistics in 2003. He served as associate chair of the department from 2011-2023 and as such was in charge of setting the schedule of classes for each semester. He became interim department chair in 2023. He advises students who are math majors with a concentration in secondary education and math minors. He holds a B.S. in Ed. in elementary education and an M.Ed. in public school administration from North Texas State University (now the University of North Texas, Denton), an M.S. in mathematics from Texas Woman's University, and a Ph.D. in education from the University of Tennesee - Knoxville. His early teaching career was as a public school junior high math teacher and as a fifth grade teacher in the McKinney (Texas) Independent School District, then taught as a part-time and temporary faculty member at several two-year colleges before coming to ETSU in 1994.
Dr. Stephens served two terms as president of the Upper East Tennessee Council of Mathematics and is currently the webmaster. He served one term as president of the Tennessee Association for Developmental Education (now Tennessee Association for Student Success and Retention) and several terms in other offices on its board, and served as math network chair for the National Association for Developmental Education (now National Organization for Student Success). He currently serves as high school contest coordinator for the Tennessee Mathematics Teachers' Association. He has made conference presentations at each of these organizations. He is also a member of the Association of Mathematics Teacher Educators and its Tennessee chapter.
Outside of ETSU he sings in his church choir and The Civic Chorale (where he serves as board secretary), plays in an adult handbell choir, and directs a youth handbell choir. He is a member of the Handbell Musicians of America.