Digital Media

So Many Possibilities

The Digital Media Department offers a Bachelor of Science in Digital Media with concentrations in Digital Animation, Digital Game Design, Digital Visualization, and Visual Effects. There is also a Digital Media Minor for students who wish to gain broad exposure in each of the four areas. At the graduate level, the MFA in Digital Media attracts regional, national and international students.
Concentrations
Animation

The Digital Animation concentration gives students the background necessary to

animate in any media/software with strong skills in one of several specialty areas of

animation, such as character animation and special effects animation. Students in the

animation concentration prepare for careers in 3-D animation, 2-D animation, motion

graphics, character animation, and technical direction

Game Design

The Digital Game Design concentration teaches students to create games and

interactive environments with strong skills in one of several specialty areas such as

environment design, level design, modeling for games, materials and scripting for

interaction for careers in the game industry.

Visual Effects

Students in the Visual Effects concentration will learn how to produce strong visual

sequences. Students prepare for a career in video and cinematography production,

video editing, visual effects compositing, and 2D and 3D motion graphic design.

Visualization

The Visualization concentration gives students the background to develop conceptual,

technical, and aesthetic design skills important in the creation of digital media art

assets. Students in this concentration prepare concept art and design elements for

careers in entertainment media, game art, electronic publishing, photographic imaging,

advertising design, and 3-D modeling.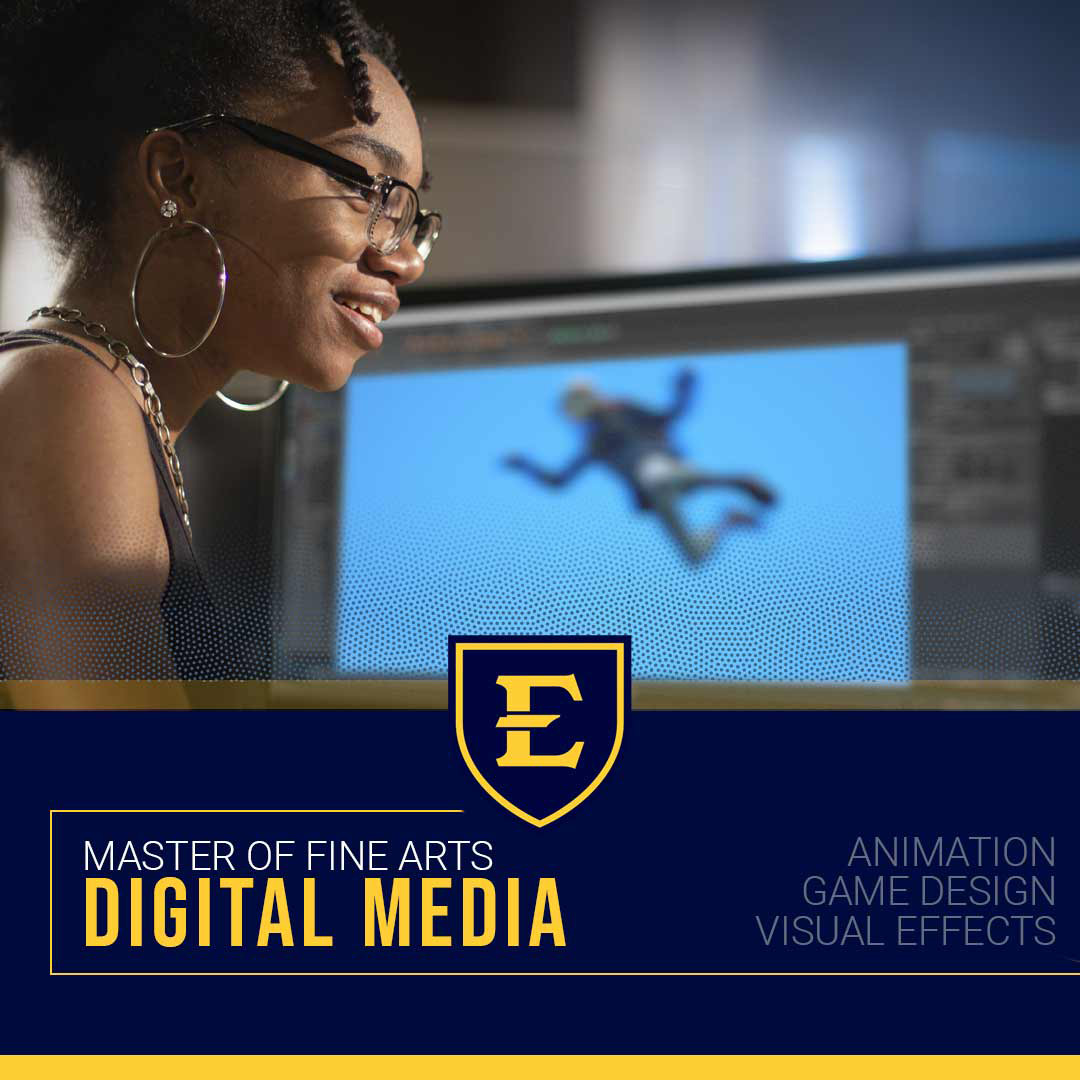 MFA in Digital Media
The Master of Fine Arts in Digital Media is the terminal degree in the field and is designed for students who are passionate about creating original digital content in the creative economy.
Common Career Paths
Students pursuing a Bachelor of Science in Digital Media can choose from a wide range of career paths, but the most common are:
Graduates from the Colleger of Business and Technology's Digital Media program have worked on various media and video game productions such as:
Thor
Captain America
The Peanuts Movie
TMNT II
World of Warcraft
Avatar
Kung Fu Panda III
Halo 5
Guitar Hero
Lord of the Rings
inFamous 2
Alice in Wonderland
The Incredible Hulk
Rango
AdventureTime
Pacific Rim
The Avengers
Ice Age: Continental Drift
Student Spotlight
Meet Amanda Kilhenny:

Amanda is heading to the stars, virtually. The Digital Media major completed an internship in the Hybrid Reality Lab at NASA's Johnson Space Center. She used her 3D modeling skills to create realistic tools in a virtual reality simulation of the International Space Station. Although she originally aspired to work on animated movies, Amanda is realizing that her career goals incorporate both digital media and science.
Career Services
The College of Business and Technology is the only college on campus to have its own Career Services department geared toward your specific major and career goals. Because we have our own career services, digital media students are given all the necessary resources and networking opportunities to excel post-graduation.
---
Accreditation
East Tennessee State University is accredited by the National Association of Schools of Art and Design (NASAD).
Please also visit our portfolio website at ETSUDigitalMedia.com