Chair Holder The Allen and Ruth Harris Chair of Excellence in Business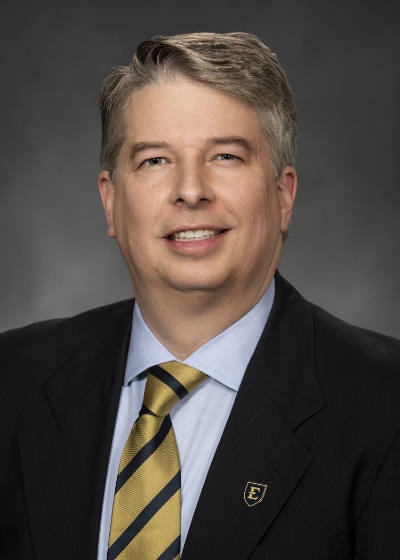 David A. Golden
David A. Golden is the Allen and Ruth Harris Chair of Excellence in the East Tennessee State University College of Business and Technology. David's areas of interests include strategy, global business, economic development, STEM education, ESG, synthetic biology and complexity science. David is also a co-founder of ReOrigin, a science-based firm that helps companies, cities, and professional service firms understand climate risk and form climate strategy. In 2019 David retired as Senior Vice President, Chief Legal & Sustainability Officer, and Corporate Secretary of Eastman Chemical Company--a multinational, materials innovation company headquartered in Kingsport, Tennessee and ranked among the Fortune 500. While at Eastman, Golden had overall responsibility for Eastman's Legal, Corporate HSES, Product Safety & Regulatory Affairs, Sustainability, Government Relations, Communication, Community Affairs, Public Policy, Privacy, Global Business Conduct, and International Trade Compliance functions, with personnel in the United States, Europe, Asia and Latin America. Prior to joining Eastman in 1995, David was with the international law firm of Hunton & Williams (now Hunton Andrews Kurth) in their Atlanta office.
David holds a B.S. (Accounting) and a Juris Doctorate from Brigham Young University, graduating Magna Cum Laude and Order of the Coif and served on the management committee of the BYU Law Review. He is an alumnus of the Harvard Business School having completed Harvard's Advanced Management Program in 2012.
In January 2021 ETSU President Brian Noland announced that David will be the chief executive officer of the recently launched ETSU Research Corporation. He also serves on the Board of Directors of Ballad Health, the Tennessee State Collaborative on Reforming Education, the Niswonger Foundation, STREAMWORKS, Music for All, and the Marine Advanced Technology Education Inspiration for Innovation (MATE II) (Chair) based in Monterey, CA. His other public service includes work as a member of the advisory board of the University of Tennessee's Howard H. Baker Center for Public Policy as well as serving on the Tennessee Registry of Election Finance, and the Tennessee Business Court Rules Commission. He recently completed his service on the inaugural Board of Trustees of East Tennessee State University (Vice-chair). David is an alumnus of Leadership Tennessee (Class III) and is a frequent speaker on ESG, leadership, and education topics.