Office of the Registrar
Student Affairs
Records / Registrar - Home
College of Medicine
Quillen College of Medicine - Office of the Registrar
The Registrar's Office serves the educational community of the Quillen College of Medicine by maintaining the official record of each student and by providing excellent service and appropriate data to further the educational process of the school.
We are firmly dedicated to excellence and strive to provide the highest level of quality service to our university community. We are committed to fostering a student-centered, caring environment. The Record's Office provides professional level support for current and former medical students of the Quillen College of Medicine MD program.

We provide such services as managing and maintaining student academic records, including transcript generation, grade processing, diploma requests, degree certification, enrollment verification, registering students in courses, and maintaining course information.
We take great pride in providing service in a friendly, timely, accurate, and efficient manner and welcome the opportunity to assist you!
Office Hours: Mon - Fri, 8:00 a.m. - 4:30 p.m.
For current and former Quillen College of Medicine students ONLY
All other current and former ETSU students need to contact the Main ETSU Registrar's Office at
www.etsu.edu/reg or 423-439-4230.
Note: We do not use Loan Clearinghouse for degree verifications, please contact our office directly.


Doug Taylor, Associate Dean for Admissions and Records

Victoria Street
Assistant Dean
Tory is the Assistant Dean for Admissions and supervises the Registrar's Office. She will be the person to register you for class, post your grades, answer any questions you may have as a student, and greet you on the other side of the graduation platform. Tory can be reached at 423.439.2033 or streetv@etsu.edu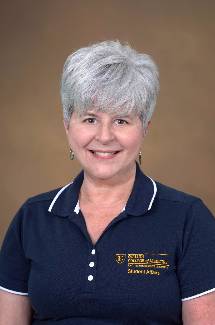 Sherry Bailey
Student Records Coordinator
Sherry processes forms and assists Carol with student records. If you need assistance with deferments, hospital privilege forms, graduation certifications, licensure forms, certified diplomas or transcripts, contact her at 423.439.2104 or baileys@etsu.edu
Erin Birchfield
Information Research Tech 2
Erin assists the students and alumni with deferment, graduate certificates, licensure form, and certified dipolomas and transcripts. She can be reached at 423.439.2038 or birchfieldee@etsu.edu
Services for Current Students
Student Registration
Student Deferments/Loan Clearinghouse Enrollment Verification
Enrollment Verification
Address Changes
Name Changes
Registration for ETSU Undergraduate / Graduate Courses for Medical Students
Class Ranks
Networking with QCOM Alumni
Transcript Requests for All Current and Former Quillen College of Medicine Students Only (All other current and former ETSU students must contact the Main ETSU Registrar's Office at https://www.etsu.edu/reg/.)
VSAS Transcript Upload (Away Electives)
USMLE Applications
Services for Alumni
MD Verification Letter
Assistance with State Licensure Verification
Transcript Requests
Enrollment Verification
Certified Copies of Quillen College of Medicine Diploma
Fellowship Application: Release form [MSPE / Transcript]
Medical Institution Document Upload Service (MIDUS)
All requests must be made in writing and faxed, mailed, or emailed to our office.
Mailing Address:
ETSU-Quillen College of Medicine
Office of the Registrar
PO Box 70580
Johnson City, TN 37614-1708
Physical Address:
Stanton-Gerber Hall, VA Quillen COM
Maple Ave., Bldg 178, Rm C-240
Mountain Home, TN 37684