Bachelor of Science in Microbiology
The purpose of a Microbiology major is to produce graduates with a fundamental knowledge of the major fields of microbiology. Graduates with a Microbiology degree are qualified to be employed as technicians in academic or industrial research laboratories or pursue advanced degrees in graduate or professional schools.
Microbiology is the study of microscopic organisms, such as bacteria, viruses, archaea, fungi and protozoa. This discipline includes fundamental research on the biochemistry, physiology, cell biology, ecology, evolution and clinical aspects of microorganisms, including the host response to these agents. (Nature, 2019)
For more information, contact Dara Young, Academic Coordinator.



Honors in discipline is available for this program.
Job Outlook
Employment of microbiologists is projected to grow 5 percent from 2018 to 2028, about as fast as the average for all occupations. More microbiologists will be needed to contribute to basic research, solve problems encountered in industrial production processes, and monitor environmental conditions to ensure public health and safety.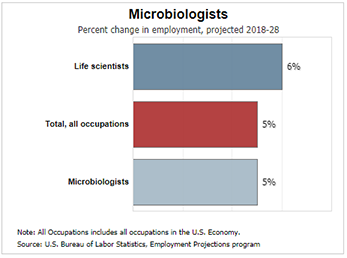 Where Do Graduates Work?
Top Biotech Jobs
Other Employment