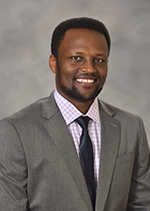 Wondimu Samuel Manalew
Research Associate, Choose Well Evaluation Study
Department of Health Services Management and Policy
Contact:
423-439-4346 /
manalew@etsu.edu
148 Sam Wilson Hall
Box 70623, Johnson City, TN 37615
---
INDIANA UNIVERSITY
Ph.D. Economics, 2019

VANDERBILT UNIVERSITY
MA Economics, 2014

ADDIS ABABA UNIVERSITY
MSc. Economics, 2011
HARAMAYA UNIVERSITY
BA Economics, 2006
Women and child health, fertility and population, global health, development, causal inference, count data modeling.
Manalew, WS. "Does Education Reduce Child Marriage? Evidence from a Natural Experiment", Vanderbilt University Graduate Students Workshop, October 2018.
Manalew, WS. & Terza, Joseph V. 2018. "Switching Regressions with Count Outcomes: Specification, Estimation and Causal Inference", 2018 East-North-South-Central Health Economics Policy Conference December 7, Bloomington, IN.
Manalew, WS and Vidhura Tennekoon. 2019. "Dirty Hands on Troubled Waters: Sanitation, Access to Water and Child Health in Ethiopia." Midwest Economics Association 81st & 82nd annual conferences, March 2017&2018.
Manalew WS, Tennekoon VS. Dirty hands on troubled waters: Sanitation, access to water and child health in Ethiopia. Rev Dev Econ. 2019; 00:1–18. https ://doi.org/10.1111/rode.12604
Mekonen, S., Manalew, W.S, & Ambelu, A. (2014): "Importance of labelling and patient knowledge to ensure proper care during drug dispensing," A case study from a tertiary hospital in Ethiopia. Open Journal of Preventive Medicine, 4(01), 1.
Carlin Award for Outstanding Graduate Student Paper in Empirical Economics, Indiana University, April 2018
Graduate Student Travel Fellowship Award, Indiana University, November 2018
Annual Health Econometrics Workshop Student Scholarship, September 2018
Loretta Lunsford Scholarship, Indiana University, 2018/2019 Academic Year
Graduate and Professional Educational Grant, Indiana University, January 2018
GPED Award for Academic Excellence, Vanderbilt University, May 2014
GPED Special Award for Service to the Graduate Program, Vanderbilt University, May 2014
Lecturer: Haramaya University, Ethiopia (2006-2011)
Instructor: Center for Talented Youth, Johns Hopkins University, Summer 2017
Teaching Fellow: American Economic Association (AEA) Summer Program, Michigan State University, Summer 2018
Instructor: Indiana University Purdue University Indianapolis (IUPUI), Fall 2016, Spring 2017, Spring 2018, Fall 2018
Statistical Analyst, Indiana University, Lilli Family School of Philanthropy, Fall 2016
Graduate Research Assistant, Energy Balance Laboratory, Diabetes Center at Vanderbilt University Medical Center, Nashville, TN (2012-2014)