Student Kevanté Drew working to increase diversity in SLP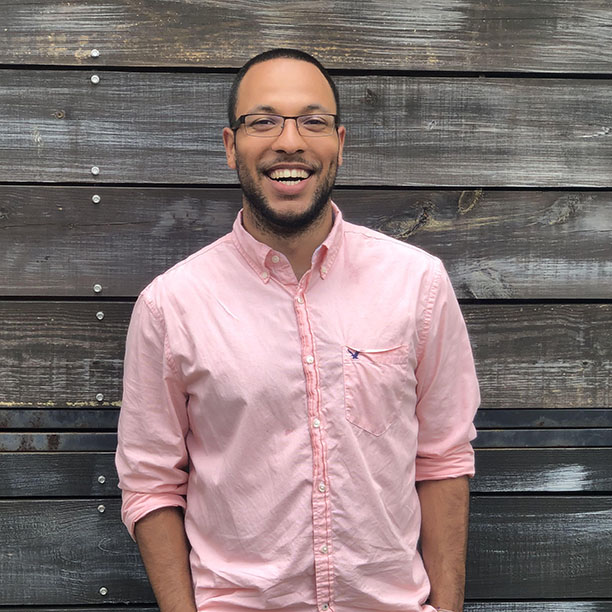 JOHNSON CITY (Nov. 3, 2020) – East Tennessee State University graduate student Kevanté Drew is using his voice and experience to advocate for more diversity in the speech-language pathology profession on a national platform.
A second-year student in ETSU's Speech-Language Pathology (SLP) Program, Drew was selected to be the Student State Officer for the National Student Speech-Language-Hearing Association (NSSLHA), which has more than 13,000 members.
Earlier this fall, he also received national exposure as an invited panelist for the NSSLHA, where he addressed racism within communication sciences and disorders programs. In addition, the National Black Association for Speech-Language and Hearing invited him to participate in a panel discussion focusing on the experiences of Black males in SLP. Although that event was cancelled due to COVID-19, the topic of discussion is one that Drew faces every day.
"As a male and a person of color, I consider myself a double minority in the field of speech-language pathology," Drew said. "According to the American Speech-Language-Hearing Association (ASHA), 3.6% of speech-language pathologists identified as Black or African American and 3.7% identified as male."
Speech-language pathologists (SLPs) work to prevent, assess, diagnose and treat speech, language, social communication, cognitive communication and swallowing disorders in adults and children.
Drew wants to use his own experience and passion to increase the percentage of minorities working in the field so that the SLP profession will represent the diverse population it serves.
"I just want to be a role model," Drew said. "I want other people who look like me to see that they're able to be in these positions in our field."
Drew, a native of Rome, Georgia, discovered his interest in SLP while still in high school. As a teenager, he wanted to pursue a career in music education and participated in a high school program that allowed him to shadow a music teacher. During this time, he accompanied a group of students on a visit with an SLP and was fascinated with the work.
"I learned that I didn't want to be a music teacher, but when I visited the SLP, I found out that is exactly what I wanted to do," Drew said.
He completed his undergraduate degree at the University of West Georgia and connected with faculty mentors who helped confirm his career choice.
"I had three Black faculty members who served as mentors to me, and that's very unheard of in our field," Drew said. "It was awesome to have those people in the positions where they were able to connect me with people across the field and show me the various programs and leadership roles."
When it was time to apply for graduate school, Drew explored his options and liked the clinical opportunities and variety of populations that he would be able to serve through ETSU's Master of Speech-Language Pathology Program.
So far during his time at ETSU, Drew has served patients with traumatic brain injuries at the Crumley House and has also conducted voice and swallow therapy in a local ear, nose and throat practice. So far, he has also completed pediatric rotations through the ETSU's Positive Eating Program and Autism Program.
When he graduates from the program in May 2021, Drew plans to work in clinical practice and might eventually pursue a Ph.D. No matter where he practices, Drew said he will continue to encourage people of all backgrounds to consider a career in SLP.
"Kevanté is an exceptional ambassador for our speech-language pathology program, the College of Clinical and Rehabilitative Health Sciences, and East Tennessee State University," said Dr. Lynn Williams, ETSU associate dean and the 2021 president of the American Speech-Language-Hearing Association (ASHA). "He represents us with integrity, compassion, and professionalism. I'm certain his future is bright and that he will have a positive impact on the people and families he serves."
To learn more about ETSU's SLP program, visit www.etsu.edu/crhs/aslp/speechpathology.