His work is educating the world – and winning major awards
(June 26, 2023) Even before Anthony Salas crossed the commencement stage in May, the East Tennessee native had earned experiences that seasoned industry experts could envy.

That includes time with ESPN films and HGTV.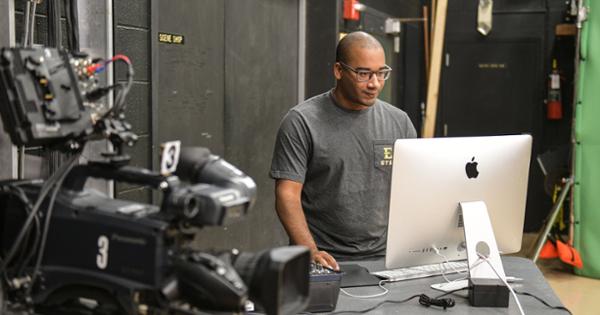 Now, he can add another line to his already impressive résumé.

A film he helped produce won Best Documentary Short at Tribeca, a prestigious annual film festival in New York. The honor means the work automatically qualifies for an Academy Award.

"Black Girls Play: The Story of Hand Games," an 18-minute film that emphasizes the contribution to popular culture that young Black girls have had in upholding musical traditions through hand games, was one of about 60 short films accepted – out of thousands of submissions – at Tribeca.

"It is always a pleasure to not only learn things about my own culture, but to share that information to educate the public is one of our highest honors in the documentary space generally," said Salas.

He credits his time at ETSU for laying a sturdy academic and professional foundation.

"ETSU helped prepare for my career with the opportunities available not just in the classroom but with experience accessible outside of the usual curriculum," he said.

Salas's involvement in a variety of activities makes plain the opportunities open to ETSU students.

He was president of Alpha Sigma Iota and worked as a member, as well as vice president, of BucFilms. He also served as a writer and editor for the East Tennessean.

Students getting hands-on learning opportunities is at the core of ETSU's approach to education. The Department of Media and Communication, where Salas spent four years, has made tremendous investments to ensure students are prepped for the workforce. More than 40 industries have partnered with the university and department to provide collaboration and training, and students have access to $1.5 million worth of experiential media facilities.

All professors, including chair Dr. Andrew Dunn, have real-world career experience.

A few months ago, Salas made clear that he doesn't want to be viewed as an outlier.

"This is an attainable goal for many people if you are willing to work hard. Our department wants you to succeed, and the instructors will do all they can to help you," he said.