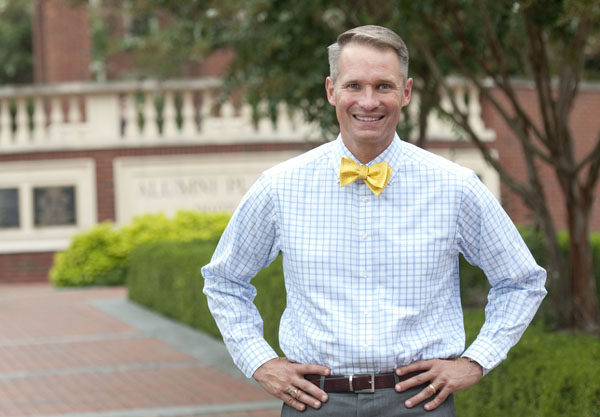 Dr. Brian Noland became the ninth president of East Tennessee State University in January 2012 after serving for six years as Chancellor of the West Virginia Higher Education System.
He holds a bachelor's degree in political science and a master's degree in public policy studies, both from West Virginia University. He earned a Ph.D. in political science from the University of Tennessee in Knoxville.
Under his leadership, ETSU has moved into an era of construction that, in a compressed five-year window, may very well serve as the largest amount of projects and dollars spent on projects in the history of the institution. Past and current major projects include the construction of a performing arts center, a new football stadium, the creation of an interprofessional research and education center, and an extensive renovation to the D.P. Culp University Center. The renovation of Lamb Hall, an academic building for health sciences programs, is also in the planning stages.
Dr. Noland has guided long-term visioning processes at the university as well as the creation of a new budget model for the institution and the establishment of a new ETSU brand.
In 2018, Dr. Noland was elected to the board of directors for the American Council on Education, which is the premier coordinating body for all higher education institutions in the United States and is represented by approximately 1,800 college and university presidents and the executives of related associations. He represents the state of Tennessee on the American Association of State Colleges and University's Council of State Representatives; is a board member of the Johnson City-Jonesborough-Washington County Chamber of Commerce as well as Launch Tennessee, a state-funded, nonprofit organization that works to grow new businesses in the state; and is a member of the Washington County Economic Development Council's Industrial Development Board.
Dr. Noland also is an Institute of Higher Education fellow at the University of Georgia. He is married to Donna Fox Noland, of Greeneville, Tennessee. The couple has one son, Jackson.