Office of Government Relations
Our Mission: Develop relationships that showcase and provide ETSU resources and services which are mutually beneficial to local, state and federal community and governmental partners.
Functions of the office: Responsible to the university president for developing and implementing the institution's political engagement strategy with federal, state and local elected officials, regulatory agencies, and key policy makers; representing the institution before key government officials and policy makers; advising the President and institution Senior Staff on the impact of proposed legislation and determining an appropriate response; and performing other related duties as assigned.
U.S. Surgeon General Visits ETSU ~ January 30, 2020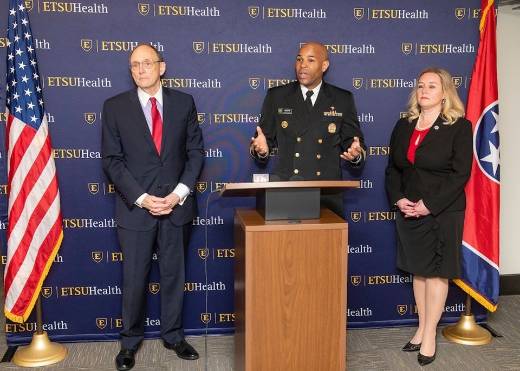 PHOTO: Congressman Phil Roe hosts an event that brought the U.S. Surgeon General Jerome Adams to ETSU.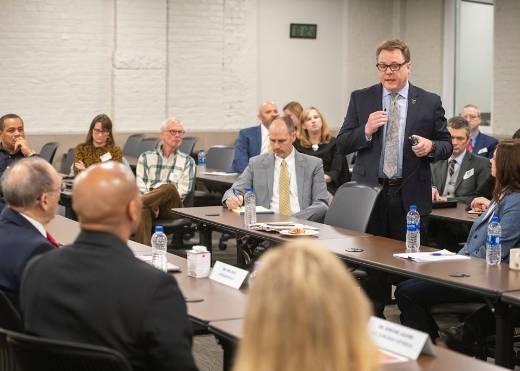 PHOTO: ETSU Professor of Community and Behavioral Health Robert Pack engages in dialogue with U.S. Surgeon General Jerome Adams.
ETSU Veteran's Day Ceremony ~ November 8, 2019
'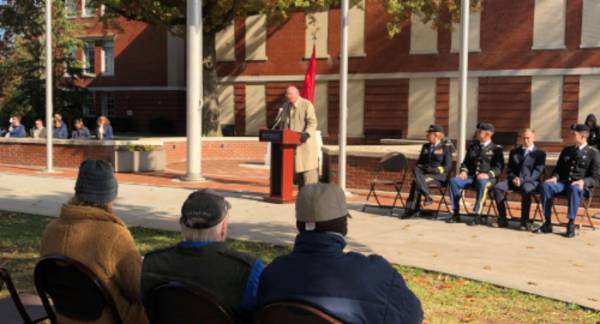 PHOTO: Senator Rusty Crowe speaks at the ETSU Veteran's Day Ceremony.
Governor Bill Lee Establishes New Tennessee Research Center ~ July 16, 2019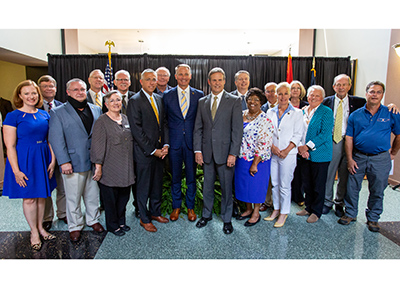 JOHNSON CITY (July 16, 2019) – Tennessee Governor Bill Lee announced today the creation of a new Center for Rural Health Research that will be housed at the College of Public Health at East Tennessee State University. According to Gov. Lee, ETSU will receive a $1.5 million first-year grant for the implementation of the center, and then a recurring $750,000 annual investment to support the ongoing operations. These appropriations were recommended by Gov. Lee and approved by the Tennessee General Assembly during the 111th legislative session.
In addition, Alan Levine, chairman and chief executive officer of Ballad Health, announced the system would contribute more than $15 million to the center over the course of the next 10 years. The gift is the largest in ETSU history and the largest to date for the $120 million capital "Campaign for ETSU" launched in April.
The goal of the Center will be to work with Ballad Health, local health care delivery partners, national experts, and the leadership of ETSU Health to identify new mechanisms to improve health in rural and nonurban communities. Specific emphasis will be placed on strategies that disrupt inter-generational cycles of behaviors that contribute to poor health outcomes, which ultimately can affect college- and career-readiness.
Lee has made workforce readiness a major policy initiative.
"In order for Tennessee to truly lead the nation, we must ensure we help all Tennesseans succeed, particularly in our rural areas," said Gov. Lee. "One way to help our rural areas is to improve the health outcomes in these areas. Ballad Health and ETSU are leading in this effort, and today's announcement reflects the State's commitment to work with them to find solutions."
The Center for Rural Health Research will identify and work with a range of national experts and with regional health, social service, education and business partners to identify high-impact, evidence-based interventions that could be delivered to every at-risk child born in the Appalachian Highlands region during the next 10 years. Ballad Health has formed the nation's largest Accountable Care Community, comprised of more than 250 organizations located throughout Southwest Virginia and Northeast Tennessee. Faith-based organizations, school systems, not-for-profit agencies, law enforcement, academic institutions and major employers are all participants in this effort.
Uniquely positioned to study social determinants of health across state lines, the center will also create opportunities for partnerships to form between academic institutions in Tennessee, Virginia and throughout the nation.
"I believe the Center for Rural Health Research at ETSU is going to be a major contributor to solving problems that have been developing in rural America for decades," said Gov. Lee. "Tennessee will be a leader on this issue, and that continues today, with this partnership between the State of Tennessee, ETSU and Ballad Health."
During the announcement, ETSU President Dr. Brian Noland introduced Dr. Randy Wykoff, who will serve as the founding director of the Center for Rural Health Research, while continuing in his position of dean of the College of Public Health. Wykoff said today's announcement is a remarkable step forward for ETSU, Ballad Health, elected officials and many community organizations toward the goal of improving health and well-being in rural areas.
"We are increasingly recognizing that one of the greatest health challenges for our region – and our nation – is to interrupt the inter-generational cycles of poor health, lack of education and persistent poverty," said Wykoff, who was named dean in 2006. "The center's mission is to work with regional partners and national experts to interrupt those cycles quickly, efficiently and affordably."
The center will also seek to be a reliable source of information for policymakers, providing evidence-based data from which to help inform policy decisions that can improve health in rural and nonurban communities. It will pursue connections with a range of funding partners to support efforts that advance the health and well-being of residents in these areas.
"ETSU has a proven record in helping to solve problems, particularly on health care, so this is a natural fit for this doctoral and research institution," Gov. Lee said.
ETSU College of Public Health, the first accredited public health college in the state, is one of the top 10 public health graduate schools in the Southeast and is ranked among the top third schools and programs of public health in the nation by U.S. News. Additionally, the Quillen College of Medicine is one of the top medical schools in the nation for producing physicians in rural America.
"This is a historic day for ETSU and we are grateful to Governor Lee and our partner, Ballad Health, for this significant investment that will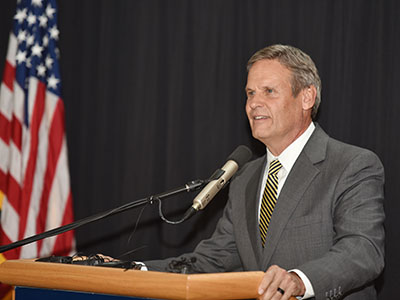 help to improve the lives of the people of this region and in rural communities across the nation," Noland said. "As one of the world's most respected leaders in public health, Dr. Randy Wykoff has dedicated his entire career to improving health outcomes, and our new center will benefit greatly from his expertise and leadership and his vision for a healthier tomorrow for Tennesseans."
"Ballad Health and ETSU are deeply committed to action which will improve economic prosperity for rural and nonurban communities, starting with our own region," said Levine. "Health care institutions do have a role to play in education achievement, and this partnership between the state, ETSU, Ballad Health and other partnerships soon to be developed, will be a relevant contributor to making this change happen."
"Appalachia is going to lead in developing solutions to many of the challenges facing our rural communities," added Noland. "This is not a Tennessee problem. It is a national one. I'm pleased that ETSU will lead this academic, research-based effort to solve some of our nation's most important problems."
ETSU Receives $500,000 State Appropriation ~ May 24, 2018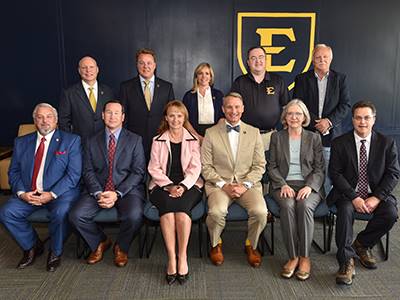 JOHNSON CITY (May 24, 2018) – East Tennessee State University has been awarded a $500,000 state appropriation to bolster the work of its Center for Prescription Drug Abuse Prevention and Treatment. On Thursday, ETSU leaders hosted a reception to thank several state officials for their efforts in garnering the funding.
"The lives of thousands of Tennesseans are going to be positively impacted because of your leadership," said Dr. Brian Noland, ETSU president. "This is an issue that is in all of our back yards. It runs through our homes, our schools, our churches. It is here and we are an institution that is trying to do our part to make a difference."
Tennessee Speaker of the House Beth Harwell noted that after establishing a task force in 2017 to address the opioid epidemic, the first place she decided to visit was ETSU. At a forum held on campus last year, Harwell and members of the task force on opioid and prescription drug abuse learned more about the epidemic from ETSU experts as well as efforts underway to combat it.
"I believe ETSU's center can truly be the model for this state. You are laying the groundwork for the rest of the state to follow," Harwell said Thursday morning. "I am proud we could come together and we were able to get the additional funding."
Rep. Gary Hicks, who carried the appropriation bill in the House of Representatives, thanked ETSU for "stepping up to the plate" to address the opioid epidemic and credited the university's "high-impact treatment and prevention programs" in the arena with already saving lives.
"This $500,000 appropriation will ensure the excellent work being performed at ETSU will continue as we try to eradicate the opioid epidemic," said Hicks, an ETSU alumnus. "There's no silver bullet to stop this issue. It will continue to take a multi-faceted approach."
Dr. Rob Pack, executive director of the center, agreed that a multi-faceted approach is needed, noting that the goal of the center is to expand the use of evidence-based tools and involve all aspects of the community in the effort.
"At the Center for Prescription Drug Abuse Prevention and Treatment, our intention is serve as a central clearinghouse for high-impact programs, helping to align and accelerate the great work many institutions are already doing and then leveraging those activities for even greater impact," Pack said. "Our vision is a Central Appalachia that is free of the burden of illicit drug abuse. It is going to take a while, but this is personal for all of us and we are doing our level best to fight this epidemic."
The ETSU Center for Prescription Drug Abuse Prevention and Treatment was established in the spring of 2016. It is an outgrowth of the ETSU Prescription Drug Abuse and Misuse Working Group, a network of community and university stakeholders established by the university in 2012 to address the growing epidemic.
Last month, the center was awarded the 2018 Public Health Excellence award from the United States Public Health Service. The award recognizes ETSU's strong community focus on the prevention and treatment of substance abuse throughout East Tennessee and the region. In addition to Harwell and the House task force, several others have visited ETSU to hear more about its efforts to combat opioid abuse, including U.S. Surgeon General Jerome Adams and Dr. Robert Califf, commissioner of the U.S. Food and Drug Administration at the time of his visit.
Visit the webpage for more information about The ETSU Center for Prescription Drug Abuse Prevention and Treatment.
ETSU Legislative Luncheon ~ The Gray Fossil Site & Museum - Gray, TN - October 17, 2017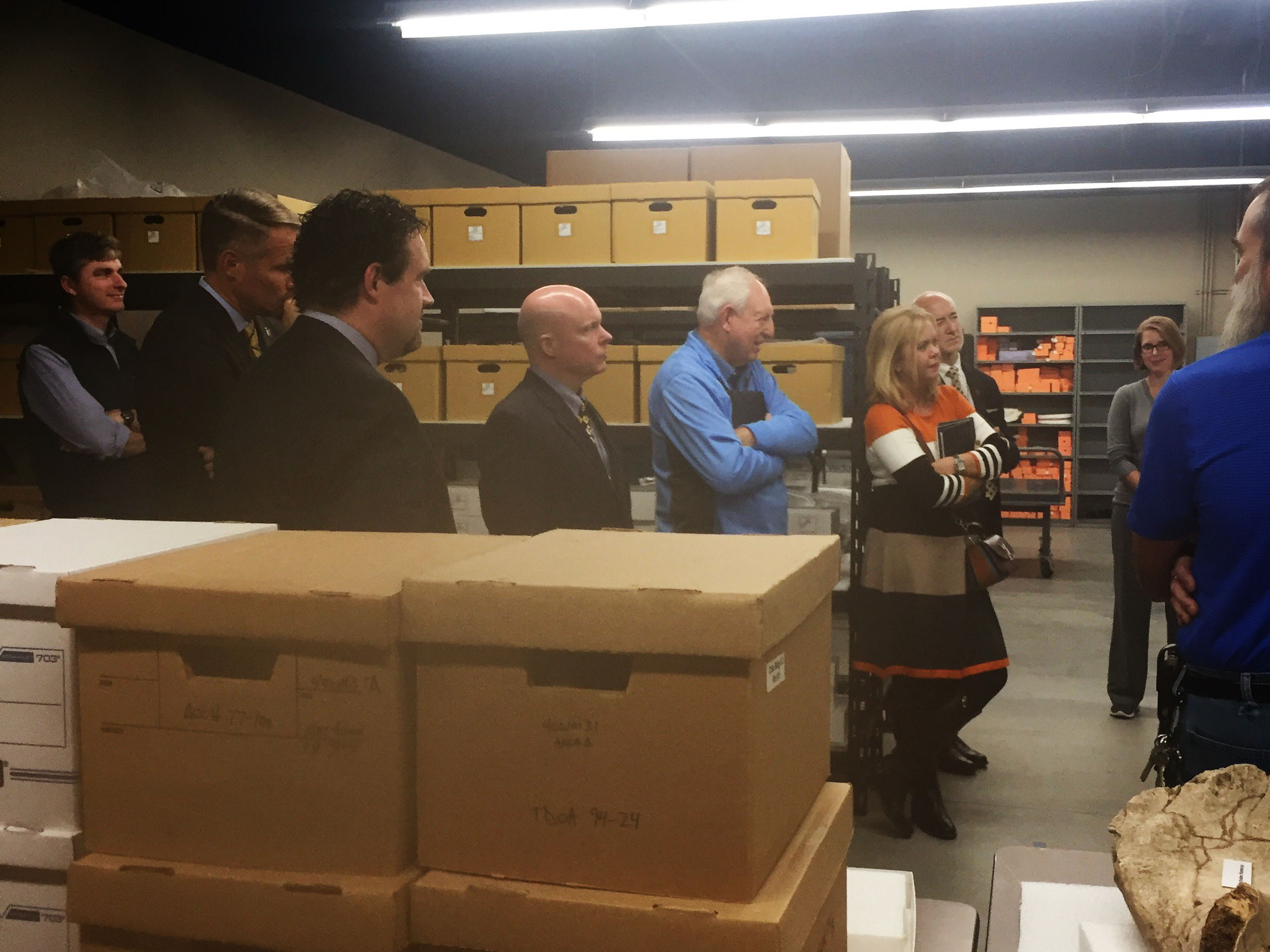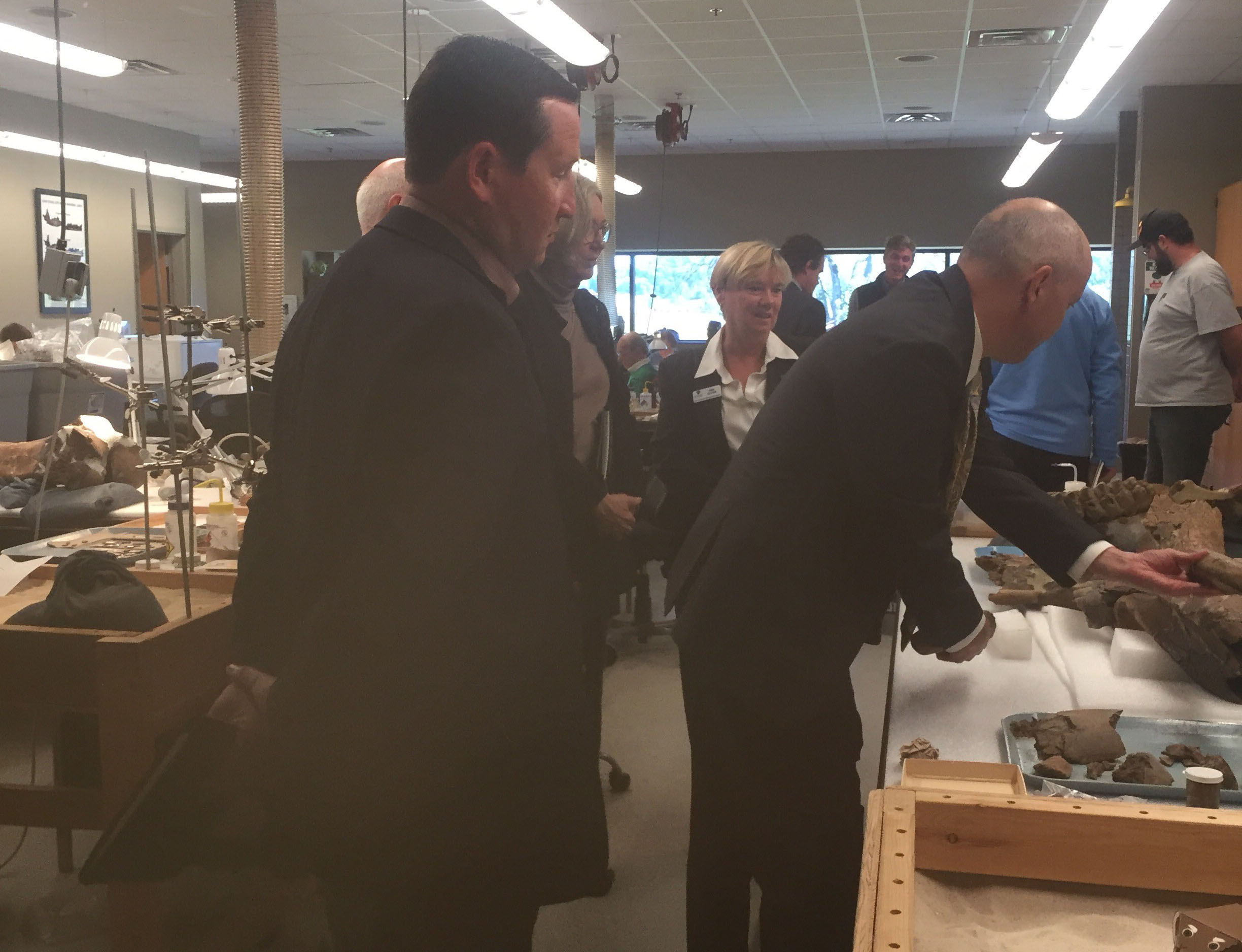 ETSU Legislative Luncheon ~ The Hermitage Hotel - Nashville, TN - February 7, 2017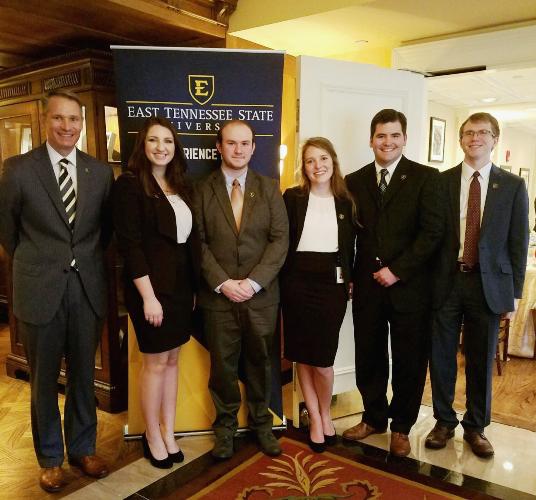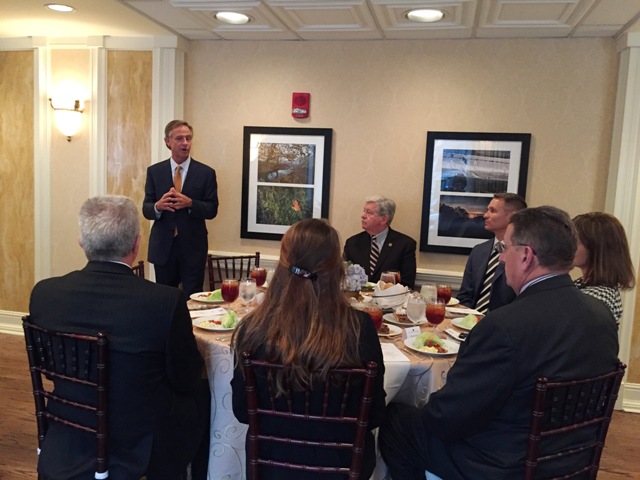 The Business Journal of Tri-Cities, TN/VA 2016 Healthcare Heroes ~ July 15, 2016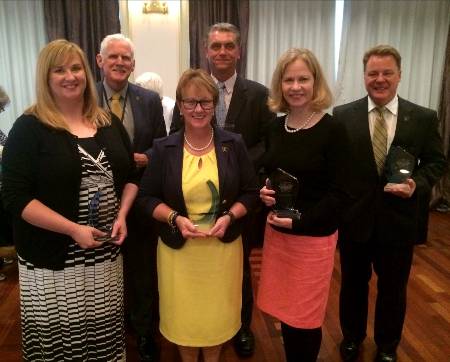 PHOTO: (front, l-r) Jennifer Whitehead: Healthcare Hero; Patti Vanhook: Healthcare Hero; Ginny Kidwell: Healthcare Hero; (back, l-r) Randy Wykoff: Cup of Kindness, Community Service; Mike Stoots: Cup of Kindness, Innovention; Rob Pack: Healthcare Hero.
Healthcare Heroes are the men and women who go above and beyond the call of duty every day to keep our region's people and businesses well cared for.
Governor Bill Haslam signs the FOCUS Bill into law at ETSU ~ June 13, 2016
PHOTO: Governor Bill Haslam (seated) is accompanied at the FOCUS signing event by (l-r) ETSU President Brian Noland, Representative David Hawk, Representative Bud Hulsey, Lt. Governor Ron Ramsey, Senator Rusty Crowe, Senator Steve Southerland, Representative Jon Lundberg, Representative John Holsclaw, and Representative Matthew Hill.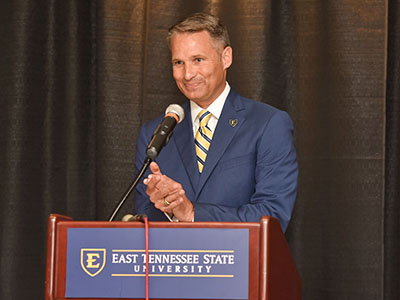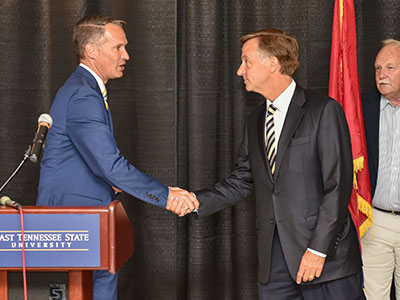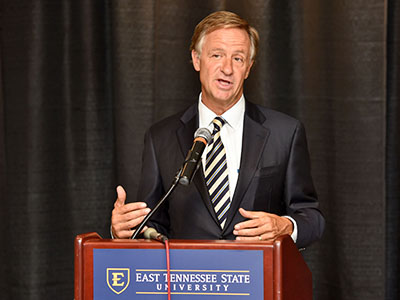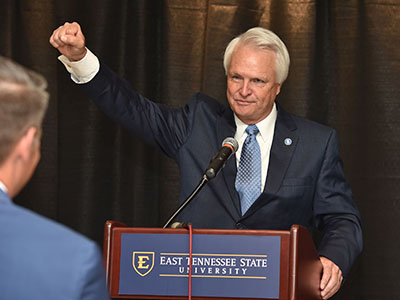 ETSU Civility Week ~ March 28 - April 3, 2016
PHOTO: Bridget Baird, ETSU Associate Vice President for Community & Government Relations (left) and Newt Gingrich, former Speaker of the United States House of Representatives (right).
Newt Gingrich, former Speaker of the United States House of Representatives, addressed "Civility in Politics" in a public lecture at ETSU on March 31st.
ETSU President Brian Noland escorts Tennessee Governor Bill Haslam on a tour of the Johnson City main campus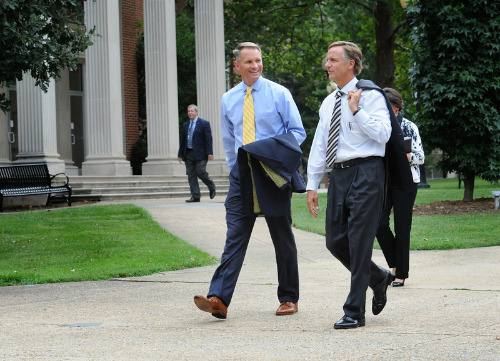 Government Relations Advisory Council
Mike Fishman
George Jaynes
Bill Jenkins
CeeGee McCord
Richard Montgomery
Dr. Jack Parton
Dr. Mack Patton
Dennis Phillips
Sindy Ramsey
Melissa Steagall-Jones

Dr. Brian Noland
Bridget Baird
University Government
Student Government Associations Faculty Senate Staff Senate University Governance Organizations
Register to Vote
Tennessee Voter Registration Your TN Voter Registration Information Find Your TN County Election Office
Students, faculty, and staff who wish to vote in the state of Tennessee may pick up voter registration forms in the office of Leadership and Civic Engagement anytime during business hours. The completed form should be mailed to your County Election Commission or you may return it to the Leadership and Civic Engagement office and they will gladly mail it for you.Register to Vote in Another State
Resources
ETSU Regional Effect on Communities ETSU Economic Impact Study ETSU Fact Book
TBR Legislative Digests