University Advisement Center
East Tennessee State University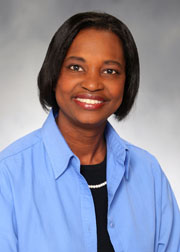 Stefanie Murphy
Academic Counselor
---
Schedule an Appointment with Stefanie
Stefanie is originally from Minneapolis, MN her favorite outdoor sport was ice skating. Her High School years were in Waycross, GA which is the home of the Okefenokee Swamp. After meeting her husband in college they moved to Johnson City, TN in 1996.
Stefanie Murphy completed degree programs in Information Processing and an another in Administrative Services at Valdosta State University at East Tennessee State University she completed a degree in Foreign Languages. She is looking forward to completing the Teaching English as a Second Language Graduate Certification. In the University Advisement Center she is an Academic Counselor and barrier remover for students.
Stefanie created a partnership with the Literature & Language Department and St. Mary's Church to provide ESL classes for non-native English speakers. She is a sponsor for ETSU spirit squad and attends events with ETSU Dance. Stefanie has been involved with the Staff Senate of ETSU for many years, she is the only person to serve 3 years as its President. On campus she is the Graduate Advisor for Alpha Kappa Alpha, Sorority, Omicron Rho Chapter and Faculty Advisor for the Catholic Center. She loves performing on stage and has been seen on television. One of her favorite activities is telling the stories of the people Jonesboro, TN so the world does not forget them.
Like a flower; color the world with your own special kind of bloom.
-unknown
---
EDUCATION
Information Processing, B.A. - Valdosta State University




Administrative Services, B.A. - Valdosta State University
Foerign Languages, B.A. - East Tennessee State University
COURSES TAUGHT
Study Skills/Learning Strategies