Department of Literature and Language
College of Arts & Sciences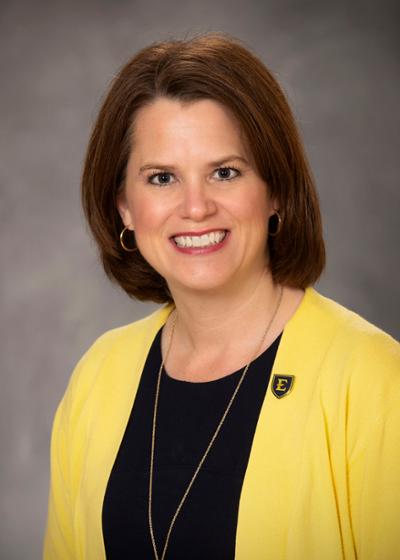 Sharon James McGee, PhD
Dean of Graduate and Continuing Studies | Professor, English
---
Sharon James McGee returned to her hometown and to ETSU in July 2018 as Dean of Graduate Studies and professor in Literature and Language (English, Rhetoric and Writing). After earning her BA from the University of Tennessee, Dr. McGee pursued her MA in English at ETSU where supportive faculty helped her find her scholarly passion and encouraged her to pursue a top doctoral program. After receiving her PhD from Purdue University, she worked briefly at Kansas State University before moving to Southern Illinois University Edwardsville where she was a faculty member for 16.5 years in the Department of English Language and Literature and served as department chair for the last 6.5 years. In the graduate specialization in rhetoric and writing, she taught research methods, composition pedagogy, composition practicum, theory and practice of teaching basic writing, and writing across the curriculum. At the undergraduate level, she taught composition 1 and 2, intermediate composition, argument, technical writing, scientific writing, grammar, TESL, and linguistics—and on occasion a general education literature course. She served as the advisor for the rhetoric and writing graduate program and undergraduate minor. She left SIUE to become associate dean of the Graduate School at Western Carolina University.
Dr. McGee is the co-author of three books, Feminist Empirical Research: Emerging Perspectives; Discord & Direction: The Postmodern Writing Program Administrator; and Writing and School Reform: Writing Instruction in the Age of Common Core State Standards and Standardized Testing. She has also published in College Composition and Communication (CCC), Rhetoric Review and contributed chapters to several edited collections.
You can follow her on Twitter: @GradDeanETSU.