Literature in English The Bachelor of Arts in English offers a general grounding in both American and British literature
If you have a love of literature, a desire to become a better writer, and a need to develop stronger critical thinking skills, the English major or minor is for you.
The Bachelor of Arts in English offers a general grounding in both American and British literature, in addition to a selection of courses focusing on world literatures, drama, women's literature, technical writing, creative writing, linguistics, film studies, and environmental studies.
What can I do with an English degree?
A command of the English language is one of the most important assets in any work environment, both domestically and globally. Literature in English majors are prepared for a number of jobs that require strong communication and interpretative skills, including careers in:
law
medicine
publishing
editing
journalism
human resources
program management
marketing
reporting
creative and technical writing
education
public relations
social work
government service
the clergy
non-profit organizations
financial services
English majors direct multi-national corporations (Michael Eisner, Disney CEO), lead philanthropic organizations (Kathryn Fuller, Chair of the Ford Foundations and CEO of the World Wildlife Fund), take the bench of the Supreme Court (John Paul Stephens and Clarence Thomas), go into space (Sally Ride, astronaut), and assume important government administrative responsibilities (Carol M. Browner, Environmental Protection Agency Administrator, and Mario Cuomo, Governor of New York). A more accurate question, then, would be, "What can't you do with an English major?"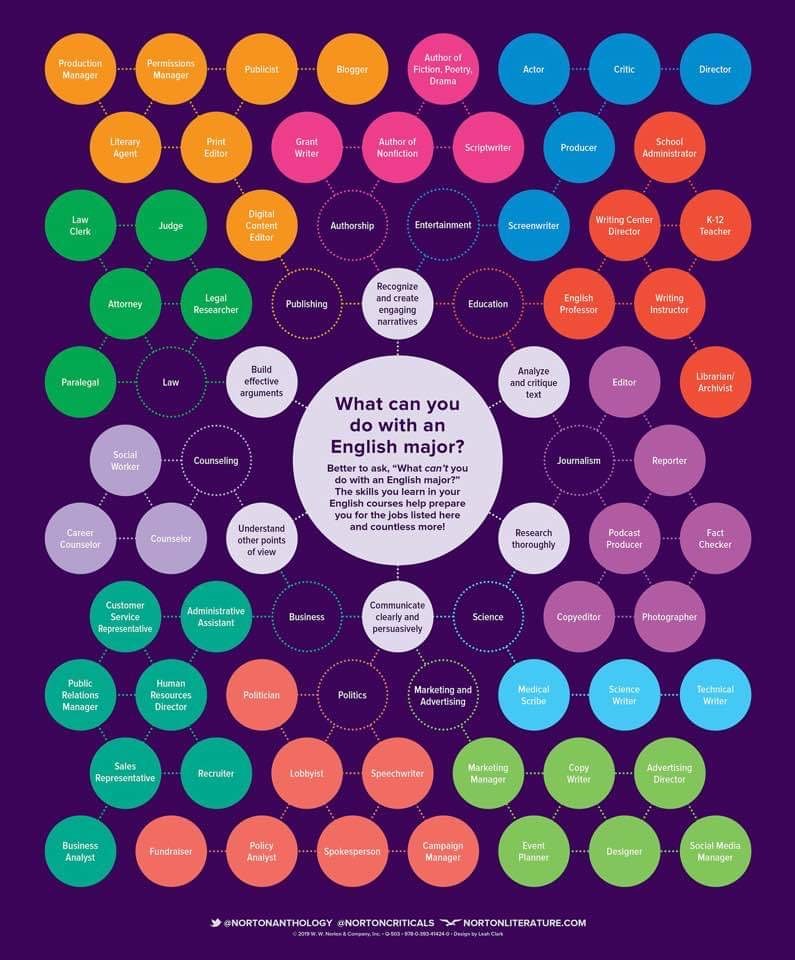 What Are Our Graduates Doing Now?
Bethany Johnson - Speech Pathologist, Author

Hello, My name is Bethany and I am a pediatric speech-language pathologist. I currently work at a local outpatient clinic in Johnson City, TN! I received my master's degree in speech-language pathology after completing my bachelor's degree in English at ETSU. Every single day I get to teach children words / help them communicate, breaking down components of the language that I love so much. Alongside my career, I also just wrote and published my first children's book! My background in English established a foundation for various aspects of my life, including my career and writing my book. The guidance I received from the professors within the department and the analytical skills I learned during the program made a lasting impact on my life.

At the foundation of life, there are words.

Words are powerful.

Words are lasting.

Words change the world.

THAT is why I chose to be an English major - and in the words of Robert Frost, "that has made all the difference."

Lauren Stotsky Long - Projects Control Specialist, Technical Writer

I currently work as a Project Controls Specialist at Nuclear Fuel Services in Erwin, TN. Prior to this role, I worked in the technical writing field as a Nuclear Procedure Writer.

The ETSU English Department is truly the reason I am where I am today. Having such a tight-knit community of likeminded individuals and continuous academic support gave me the confidence to pursue a role outside of what is traditionally ascribed to us English majors. The department provided me with invaluable professional relationships and a strong belief to never be afraid to use my voice. The critical thinking skills I crafted during my time in the department is woven into everything I say, think, and do, and the perception granted to me has been life changing.

Literature is, without a doubt, the closest thing we have to magic.

Third Accordion Title

This is the sample content that will appear when the accordion is opened.
Literature in English Major Requirements
In addition to general education course requirements and proficiency-intensive requirements, Literature in English majors must complete 36 hours of English requirements above the 1000-level composition courses. These include:
9 hours of 2000-level courses (excluding ENGL 2030, "Literary Heritage")
3 hours of literary criticism or the study of the English language as a language
6 hours of 3000-level courses
6 hours of 4000-level courses (including an author-emphasis course in Shakespeare, Milton, or Chaucer)
12 additional elective hours at the 3000 and 4000 levels
Perhaps a Minor in English Better Suits Your Needs?
Aside from the pleasure to be gotten from a study of literature, the minor in English provides students the opportunity to develop their skills in analysis and persuasive writing which prove useful in all other majors. The English minor consists of 18 credits above the freshman level (except for ENGL 2030, not offered for credit applied toward a minor), at least 12 of which must be at the 3000 or 4000 level, with a minimum of 6 credits at the 4000 level. Courses applied to the Creative Writing minor, Film and Media Studies minor, Linguistics minor, or the Technical & Professional Writing minor cannot also be applied to the English minor.
In Person or Online?
The English major and the English minor are available fully online.
Declaring Your Major or Minor