Enhancing Access to Services through Innovation Lab
Welcome to the EASI Lab!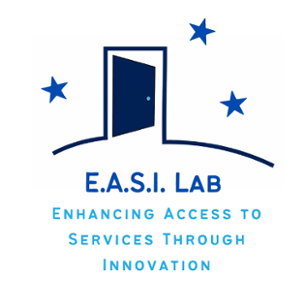 The EASI Lab is housed in the Department of Psychology at East Tennessee State University (ETSU). Directed by Dr. Aubrey Dueweke, the EASI Lab is dedicated to increasing access to evidence-based mental health services through the use of innovative and nontraditional service delivery models. One of the main service delivery models we study in the EASI Lab is the Primary Care Behavioral Health (PCBH) model, which involves integrating behavioral health practitioners into the primary care team. This website provides an overview of our mission, research and service initiatives, and team members. Individuals interested in joining the EASI Lab at the graduate, undergraduate, and post-baccalaureate levels are encouraged to learn more by exploring the website.
EASI Lab News
April 2023

Baylee Rose presented the result of her Honors Thesis at the Boland Undergraduate Research Symposium at ETSU

November 2022

Dr. Dueweke gave an invited webinar for the National Register of Health Service Psychologists, entitled, "Suicide Risk Assessment and Safety Planning in Integrated Primary Care Settings"

October 2022

Dr. Dueweke gave an invited address for the Tennessee Psychological Association annual conference in Nashville, entitled, "Addressing Mental Health Disparities for Underserved and Diverse Populations: Expanding Access to Care Through Nontraditional Service Delivery approaches"

October 2022

The EASI Lab attended the Collaborative Family Healthcare Association Annual Conference in Boise, ID. Everyone had a great time learning about the latest advances in integrated care service delivery!

October 2022

Dr. Dueweke was awarded the Collaborative Family Healthcare Association Founder's Early Career Professional Award!

July 2022

Dr. Dueweke and her colleague Dr. Polaha were awarded a Rural Business Development Grant from the U.S. Department of Agriculture to support expansion of behavioral health services into rural primary care clinics in our region.

March 2022

Donna Zastrow (Northern Arizona University) and Mara Sindoni (Hobart and William Smith Colleges) were accepted into ETSU's Clinical Psychology PhD program and will be joining the EASI Lab as part of the incoming Fall 2022 cohort of doctoral students. Congratulations Donna and Mara!!!!

January 2022

Dr. Dueweke gave a presentation on the Primary Care Behavioral Health model for the ETSU Quillen College of Medicine Department of Psychiatry Grand Rounds series. Watch the recording of her talk here: