Economics and Finance Dedicated to providing students with the high-quality education
The Department of Economics and Finance at East Tennessee State University provides students with the educational experience necessary to succeed in a competitive global environment. Students can earn a traditional Bachelor of Business Administration degree in either Economics or Finance or a Bachelor of Arts degree in Economics. Both programs focus on developing the problem-solving skills that help enable students to critically analyze the complex and rapidly evolving issues of business and society.
Graduates of the Economics and Finance Department are actively recruited by the industry, and many of the nation's leading corporations count the department's graduates among their corporate leaders.
ETSU Advantage
AACSB-Accredited Degree Programs

The Bachelor of Business Administration in Economics and Finance in the College of Business and Technology is accredited by the Association to Advance Collegiate Schools of Business (AACSB).

Less than 5 percent of accounting and business programs worldwide have received this prestigious accreditation.



College Specific Career Services

The College of Business and Technology is the only college on campus to have its own Career Services department geared toward your specific major and career goals. Because we have our own career services, economics and finance students are given all the necessary resources and networking opportunities to excel post-graduation.

Free Tutoring Service

The Department of Economics and Finance offers a

FREE

tutoring service for students in their programs. The tutoring service is staffed by dedicated, well-prepared graduate assistants who are eager to help students stay ahead in their courses. To view the tutoring schedule, please click

here

.

Economics Club

The Economics Club offers students interested in economics the forum to broaden their knowledge and opportunities as well network and interact with recent program graduates. Each year the club takes an annual trip to Washington, D.C. where they attend briefings at various economic and financial institutions such as the Federal Reserve Bank, World Bank, and Freddie Mac.

Students of Finance Association (SOFA)

The Students of Finance Association (SOFA) is an organization for all finance students or students interested in finance. The organization is designed to encourage interaction between business executives, faculty, and finance students. SOFA members are invited to attend professional networking events where key members of the business community address the group as well as provide opportunities to volunteer.

Real-World Experience

The students in the Economics and Finance Program have a number of real-world curriculum opportunities. Those opportunities include:

Managing a $600,000+ portfolio provided by the Tennessee Valley Authority.
Competing in the CFA Institute Research Challenge, where students have had the chance to interact with Warren Buffett and other industry leaders.
Enrolling and participating in an experiential banking course designed for students to interact with bankers and discuss their daily decision-making challenges.

In all three cases, students have the opportunity to work within a team setting and present their analysis to experts in the field.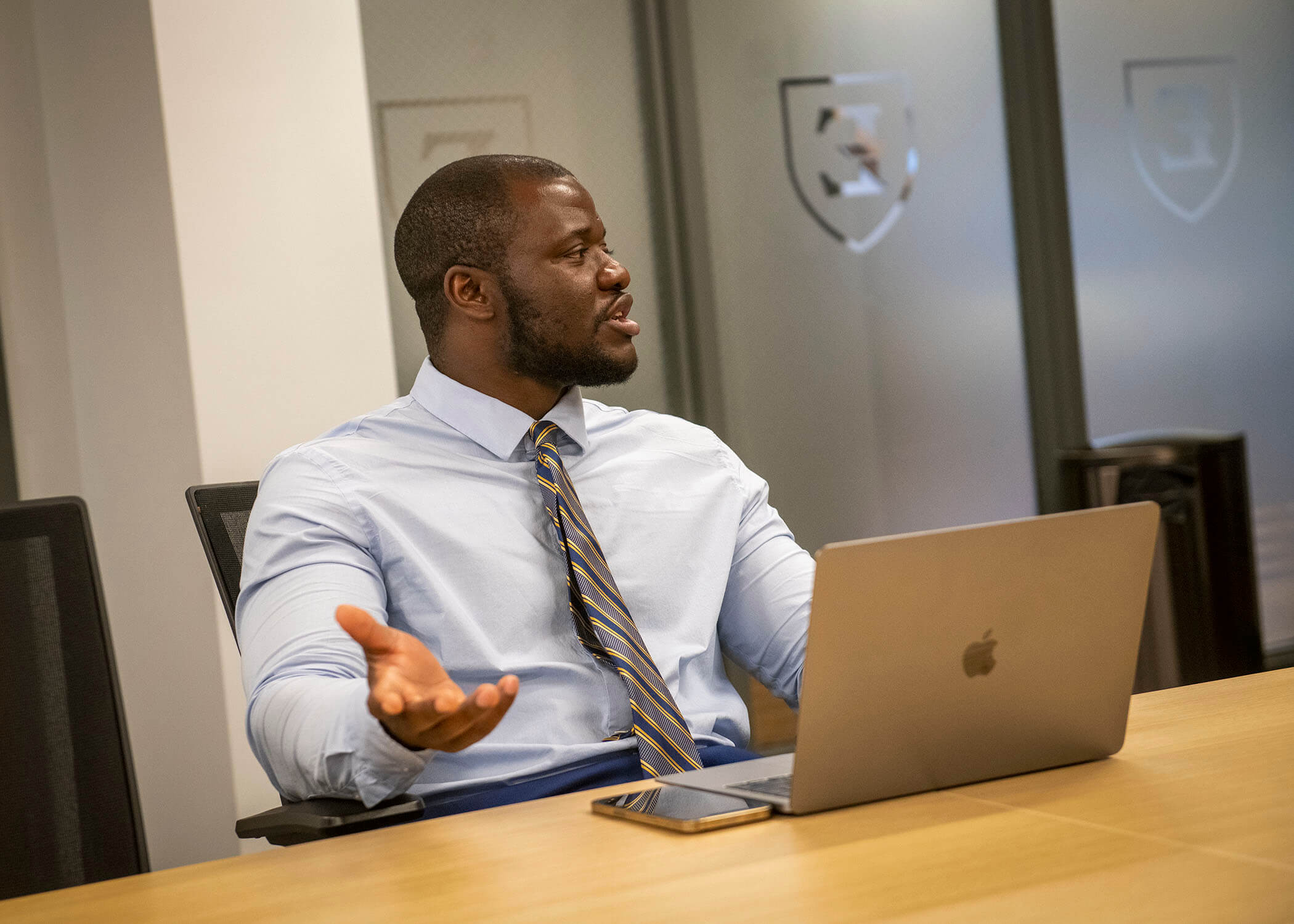 Congratulations!


For the 4th time in 5 years, students from our Economics & Finance programs out-preformed the S&P 500 to win the Tennessee Valley Authority Investment Challenge. Each year, performance bonuses are given to schools that win. This year, East Tennessee State University received over $9,000, and have been awarded almost $70,000 to date.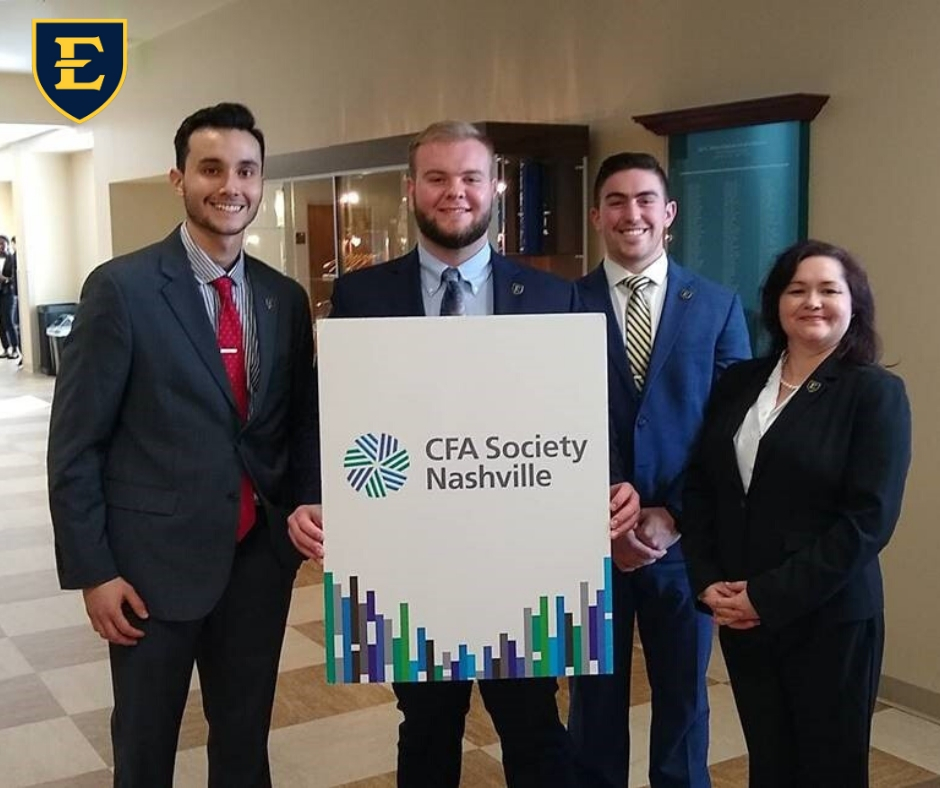 Congratulations to the four ETSU students who participated in CFA Global Research Challenge and placed in the top five for the Nashville region!
Team members include: Flavio Sanguinetti, Alex Haley, Timothy Carroll, and Catrinia Whatley.
Did You Know?

Each year, through its participation in the CFA Institute University Recognition Program, the Department of Economics and Finance has five scholarships available for students to sit for the Level 1 CFA exam offered every June and December. These scholarships cover the cost of both the exam as well as the study materials. Click here to learn more.

Student Spotlight
Meet Cristopher Santana:
Cristopher is a graduate of both the Bachelor of Administration in Economics and Bachelor of Administration in Finance programs. As an undergrad, he held leadership roles in the Economics Club, the Students of Finance Association, as well as the Student Government Association. He is now enrolled in the MBA program and serves as Student Trustee on ETSU's Board of Trustees.
"The faculty here are really invested in their students. They have a lot of time in class to answer questions and they are great about meeting with you during their office hours. I really appreciate how involved they were in helping us be successful"

Undergraduate Programs
Bachelor of Arts - Economics

The department also offers a non-business Bachelor of Arts (B.A.) degree in economics. The traditional Economics B.A. includes extensive economics coursework and requires a minor program of study that is chosen by the student with faculty guidance. Students may also choose Economics B.A. with a concentration in International Commerce. This program includes extensive economics coursework and a selection of business and geopolitical courses.

Bachelor of Business Administration - Economics

In this program, students may choose from two main concentrations—each providing a different emphasis. Business Economics has a microeconomic focus built on the study of markets and the behavior of business firms. The Financial Economics concentration provides an integrated focus on macroeconomics and the financial system and includes courses in finance. A third concentration in General Business is also available for those students who desire a more broad-based business education.

Bachelor of Business Administration - Finance

Students in this program may focus their studies in one of four concentrations: Corporate Finance and Investments, Financial Services, General Finance, or Real Estate. Each of these concentrations offers students a program of study that leads to a traditional career path in their chosen fields.

Minors

The College of Business and Technology offers minor programs in both Economics and Finance for students who would like to broaden their educational experience. For non-business students who have future aspirations of earning a Master of Business Administration, the college offers a General Business minor that will help them gain the basic business knowledge needed to pursue that degree.


Bureaus and Centers
The College of Business and Technology's Bureau of Business and Economic Research and the Center for Banking are both located within the Department of Economics and Finance.