Department of Economics and Finance
College of Business and Technology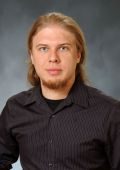 Steven Efremov
Senior Lecturer
---
Steven M. Efremov, M.A. is a Senior Lecturer of Economics in the Department of Economics and Finance at East Tennessee State University.
Mr. Efremov was born in Kishinev, Moldova when it was part of the Soviet Union. He received his B.A. in History and Political Science at ETSU, followed by an M.A. in History. He then completed a B.A. in Economics at ETSU and continued on to pursue a Ph.D. in Economics at George Mason University.
He currently teaches Quantitative Methods I and II at ETSU. He has also taught Microeconomics and Macroeconomics at Northeast State Community College and International Trade at Shandong Normal University.