Department of Economics and Finance
College of Business and Technology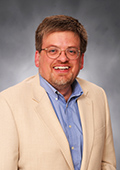 Richard P. Gregory
Professor
---
Dr. Gregory graduated with a B.A. in Economics from Old Dominion University in 1988. He received an M.A. in Economics with a concentration in International Finance from Indiana University in 1990. He received his Ph. D. in Finance with a concentration in International Business from Old Dominion University in 1996.
Post Ph.D. he worked as a self-employed financial consultant for start-up firms in the Research Triangle of North Carolina. Afterward he became Senior Economist for the Virginia Economic Development Partnership from 1997-2000.
He was Visiting Professor of Finance at Old Dominion University from 2000-2002. He was Assistant Professor of Finance at the University of South Carolina-Upstate from 2002-2008. In between, he served as a financial consultant for various private companies.
Dr. Gregory has been at East Tennessee State University since 2008. He was promoted to Associate Professor in 2013 and moved to Professor in 2018. He continues to work as a financial consultant to local and international businesses. His academic research has been published in national and international journals.