Department of Economics and Finance
College of Business and Technology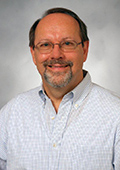 Warren F Mackara
Associate Professor
---
Fred Mackara is an Associate Professor of Economics in the Department of Economics and Finance at East Tennessee State University.
Fred was raised in Laurel Springs, NJ. After graduating from Collingswood High School, he attended Rutgers University where he received an AB degree in Economics. Dr. Mackara received his Ph.D. from Texas A&M University in 1976.
Dr. Mackara has taught at ETSU since 1975. Prior to coming to ETSU, Fred worked as a Financial Economist at the Federal Reserve Bank of Atlanta in Atlanta, Georgia. At ETSU, Dr. Mackara has been nominated for the College of Business Teaching Award and to serve on ETSU's Faculty Senate.
Currently, Dr. Mackara teaches Monetary Economics, Economics for Managers, Essentials of Economics, and Principles of Microeconomics.
Fred and his family resides here in Johnson City. His wife, Veronica Mackara, is a retired teacher. Over the years, Dr. Mackara has been active in St. John's Episcopal Church. He is a member of the Johnson City Morning Rotary Club and often serves as an expert witness/forensic economist. Fred also enjoys watching ETSU sports.