Department of Economics and Finance
College of Business and Technology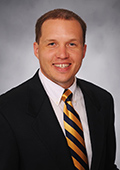 Taylor P. Stevenson
Department Chair/Associate Professor
---
Taylor P. Stevenson came to ETSU in 2008 and is an Associate Professor of Economics and Chair of the Department of Economics and Finance.
Dr. Stevenson is from Florence, Alabama. He attended the University of North Alabama where he received a B.B.A. degree in Economics in 1998. He earned his Ph.D. from the University of Mississippi in 2004 with fields of specialization in Applied Microeconomics and Econometrics.
Dr. Stevenson's main research interest is Public Choice Economics. He has published in Public Finance Review, Cato Journal, Economics Bulletin, Journal of Public Finance and Public Choice and others. The courses Dr. Stevenson teaches include Economics and Society, Principles of Microeconomics, and Public Economics.
Taylor Stevenson lives in Johnson City with his children Cooper, Cole, Carson and Makenna.