Veterans Welcome For your service and sacrifice, we thank you.
Dear Veteran,
Welcome to ETSU's Quillen College of Medicine! We are a Veteran, military-friendly campus and the college of medicine gratefully welcomes the application of our veteran 'heroes' and will consider it an honor to receive it. We thank you for your service to our country and for your interest. Let us know how we may serve you.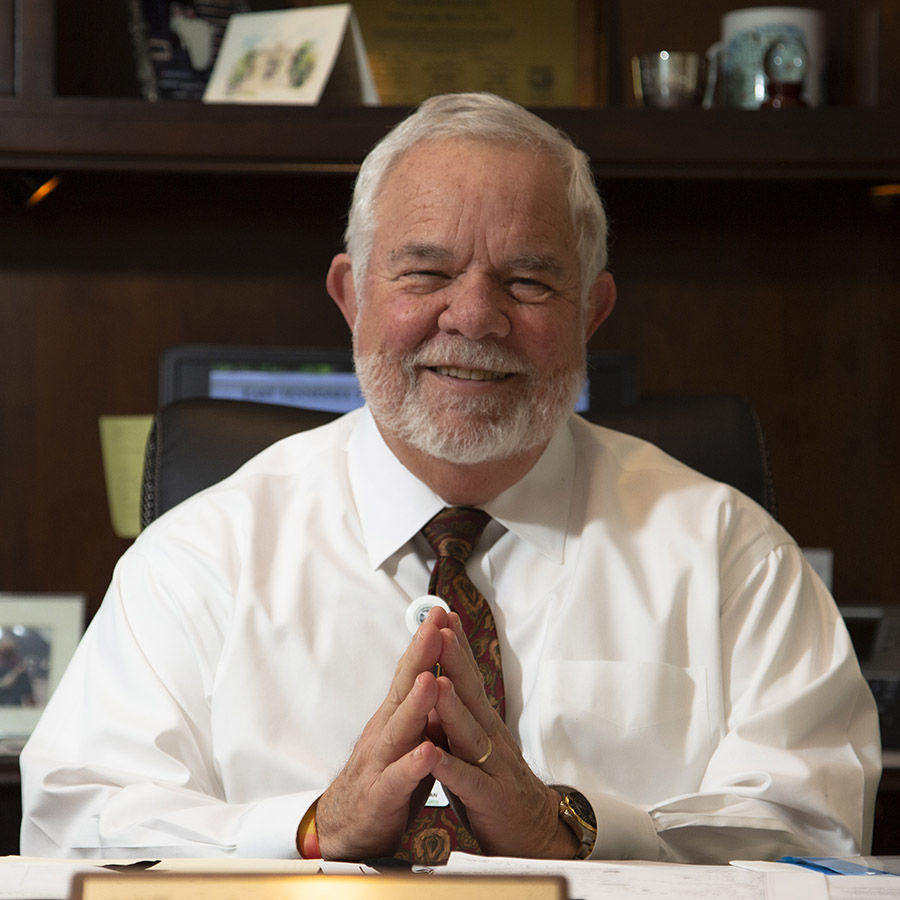 Doug Taylor
Associate Dean of Admissions & Records
US Army Infantry, Americal Division Vietnam, 1970
---
About Quillen
The Quillen College of Medicine at East Tennessee State University opened its doors in 1974 with funds allocated through the Veterans Administration. We live on hallowed ground, provide medical care for veterans and we have not forgotten our roots. Veterans are indeed welcome here!
The Quillen medical campus is located on the grounds of the VA Medical Center at Mountain Home, Tennessee. An inscription near the entrances record the words once spoken by President Abraham Lincoln, "to care for him who shall have borne the battle." That's what we are about.
---
Know Your Rights & Opportunities
The TN Veterans Support Act allows the Quillen College of Medicine to classify honorably seperated veterans for in-state tuition purposes.
TN Veterans Support Act Section 702 Choice Act Fact Sheet
---
VA Health Professions Scholarship Program
The HPSP Program is available to any and all individuals!
---
To all veterans and prospective HPSP participants:
On behalf of the Military Medicine Interest Group (MMIG), thanks for your interest in ETSU Quillen College of Medicine. The MMIGs mission is to provide an environment for prior or future military members where we can combine the unique worlds of the military and medicine. The MMIGs objectives are to:
Provide a place for veterans to share experiences, gain and provide support for each other, and enrich the education of the Quillen student population through our unique perspectives.
Provide a support structure for HPSP participants, including military-related activities, joint activities with other Quillen interest groups such as the Wilderness Medicine and Emergency Medicine Interest Group, educational seminars, administrative support, and information on career choices and paths in military medicine.
Integrate with the ETSU veterans community and the Mountain Home VA Medical Center to provide additional opportunities, including mentoring roles for undergraduates.
The Quillen military family is substantive and significant, from the faculty to the students and beyond to the Johnson City, TN community. I encourage anyone interested in military medicine or any veteran to consider Quillen for their medical school education. If you are inbound to ETSU Quillen College of Medicine, know that the MMIG is here to help welcome you aboard.
We give special thanks and recognition to our 2023 graduates who have served and those who have begun service to our country as physicians in our several branches. With our thanks, admiration and appreciation to, the following. Congratulations and Godspeed!
Dr. Evan Baird, US Army Veteran
Dr. Samantha Courtney, US Air Force
Dr. Sean Davis, US Navy
Dr. Haddon Hill, US Navy
Dr. Nina Porter, US Air Force
Dr. Alex Proctor, US Army
Dr. Coleman Woody, US Air Force