Appointments
How to make an appointment
We are open Monday through Friday from 8:00 AM-4:30 PM. You may call 423-439-4225 to schedule an appointment. We begin taking calls at 8AM and try to accommodate walk-ins to the best of our ability.
Due to the limitations of being a small clinic you may be scheduled for the next available appointment time or possibly referred to an Urgent Care Facility, or the Emergency Room. If your problem requires a specialist physician visit, you will be referred for the appropriate care.
We request that you do not wear any fragrances in the clinic because of students and staff with allergy or asthma conditions.
What to bring to your appointment
If you are a new patient please complete the following:
Go to your ETSU email account. We have sent you a link prompting you to set up a Patient Portal account. On your Patient Portal there will be forms you must fill out prior to your appointment.
If you are able to complete the forms online, arrive 15 minutes before your appointment time to get checked in. If you are unable to complete the forms online, you will need to arrive 30 minute before your scheduled appointment to complete the forms in person.
Bring your ETSU ID card
Bring your insurance card if you have insurance
If you are an established patient you will need to arrive 15 minutes earlier with your ETSU ID card and your updated insurance card if you have one.
Note: Your appointment may be rescheduled if you are missing the required items: ETSU ID or State issued identification card and/or your insurance information.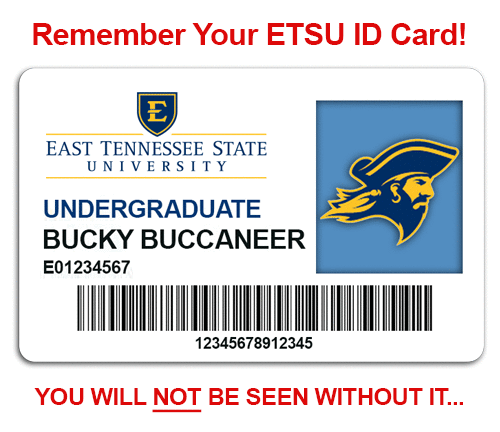 Cancellation
We do our best to work with a patient's schedule and understand circumstances may arise where the appointment time must be adjusted or cancelled. We do require advanced notice for appointment cancellations/changes. Failure to do so will result in a $20 no-show fee and a "Clinic Debt Hold" will be placed on your student account. This may negatively affect your ability to receive your semester grades, register for classes, add/drop classes, or graduate until the debt is paid in full.
Charges/Fees
Students paying a Health Service Fee as part of their tuition are able to be seen at the University Health Center without an office visit charge. For faculty/staff members, a copay will be taken at the beginning of your appointment prior to being seen by one of our medical providers.
Services provided that will incur a fee include:
Physicals
Preventative Health Exams

Men & Women's Health Exams
Pap Tests

Lab Testing

Blood workup, titers/immunizations, STI testing, flu/strep tests, etc

Medication Management
Procedures

Suture removal, EKG, etc.
We may file a claim for patients who present a current copy of their insurance card at the time of the appointment. Any charges left unpaid or denied by their insurance is the their responsibility to ensure payment is sent to the University Health Center.