University Health Center Supports wellness to university students and employees
Call to Make an Appointment Today: 423-439-4225

We provide Telehealth services wherever you are.

ETSU COVID-19 Response
East Tennessee State University and the University Health Center are dedicated in keeping our ETSU community safe during these difficulty times. Due to the COVID pandemic, changes have been implemented across the campus in an effort to safeguard our students, staff and faculty members. Please find more information below regarding available COVID testing, reporting suspected/confirmed COVID cases, and ETSU's mask policy.
Monkeypox
Monkeypox
What is Monkeypox and how is it spread?
Relevant Links
Our Mission Statement and Core Values
The mission of University Health Center is to provide acute and episodic care and to support wellness to university students and employees. The University Health Center is a nurse managed clinic and the health care providers are Board Certified Nurse Practitioners.
The mission to support wellness is based on core values where:
People come first, are treated with dignity and respect, and are encouraged to achieve their full potential.
Relationships are built on honesty, integrity, and trust.
Diversity of people and thought is respected.
Excellence is achieved through wise use of human and financial resources.
Commitment to intellectual achievement is embraced.
Note: All correspondence from the University Health Center will be through your ETSU email account. If you are submitting immunization records please check this periodically.
Staff Spotlight
Christina Morton, FNP-C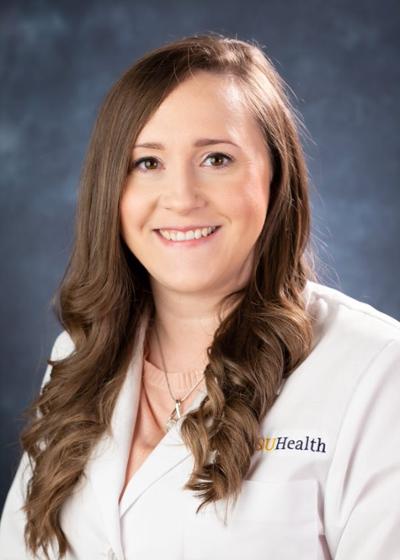 My name is Christina and I am a Family Nurse Practitioner at the University Health Clinic at ETSU. I graduated with my BSN in 2011 and MSN in 2018 from East Tennessee State University.
My background as Registered Nurse includes medical/surgical nursing, case management, and the Post-Anesthesia Care Unit. I worked at the ETSU Health Mountain City Extended Hours Clinic for over a year and recently transferred to UHC.
I recently got married in September 2020. I live with my husband Adam and our German Shepard Loki.
We have 3 spots in Lot 35 that are allocated to clinic patients. All other parking spots in the Faculty/staff lots are not available to patients and you will receive a parking ticket.
Note: When parking make sure your vehicle has the proper ETSU parking decal or Visitor's Pass. If you receive a parking ticket while parked in the designated patient spots during your appointment time, please bring the ticket to the front desk of the University Health Center to get it validated.
After-Hours Contact: 1-888-915-7299
For After-Hours care, the University Health Center does have an after-hours telephone service you may use M-F after 4:30pm, on weekends, and holidays. The After-Hours Call Service is not for appointments or medication refill services. Remember the call service is NOT for medical emergencies, to make or cancel an appointment, immunization requirement questions, or to refill prescriptions. For emergencies please call 911.