University Health Center
College of Nursing
University Health Center
Supports wellness to university students and employees
The University Health Center is going on the road!
The ETSU University Health Center staff will be onsite at the Kingsport Allandale campus on June 2 and 4 from 9am-5pm and the Sevierville campus on June 16 and 18 from 9am-4pm to provide services for fulfilling university immunization and/or health science program requirements. These services include immunizations, Varicella, MMR, Tdap, Hepatitis B, and Meningitis), TB testing, and titer lab draws. These services are open to all ETSU students, staff and faculty members.
You must have insurance information with you at time of service. If you do not have insurance, cash prices will be provided.
Please call the University Health Center at 423-439-4225 to make your appointment. As a COVID-19 precaution, we will not be accepting walk-ins at this time. Below are flyers with the day clinic information.
Day Clinic Flyer ETSU at Kingsport Allandale Campus
Day Clinic Flyer ETSU Sevierville Campus




New Reduced Hours and TeleHealth Services!
Due to the COVID-19 situation, the University Health Center is moving to reduced hours. We will be open MWF from 12PM-4PM and Tue/Thur from 10AM-2PM. These new hours apply to medical and behavioral health visits. Call ahead for an appointment and the various options available. Now offering Telehealth and Virtual Check-In visits. These appointments can be conducted over the phone with audio and/or visual components. Please contact us at 423-439-4225. Stay safe everyone and we hope to see you on campus soon!
Coronavirus Update
East Tennessee State University continues to actively monitor the outbreak of the respiratory illness caused by a new coronavirus that was first detected in Wuhan City, Hubei Province, China. The virus has been detected in numerous countries, including the United States.
As we continue to monitor the COVID-19 virus, please be assured that East Tennessee State University is following recommendations put forth by the Centers for Disease Control and Prevention, the Tennessee Department of Health, and the Washington County Health Department. At this time, there have been no cases of the virus diagnosed at ETSU. However, as the coronavirus continues to spread, the health and safety of the ETSU community remain top priority.
Effective March 9, the university is suspending all outgoing university-related international travel through June 15. This includes all travel related to teaching, study-abroad programs, research, internships, conferences, presentations, performances, and athletics. The university will be continuously reassessing its operations in light of the evolving COVID-19 situation. The Office of International Programs is working one-on-one with students who are currently studying abroad. At this time, no restrictions are imposed for university-related domestic travel. For university-related international travel that is canceled, the university will assist with reimbursement of travel expenses on a case-by-case basis.
With the university spring break March 16-20, members of the ETSU community are expected to follow travel guidance from the CDC in addition to any treatment or monitoring by any health official. Please keep in mind that if you are planning personal travel, the university strongly recommends that you be mindful of the potential risk of disruptions to your plans, especially those traveling internationally. Continually changing travel restrictions may impact those seeking reentry to the United States and your ability to successfully return to class and/or work. Those returning from Level 2 or 3 CDC travel notice areas will not be allowed to return to any ETSU campus or facility until they complete a 14-day self-quarantine and show no symptoms associated with COVID-19. The university requires that all individuals adhere to the Tennessee Department of Health regulations and restrictions related to travel.
For the latest information regarding the coronoavirus, please visit the ETSU Coronavirus Updates and Response website.
International Travel/Study Abroad

Students who are involved in study abroad programs or are anticipating a study abroad program in the near future should contact International Programs at 423-439-7737 or interntl@etsu.edu.

Faculty and staff with questions regarding upcoming ETSU-sponsored travel should contact Lisa Williams at williamslk@etsu.edu or 423-439-8550.

Questions about Coronavirus

Patients with confirmed cases have reported mild to severe respiratory symptoms of fever, cough, and shortness of breath. Anyone who is experiencing these symptoms and has traveled internationally in the past 14 days or has been in contact with someone who has is encouraged to call the University Health Center at 423-439-4225 (Monday-Friday, 8 a.m.-4:30 p.m.) or after-hours at 1-888-915-7299.

To minimize the spread of illness, everyone should follow these everyday preventive actions recommended by the CDC:

Wash your hands often with soap and water for at least 20 seconds. If soap and water are not available, use an alcohol-based hand sanitizer.
Avoid touching your eyes, nose, and mouth with unwashed hands.
Avoid close contact with people who are sick.
Stay home when you are sick.
Cover your cough or sneeze with a tissue, then throw the tissue in the trash.
Clean and disinfect frequently touched objects and surfaces.

Our Mission Statement and Core Values
The mission of University Health Center is to provide acute and episodic care and to support wellness to university students and employees. The University Health Center is a nurse managed clinic and the health care providers are Board Certified Nurse Practitioners.
The mission to support wellness is based on core values where:
People come first, are treated with dignity and respect, and are encouraged to achieve their full potential.
Relationships are built on honesty, integrity, and trust.
Diversity of people and thought is respected.
Excellence is achieved through wise use of human and financial resources.
Commitment to intellectual achievement is embraced.
Note: All correspondence from the University Health Center will be through your ETSU email account. If you are submitting immunization records please check this periodically.
Staff Spotlight
Kristen Skidmore, Patient Care Rep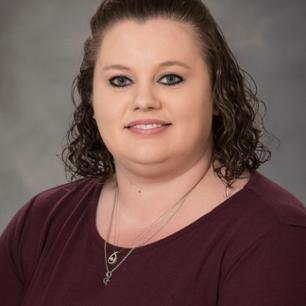 I worked in dentistry for over 5 years as a registered dental assistant. My favorite part of the job was getting to meet so many people and help them as much as I could when it came to their dental health. I grew up with not the straightest or whitest smile so I know how that can impact your life so helping others obtain that was an amazing experience. My job was great but I wanted something more. I really like working up front and all that entailed so I wanted to pursue a job that I could do just that. I went back to school to increase my knowledge of working front office along with a little on the billing and coding aspect as well. I then accepted a position with the University Health Center at ETSU as a Patient Care Representative and I have been here for almost a year now. Taking this position has been one of the best decisions that I have ever made. I absolutely love my job here where I can work up front and even do a little bit of the billing aspect. One of the best things is meeting so many new people and helping them as much as I can because let's be honest, college can be difficult and hard to navigate. So being able to help patients such as making appointments, answering questions or just bridging them to where they need to go to get the care they need is such a rewarding experience. My goals for the future are to continue my growth in my position and possibly pursue further education to get me there as well.
When I'm not working, I love to spend as much time as possible with my family. We recently have found a love of getting out in nature and checking out the various parks around us, such as, Bays Mountain and Natural Tunnel to just name a few and we hope to visit many more soon. When I'm not out making memories with my family, I love to get crafty and make items using my Cricut. And I even rope my husband into helping with my projects as well. My husband and I have been together for 14 years and married for 7. We met in high school and the rest is history. He's truly my best friend and I thank God for him every day. Together we have a daughter and a son that are our world. We also have several animal babies too. I'm an avid animal lover so we have 7 beloved pets (2 dogs, 3 cats, a bunny and a hedgehog).
Parking
We have 4 spots in Lot 34 that are allocated to clinic patients. All other parking spots in the Faculty/staff lots are not available to patients and you will receive a parking ticket.
Note: When parking make sure your vehicle has the proper ETSU parking decal or Visitor's Pass. If you receive a parking ticket while parked in the designated patient spots during your appointment time, please bring the ticket to the front desk of the University Health Center to get it validated.
After-Hours Contact: 1-888-915-7299
For After-Hours care, the University Health Center does have an after-hours telephone service you may use M-F after 4:30pm, on weekends, and holidays. The After-Hours Call Service is not for appointments or medication refill services. Remember the call service is NOT for medical emergencies, to make or cancel an appointment, immunization requirement questions, or to refill prescriptions. For emergencies please call 911.