About Us The East Tennessean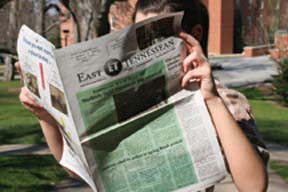 The East Tennessean is staffed by about 20-30 students from throughout the university community. Staff members are responsible for all aspects of the newspaper. They write and edit stories, take pictures and develop photographs, sell and design ads, design and layout the paper, operate the Web site and deliver the twice-weekly print edition.
A full-time student publications adviser oversees the day-to-day operation and helps train and provides assistance to the staff. An office supervisor takes care of the business side of the paper and works with the advertising staff.
Students who get involved with the East Tennessean discover:
That the newspaper provides invaluable work experience that looks great on a resume.
That it's a fun way to make money. Yes, you actually get paid for working for the East Tennessean.
That the newsroom is equipped with some of the latest technology found in the desktop publishing industry, including Apple computers.
That it's great fun! You get to work with a diverse group of fellow students who develop a strong camaraderie.
That it provides an outlet for creative people. The East Tennessean also gives students, faculty and staff an opportunity to express their viewpoints through Letters to the Editor and guest columns.
Applications for both staff and editorial positions are available here.