Menu
Visit Campus
Beginning July 1 2020, East Tennessee State University will reopen our campus to prospective students and their guests. Official Campus Visits will begin on July 6th, 2020. For the health and safety of our visitors and campus community, we have developed and implemented safety measures that align with CDC recommendations. We will provide additional information to you at the time of your visit. In the meantime, here are some preliminary protocols:
If you have been diagnosed with COVID-19 or have symptoms of COVID-19, we ask that you contact one of our admissions counselors and enjoy a virtual tour and information session until you have recovered. Feel free to enjoy our virtual experiences at etsu.edu/getconnected in the meantime- we'll be here for you!
Please note- if you are unable or unwilling to wear a mask, you will not be permitted to participate in the in-person campus visit and tour experience. We will be glad to provide you with online campus visit and tour resources. In the coming weeks, we will also provide an option for you to take a self-guided audio tour that you may take in your personal vehicle which will not require a face covering. We are available to answer your questions about campus through phone, email, chat, or Zoom.
Our employees will wear face coverings when you visit. We ask that you also wear a face covering inside our buildings. If you need a face covering, we are happy to provide one to you.
Hand sanitizer will be available in multiple locations on campus.
Please limit your number of guests to 2. Our total group size, including employees, must be 10 people or less per campus visit experience.
Please visit etsu.edu/coronavirus/ for full details of our ETSU Reopening Plan.
View tour information for graduate students.
See for yourself the opportunities awaiting you at ETSU!
Campus Visits are a great way to learn more about being a Buccaneer. We offer weekday visits as well as select Saturday visits throughout the year. Visits feature an information session and a guided tour of campus lead by an Expedition Leader- a current ETSU student who is excited to show you around campus! Please allow two hours for the campus visit.
To view available visit dates and times, please click here
ETSU's Open House!
We welcome you to explore ETSU by visiting us during one of our Open House events! At Open House, you'll get to meet our faculty and staff, tour the campus and residence halls, and participate in information sessions and college-specific open houses! 2020 Fall Open House dates will be announced soon.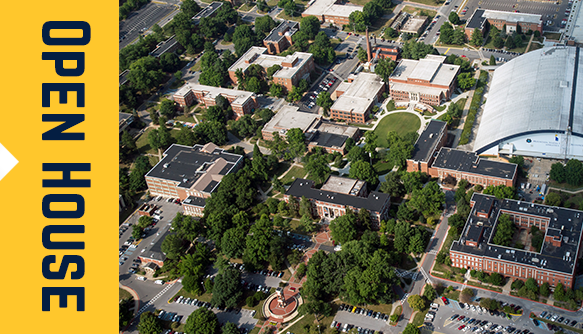 Visit us Virtually!
While we wish we could host you personally on-campus, we're happy to host you at ETSU virtually! Below you'll find our online information session, campus tour, and a special message about our Spring Open House, along with videos of our newly renovated student center! Be sure to check out etsu.edu/admissions/get-connected for more online resources and information. Go Bucs!
ETSU Admissions Information Session
Campus Tours

360 Tours of Campus