English as a Second Language Classes in the Community
Free English as a Second Language Classes
Free beginner-level ESL classes for the community are held on Monday evenings from 6:00 - 7:30 pm at St. Mary's Catholic Church. Some classes may meet online due to Covid-19. If you need directions or have questions, please contact Dr. Theresa McGarry at mcgarry@etsu.edu. Please wear masks in the class. If you forget your mask, the teacher will be happy to give you one.
Free advanced-level ESL classes meets at the Langston Centre, 315 Elm St. in Johnson City, Tuesdays 6:15 - 7:45 p.m.
(https://www.google.com/maps/place/315+Elm+St,+Johnson+City,+TN+37601/@36.3231805,-82.3545953,17z/data=!3m1!4b1!4m5!3m4!1s0x885a7d024394e46f:0x8f6093a5cf6e72f6!8m2!3d36.3231805!4d-82.3524013?shorturl=1) .
If you are interested, please come out and try the class. If you have any questions, contact the teacher, Jeanette Reynhout, at jeanreyn@hotmail.com.
All classes are free, and there is no registration process. Please join anytime.
Meet the Coordinator
Members of the Tri-Cities community are learning English as a Second Language, having fun, and making friends. For several years now, LCRC service learning students and TESOL Certificate interns have been cooperating to teach evening ESL at St. Mary's Catholic Church School. The classes are free, and all are welcome. The students have come from many countries, including Portugal, the Ukraine, Russia, Mexico, China, Indonesia, Saudi Arabia, and others. Their English is at many different levels, and they all help each other learn.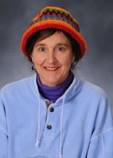 Theresa McGarry started teaching English as a Second Language in 1987 and has taught in Korea, Japan, Ecuador, China, the US, and, as a Peace Corps volunteer, in Bandarawela, Sri Lanka. She obtained a PhD in linguistics from the University of South Carolina in 2004, specializing in sociolinguistics and second language acquisition. She is now a professor in the Literature and Language Department and the coordinator of the TESOL Certificate Program at East Tennessee State University. Her research interests include second language acquisition of vocabulary, Sinhala, Awa Pit, and the assignment of responsibility in discourse. She is currently working on an analysis of letters to the editor in Sri Lankan English and Kenyan English with Dr. Martha Michieka. She lives in Johnson City and can often be seen hiking on Buffalo Mountain or riding a bike on the Tweetsie Trail.
Classes are free and non-religious.