Scholarships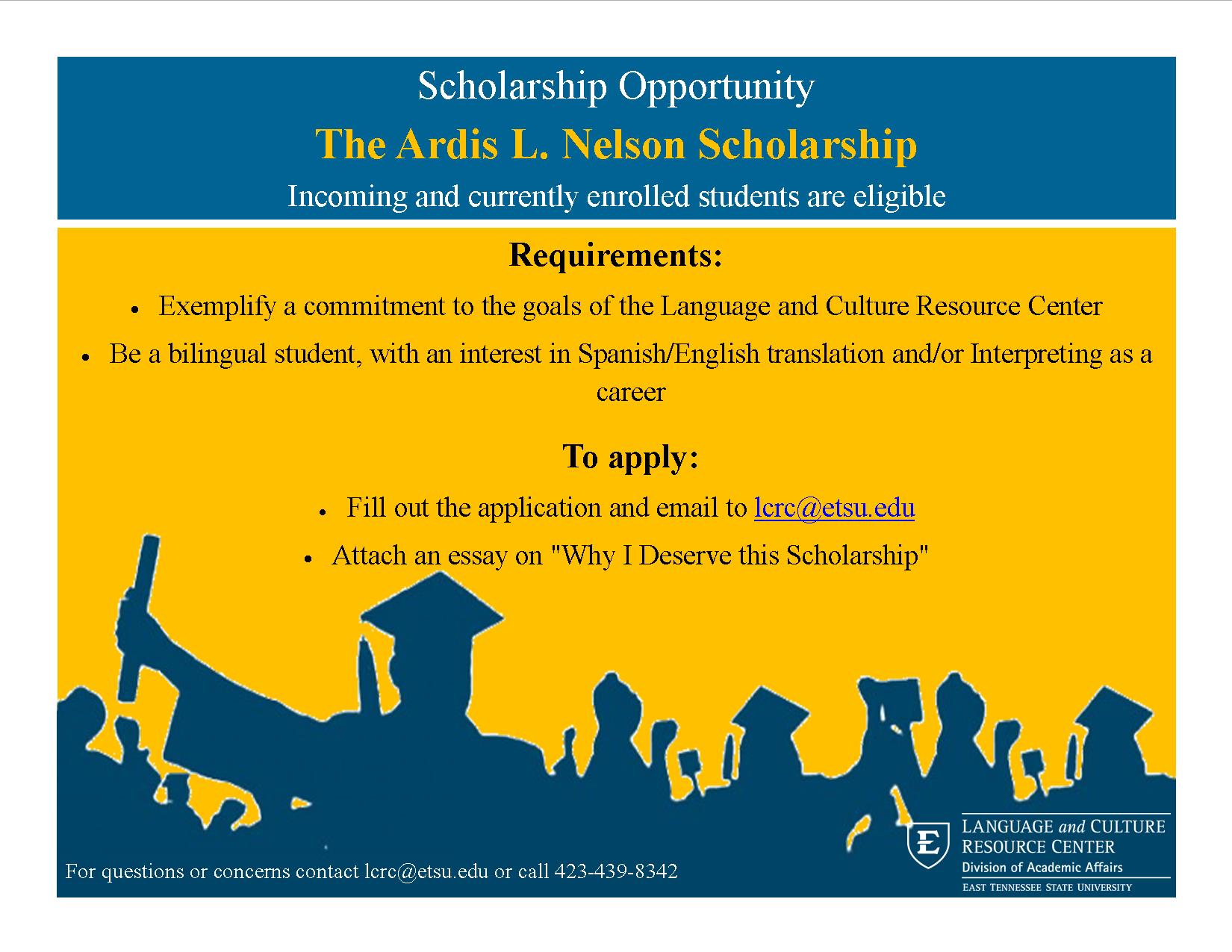 LCRC is happy to announce the "Ardis L. Nelson Language and Culture Scholarship"
Requirements:
3.0 GPA minimum
The Ardis L. Nelson Language and Culture Scholarship: Applicants are required to be an incoming or current undergraduate or graduate student at ETSU. It is preferred that each applicant: 1) exemplify a commitment to the goals of the Language and Culture Resource Center; 2) be a bilingual student, with an interest in Spanish/English translation and/or Interpreting as a career; 3) show seriousness of purpose in his or her academics pursuits; 4) demonstrate a need based on economic considerations.
To Apply:
Fill out the application and email to lcrc@etsu.edu
Click her for downloading theApplication
Attach an essay on "Why I Deserve this Scholarship"
Please include your ETSU E number with the essay or application form
This scholarship is awarded yearly
The deadline for this scholarship is the first Monday of March.
Information on Other Scholarships
Education Loan Finance (ELFI), an organization designed to assist and educate borrowers with student loan debt. They've recently created a free in-depth guide to finding and obtaining scholarships for those with Latino heritage. Please take a look:
https://www.elfi.com/scholarships-for-latino-hispanic-students/
Hispanic Scholarship Fund (HSF) - HS Seniors, Community College Transfer, College, and Graduate Scholarships for Hispanics — $Up to $5,000
Students who plan to enroll full-time in a degree seeking program at a two or four year U.S. accredited institution in the U.S., Puerto Rico, U.S. Virgin Islands or Guam in the upcoming academic year. See https://www.hsf.net/scholarship
Hispanic Scholarship Fund (HSF) - HSFinder: Scholarships for Latino Students
Scholarships can play an important role in helping you pay for college. They are free money that you can apply for and they don't have to be paid back. See https://finder.hsf.net/
Hispanic Association of Colleges and Universities (HACU) - National Internships — $610 to $680 per week
The HACU National Internship Program is open to all students, regardless of their ethnicity, gender, age, faith, etc. To be eligible for HNIP, applicants must (1) have a minimum 3.0 GPA (on a 4.0 scale); (2) be enrolled in a degree-seeking program at an accredited institution. (Students pursuing only a credential or certificate will be considered ineligible.) The only session for which you may apply if you have already graduated is the summer session immediately following your final spring semester; (3) have completed the freshman year of college before the internship begins; and (4) be authorized or eligible to work in the United States by law. See https://www.hacu.net/hacu/HNIP.asp
Hispanic Association of Colleges and Universities (HACU) - Scholarships — $1,000 to $2,200


To be eligible to apply for one of HACU's scholarships, students must be attending a HACU Member or Partner college or university. See https://www.hacu.net/hacu/Scholarships.asp
TheDream.US - National Scholarships for First Time College Students and Community College Graduates — Up to $12,500 for an associate's degree and $25,000 for a bachelor's degree


For high school or community college graduates. You need to have DACA or TPS or meet the past DACA eligibility criteria and qualify for in-state tuition at one of our Partner Colleges to receive this scholarship. We also offer an online college option. The Scholarship is for up to $14,500 for an associate's degree and $29,000 for a bachelor's degree. See https:/https://www.thedream.us/scholarships/national-scholarship//www.thedream.us/scholarships/national-scholarship/
Congressional Hispanic Caucus Institute (CHCI) - Scholar-Intern Programs — $1,000, $2,500, $5,000


CHCI offers several Scholar-Intern Programs that provide not only monetary support, but hands-on experience in various fields. From media to health care to business, CHCI's Scholar-Intern programs will help you gain important skills while earning money for your education. There is no GPA or academic major requirement. Students with excellent leadership potential are encouraged to apply. See https://https://chci.org/programs/congressional-internship-program/chci.org/programs/congressional-internship-program/
National Hispanic Health Foundation (NHHF) - The Hispanic Health Professional Student Scholarship — $2,000 to $5,000 per year


Open to any student enrolled full time in an accredited graduate dental, medical, public health, policy, physician assistant, pharmacy, or podiatry, and BSN or graduate students in nursing school. Nursing BSN students will only be considered for the $2,000 one-year scholarships. Any other health professions not listed above will not be considered. See https://www.nhttps://www.nhmafoundation.org/the-hispanic-health-professional-student-scholarshiphmafoundation.org/the-hispanic-health-professional-student-scholarship
Fundación Kinesis - Scholarships for Puerto Rican Students


Kinesis directs its efforts to Puerto Rican students and low-income families. Aspiring high school seniors must have a GPA of 3.5 or higher. Students who are currently enrolled in a bachelors degree and those aspiring or attending a graduate program must have a 3.0 GPA or higher on a 4.0 scale. Applicants must obtain admission to an accredited educational institution outside of Puerto Rico (letter of admission of the university is required). See https://https://kinesispr.org/scholarships/?lang=enkinesispr.org/scholarships/?lang=en
Fundación Kinesis - Bright Stars College Access Program for Puerto Rico Students


The Bright Stars College Access Program enables middle and high school students of low-income and have high academic achievements to overcome the socio-economic constraints preventing them to pursue a college experience. The Bright Stars program offers courses, workshops, counseling and mentoring to prepare students in the application process and transition to college. Students must be enrolled in 8th, 9th or 10th grade in a public or private high school in Puerto Rico. See httpshttps://kinesispr.org/bright-stars/://kinesispr.org/bright-stars/
Mexican American Legal Defense and Educational Fund (MALDEF)- Law School Scholarships for Hispanics — $5,000
MALDEF's Law School Scholarship Program provides several scholarships in varying amounts to deserving law students with a commitment to advancing the civil rights of Latinos. See https://www.maldef.org/resources/scholarship-resources/
Salvadoran American Leadership and Educational Fund (SALEF) - "Fulfilling Our Dreams" — $1,000 to $2,250


Offers financial assistance and support to undergraduate, graduate and professional students. Scholarships for Salvadoran, Central American, and Latino high school and college student. See http://salehttp://salef.org/f.org/
National Puerto Rican Day Parade Scholarship Program - Scholarships for H.S. Seniors and Undergraduates of Puerto Rican Descent


This year, NPRDP will award one hundred (100) $2,000 scholarships to exceptional Puerto Rican High School Seniors and full time two/four years accredited Puerto Rican College undergrad students who are making a difference in their community. See https:/https://www.nprdpinc.org/sponsors/scholarship//www.nprdpinc.org/sponsors/scholarship/
Association of Latino Professionals in Finance and Accounting (ALPFA) - Graduate and College Scholarships for Hispanics in Accounting or Finance Related Fields — $1,500 to $10,000


ALPFA offers scholarships to students, in the US or Puerto Rico, who are pursuing undergraduate/graduate studies. The purpose of these scholarships is to encourage those students who have demonstrated academic excellence to continue pursuing their professional careers. See https://whttps://www.alpfa.org/page/2020_scholarshipww.alpfa.org/page/2020_scholarship
LULAC National Educational Service Centers (LNESC) - LULAC National Scholarships — $250 to $2,000
Applicants are eligible for National Scholastic Achievement Awards, Honors Awards and General Awards. Grades and academic performance will serve as indicators of potential; however, an emphasis may be placed on the individual's motivation, sincerity, and community involvement. See https://whttps://www.lnesc.org/scholarships/ww.lnesc.org/scholarships/
National Association to Promote Library and Information Services to Latinos and the Spanish-Speaking - REFORMA Scholarships for Graduate Study by Spanish Speakers in Library and Information Science — Up to $1,500
Any current or newly entering graduate library school student (M.L.S. or Ph.D.) may apply for its scholarships. Must provide proof of enrollment to an accredited library school. Full-time status is not a requirement. See https://www.reforma.org/content.asp?pl=7&sl=47&contentid=47
Florida Student Scholarship Grant Programs - José Martí Scholarships — $2,000
The José Martí Scholarship Challenge Grant Fund is a need-based merit scholarship that provides financial assistance to eligible HS seniors, undergraduate and graduate students, residents of Florida students of Hispanic origin who will attend Florida public or eligible private institutions. See https://www.floridastudentfinancialaidsg.org/PDF/factsheets/JoseMarti.pdf
Smithsonian Institution Latino Center - Young Ambassadors Program for Graduating High School Seniors with an Interest and Commitment to Disciplines in the Arts, Sciences, or Humanities as it Pertains to Latino Communities and Cultures — $2,000
The Smithsonian Latino Center's Young Ambassadors Program is a national, interdisciplinary leadership program for high school students gifted in the arts, sciences, or humanities. See https://latino.si.edu/yap
Fundación Educativa Carlos M. Castañeda - Graduate Scholarship in Journalism — $7,000
A one-year scholarship to a Spanish-speaking individual at an accredited university in the United States. El número de becas anuales y el monto de cada beca estará determinado por la cantidad de fondos disponibles. See https://fecmc.org/la-beca-de-periodismo
Great Minds in STEM™ - Corporate/Government Sponsored Scholarships — $1,000 to $10,000
These are current scholarship sponsors from corporate America, federal agencies and affinity groups, who contributed to the General HENAAC Scholarships. College and Graduate School Students. Great Minds in STEM™ encourages all engineering, applied science, computer science and math students to apply. See https://greatmindsinstem.org/gmis-scholarship-application/gmis-scholarships/
National Hispanic Coalition of Federal Aviation Employees - Rene Matos Scholarships for Hispanics
Applicants must be accepted or attending an accredited college, university, or vocational/trade school at the time the scholarship is awarded. See https://www.nhcfae.org/education/rene-matos-scholarship-program/
Hispanic Dental Association Foundation - Scholarships for Hispanics in Dental, Undergraduate Dental Hygiene, Dental Assisting, or Dental Technician Programs
The intent of this Scholarship Program is to support promising students training in an accredited Dental Residency or Dental Specialty Program, including Dental Public Health, Endodontics, Oral and Maxillofacial Pathology, Oral and Maxillofacial Radiology, Oral and Maxillofacial Surgery, Orthodontics and Dentofacial Orthopedics, Pediatric Dentistry, Periodontics, and Prosthodontics. See https://www.hdassoc.org/index.php?option=com_content&view=article&id=76:2021-scholarship-program
Prospanica - Scholarship Program to Assist Qualified Hispanics to Pursue Graduate and Undergraduate Degrees in Business
Scholarships are offered for full-time and part-time study at an AACSB accredited institution of the student's choice. See https://www.prospanica.org/students
National Association of Hispanic Nurses - Nursing Scholarships for Hispanics — $2,500
These scholarship awards are presented to NAHN members enrolled in practical/vocational, associate, diploma, baccalaureate, or graduate accredited nursing programs. See https://nahnnet.org/Scholarships
National Organization of Professional Hispanic Natural Resources Conservation Service Employees (NOPHNRCSE) - College Scholarships — $1,000
Provides scholarships to deserving Hispanic students that wish to pursue or are pursuing a bachelor degrees in a natural resources or a natural resources conservation-related field of study at an accredited four-year institution. See https://nophnrcse.org/nophnrcse-scholarships/
Society of Hispanic Professional Engineers (SHPE) Foundation - Graduating High School Senior, Undergraduate, Graduate, Dissertation, and Professional Scholarships — $1,000 to $5,000
SHPE members who demonstrate significant motivation and aptitude for science, technology, engineering, and mathematics are encouraged to apply. Merit and need-based scholarships ranging from $1,000-$5,000 will be awarded based on specific eligibility criteria listed in the application. See https://programs.shpe.org/students/scholarshpe
Golden Door Scholars - DACA (Deferred Action for Childhood Arrivals), high school senior, high school graduate, or currently enrolled in college pursuing an undergraduate degree. — Up to four-year tuition and room & board
Golden Door Scholars provides scholarships for DACA students and scholarships for undocumented students. Students may be high school seniors or recent graduates. Preference will be given to high school graduates from states that require undocumented students to pay out-of-state tuition. Golden Door scholarship recipients receive up to four-year tuition and room & board scholarships to DACA and TPS students from tuition lock-out states all over the country. See https://www.goldendoorscholars.org/future-scholars
Hispanic Heritage Foundation - Hispanic Heritage Youth Awards for High School Seniors
The Youth Awards honors Latino high school seniors who excel in the classroom and community and for their excellence in various categories including: Business & Entrepreneurship, Community Service, Education, Healthcare & Science, Media & Entertainment, and Technology & Engineering. See https://hispanicheritage.org/programs/leadership/youth-awards/
La Unidad Latina Foundation - Scholarships for Hispanic Undergraduates and Graduates — $500 to $1000
Eligible Degrees: all Bachelor degrees and Master of Arts, Master of Science, Master of Public Administration/Policy, Master of Social Work, Master of Education, Master of Divinity and Doctor of Philosophy. See https://www.lulf.org/scholarships.html
United States Hispanic Leadership Institute (USHLI) - Dr. Juan Andrade Scholarship for Young Hispanic Leaders — $1,000
To qualify, applicants must be enrolled or accepted for enrollment as a full-time student in a four-year institution in the U.S. or U.S. territories, and demonstrate a verifiable need for financial support. At least one parent must be of Hispanic ancestry. See https://www.ushli.org/dr-juan-andrade-scholarship-for-young-hispanic-leaders/
Fellowships for Latino/a, Asian and First Nations Doctoral Students in religion, theological studies or biblical studies
Applicants must be of Latino/a, Asian-Pacific Islander or First Nations descent enrolled or admitted full time in a Th.D. or Ph.D. program in religious, theological, or biblical studies. See https://hti.ptsem.edu/dissertation-fellowship/
Minorities: College Scholarships, Graduate Fellowships, Research Internships
College scholarships, graduate fellowships and grants for Hispanics, Latinos, Mexican Americans, Chicanos, Puerto Ricans, Cubans, Dominicans, South and Central Americans, African Americans, Native Alaskans, Aleuts, Inuit, Eskimos, Native Americans, Native Pacific Islanders, Hawaiians, Polynesians or Micronesians. See https://scholarships.fatomei.com/scholarships-for-minorities.html
Minority Scholarships: Medical School, Public Health, Health Professions
Allied Health, Communication, Sciences and Disorders, Health Administration, Health Sciences, Medicine, Mental Health, Nursing, Nutritional Science, Psychology, Pharmacy, Premed, Public Health. See https://scholarships.fatomei.com/minority-scholarships-medical.html
New Mexico Alliance for Hispanic Education - College Scholarships for Hispanics — $1,000 to $2,500
Scholarships are designed to assist students of Hispanic heritage obtain a college degree. Scholarships are available on a competitive basis to community college students, community college transfer students, undergraduate students, and graduate students. Students must apply via www.hsf.net See https://nmalliance.org/scholarship-program/
The College Board - National Hispanic Recognition Program (NHRP)
The National Hispanic Recognition Program identifies nearly 5,000 outstanding Hispanic/Latino students each year. See https://satsuite.collegeboard.org/psat-nmsqt/scholarships-recognition/programs
TheDream.US - Opportunity Scholarships for Locked out Dreamers
For high school graduates who live in targeted, locked-out states that do not offer in-state tuition to DREAMers – or bar you from attending state colleges and universities altogether. You need to have DACA or TPS status and be admitted to one of our Opportunity Partner Colleges to receive this scholarship. The Scholarship is for up to $80,000 to cover tuition, fees, and on-campus housing and meals for a bachelor's degree. See https://www.thedream.us/scholarships/opportunity-scholarship/
McDonalds - The HACER™ National Scholarship — $25,000 per year paid over 4 years
Scholarships for current high school seniors who will be enrolling full-time in the fall of the scholarship year. See https://www.mcdonalds.com/us/en-us/community/hacer.html
Hands of Hope Service Year Program
The Hands of Hope Service Year Program at Casa de Esperanza provides recent college graduates first-hand experience caring for emotionally and medically fragile children. Hands of Hope house parents commit a year to live and work with the children living in the agency foster homes and undergo over 80 hours of training before caring for children. A Hands of Hope gap year gives you the opportunity to earn hands-on experience learning how abuse, neglect, and the effects of HIV play in the lives of some of our most vulnerable children. You will be working directly with therapists, specialists, and social workers to meet the specific needs for each child, exposing you to several career options for the future. See CASAHOPE.ORG/HANDSOFHOPE
Research Participants Needed
If you are interested in participating in a dissertation research study that aims to improve mental health evaluations (i.e., competency evaluations) in immigration court, please contact Maria Aparcero at 631-533-6282. These evaluations help immigration respondents receive a fair hearing. Participants must be Spanish-speaking adults who have had an immigration case. Participants will receive $40 for participating. Participation includes an interview via Zoom. It is completely private and confidential.
The Paul and Daisy Soros Fellowships for New Americans

Each Fellowship recipient receives up to $90,000 in funding for the graduate degree program of their choice and they join a lifelong community of New Americans dedicated to the ideals and values set forth in the US Constitution and Bill of Rights. The Fellowship is open to individuals who are 30 years old or younger (as of 10/27/22), who are immigrants or the child of immigrants, and who are planning to be enrolled in graduate school full-time in the 2023-2024 academic year. Many of our applicants apply at the same time that they are applying to graduate school, or when they are in the first or second year of the graduate school program they are seeking funding for. All types of accredited graduate degrees are eligible: one to two year master's programs, PhDs, JDs, MDs, etc. They must be full-time (we don't support executive or part-time programs). See https://pdsoros-fellowships.smapply.io/prog/2023_application/
Financial Support & Resources for DACA Recipients
See https://www.moneygeek.com/financial-planning/daca-recipients/