Announcements and Events
FOREST SCHOOL PARTNERSHIP
The ETSU Department of Early Childhood Education is excited to collaborate with the Forest School Teacher Institute to offer this workshop in June. The three day workshop will take place at Seedkeepers Forest School, in Jonesborough, TN, where our UG and MA graduate Micky Morton is a founder, director, and teacher. Jean Lomino of the Forest School Teacher Institute will facilitate.
Click here to register

---
BACKGROUND CHECKS - IMPORTANT INFORMATION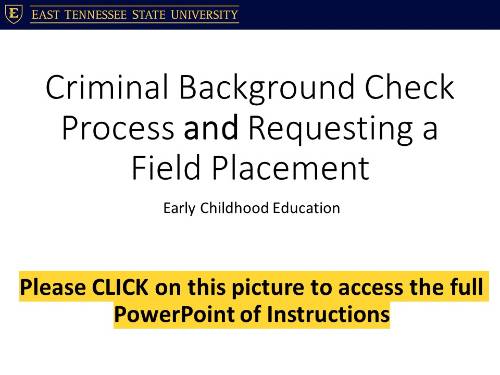 ---
ENROLLING NOW!
Online Master's Degree in Early Childhood Education (MTEA)
We are currently working with our 4th Online Cohort, and hope to start our 5th cohort soon. All classes will be 100% online, so the entire master's degree can be completed from a distance or during non-work hours. The cohort will move through at the rate of 2 courses per semester, so in just 24 months, you can have a Master of Arts Degree in Early Childhood Education.
This is a non-licensure degree, but for students who already have licensure K-6, 1-6, K-12, etc. the courses will meet the requirements for an add-on PreK-3 license in the state of TN. Out of state students can get a special eRate. All the details you need to know are in the brochure, including information about class schedules, application procedures, etc.
Anyone with questions can contact Dr. Amy Malkus at malkus@etsu.edu or 410-463-0841.
Master's Certificate in Early Childhood Emergent Inquiry
The Early Childhood Education Emergent Inquiry program is an online master's certificate program for individuals who have a bachelor or master's degree in Early Childhood or a related field (i.e. Psychology, Special Education, Elementary Education, etc.). The program requires successful completion of the Certificate of Emergent Inquiry program (18 credit hours), at which point a student can decide to apply to and be accepted into the master's program in either the ECED, MTEA (Master Teacher) concentration or the ECED, RSEA concentration with up to 18 credits from the certificate being eligible toward the degree which will require completion of the following additional courses:
ECED 5950 Methods of Research
ECED 5210 Advanced Child Development
ECED 5167 Constructivist Approach to Math and Science
ECED 5335 Assessing and Evaluation Young Children
ECED 5345 Research in Early Childhood
ECED 5570 Practicum in Early Childhood.
Anyone with questions can contact Dr. Jane Broderick at broderic@etsu.edu or 423-439-7695.