About Esports
What is Varsity Esports?
Varsity refers to teams representing a college or university. Typically, these teams compete against similar teams at peer educational institutions. Additionally, varsity programs receive significant support in resources. Typically these resources take the form of financial support, facilities, equipment and scholarships from college and university departments.
The program at East Tennessee State University has multiple teams competing in League of Legend and Overwatch tournaments and scrimmages.
Mission statement:
We provide value to East Tennessee State University through being a quality, exciting, and innovative esports program that grows and improves along with the student athletes.
Vision Statement:
ETSU Esports aims to grow our student athletes into the top performers in the nation, bringing national championship trophies back home to ETSU.
How are we organized?
The ETSU Varsity Esports program is student-focused and allows for additional opportunities for student engagement, teamwork, and leadership development. The program has two teams of five players competing in League of Legends competitions, and two teams of six players competing in Overwatch competitions.
The teams are overseen by Captains - one student per game - who assist the Head Coach in practices and ensuring team morale is maintained.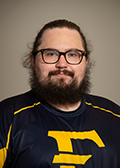 Jeff Shell (They/Them)
Head Coach
Esports Division- Information Technology Services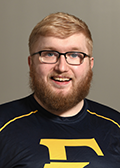 Leigh Nutter (He/Him)
Production Coordinator
Esports Division- Information Technology Services
How is competition organized?
Overwatch competition is overseen by the National Association for Collegiate Esports (NACE) and Blizzard Activision Collegiate (formerly TESPA). The regular Overwatch season for NACE competition takes place in the fall semester with a nine week regular season followed by post season play, pitting the top 32 teams in the nation against each other in a single elimination bracket leading up to an exciting three day championship match.
League of Legends competition is overseen by the Riot Scholastic Association of America (RSAA). During the spring semester, teams compete in regional conferences to earn a berth into a playoffs bracket featuring the top 32 teams in the country. For 2021, the RSAA has decided to host a fall preseason competition with more information to be realeased in the near future.
---
Esports Management Online Graduate Certificate
Learn and gain practical experience in the business of esports. This certificate will help the careers of any esports business-aspiring professionals, esports athletes/coaches, and any athletic administrators interested in expanding into esports. Be a part of this fast growing industry.
Why Us?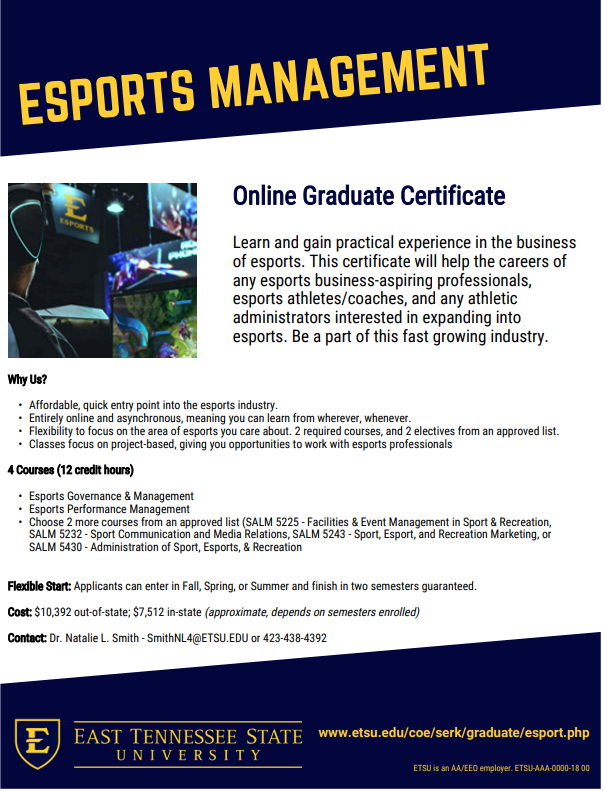 Affordable, quick entry point into the esports industry.
Entirely online and asynchronous, meaning you can learn from wherever, whenever.
Flexibility to focus on the area of esports you care about. 2 required courses, and 2 electives from an approved list.
Classes focus on project-based learning, giving you opportunities to work with esports professionals.
4 Courses (12 credit hours)
Esports Governance & Management
Esports Performance Management
Choose 2 more courses from an approved list (SALM 5225 - Facilities & Events Management in Sport and Recreation, SALM 5232 - Sport Communication and Media Relations, SALM 5243 - Sport, Esport, and Recreation Marketing, or SALM 5430 - Administration of Sport, Esports, & Recreation)
Flexible Start: Applicants can enter in the Fall, Spring, or Summer and finish in two semesters - guaranteed!
Cost: $10,392 out-of-state; $7,512 in-state (approximate, depending on semesters enrolled)
Contact: Dr. Natalie L. Smith - smithNL4@etsu.edu or 423-438-4392