DNP to PhD Excellence Everyday in Nursing Education, Research, and Practice
Beginning Spring 2024 the DNP to PhD Program is moving to NursingCAS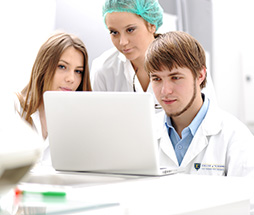 The mission of the PhD in Nursing program is to prepare nurse scientists who will conduct research in nursing and engage in scholarship that will improve health care and health care delivery systems.
Curriculum

Outcomes

PhD Program Outcomes

The PhD of Nursing degree program is designed to produce leaders in nursing and healthcare education and research. Specific objective for the program are to provide students with the knowledge, skills and values to:

Develop specialized in-depth knowledge in a substantive area.

Generate and test theories to create new knowledge and refine existing knowledge for the discipline;

Collaborate within the discipline and in transdisciplinary relationships in research, education, service, and practice;

Disseminate scholarship to lay and professional audiences regionally, nationally, and globally; and

Assume leadership roles as scholars and mentors within and across the health spectrum.

Progression Policy

The following progression policy applies to all PhD students who were admitted Fall 2018 semester and later.


1. Students in graduate nursing programs must meet the requirements of the School of Graduate Studies to remain in good standing. An overall grade point average (GPA) of 3.0 (B) or better must be maintained.


2. In addition, a nursing student must achieve a "B" (3.0) or better in every required course in the graduate nursing program. Policies of the School of Graduate Studies for progression will apply.


3. If a student's cumulative grade point average falls below 3.0, she/he will be placed on academic probation the following semester. If the student does not achieve a 3.0 cumulative grade point average at the conclusion of one probationary semester, the Dean of the School of Graduate Studies and the Associate Dean for Academic Programs in the College of Nursing will determine if the student should be dismissed from graduate study or continued on academic probation. No student will be allowed more than two probationary semesters, whether consecutive or cumulative. At the end of a second probationary semester, a student whose cumulative grade point average is still below 3.0 will be dismissed from graduate study.


4. Students whose performance results in a GPA so far below 3.0 as to make it mathematically impossible to attain an overall GPA of 3.0 after one semester may be subject to dismissal without a probationary term.


5. An incomplete grade ("I") indicates that the student was passing the course at the end of the semester, but due to circumstances beyond the student's control, was unable to complete the course work for which the "I" is assigned. The "I" grade cannot be used to allow a student to do additional work to raise a deficient grade or to repeat a course. An "I" grade must be removed no later than one calendar year from the time the grade is awarded. Time extension requests for removal of an "I" grade must be submitted to and approved by the Dean of the School of Graduate Studies before the allotted time expires. An "I" grade not removed under the guidelines in the Graduate Catalog will be converted to an "F."


6. Students who wish to change from part-time to full-time status must submit a written request to the College of Nursing's Office of Student Services. Request will be approved on an individual basis, taking into consideration the student's academic performance and available clinical slots.
Scholarships/Fellowships

National

American Association of Colleges of Nursing

Scholarship and loan opportunities for Graduate and Post-Graduate nursing students. Eligibility requirements vary. Please visit https://www.aacnnursing.org/Students for more information.

Nurses Educational Funds (NEF)

Nurses Education Funds, Inc. is a not-for-profit organization which seeks and distributes funds to baccalaureate-prepared registered nurses who are in need of scholarship assistance for graduate study. Eligibility requirements vary. Please visit www.n-e-f.org for more information.

---

College of Nursing

Nurse Faculty Loan Program (NFLP) Grants

These grants increase the number of qualified nurse faculty by creating a student loan program within individual schools of nursing and supporting individual students. Recipients must agree to teach at a school of nursing in exchange for cancellation of up to 85% of their educational loans, plus interest, over a four-year period. Applications for our NFLP funds can be obtained from Ms. Lisa Haddad, College of Nursing Graduate Programs.

Full-time PhD students can apply through the School of Graduate Studies for a 10 or 20 hour a week position assisting a faculty member with research, teaching or other projects. Positions are available each year in the College of Nursing and other departments on campus. Some assistantships require regular presence on campus; others, depending upon the duties, may be possible to accomplish from a distance. In addition to a modest salary and the waiver of out-of-state tuition (when applicable), full maintenance fee is waived for a 20 hour position, and half maintenance fee is waived for a 10 hour position.

Link to SGS site: https://www.etsu.edu/gradschool/funding/gats.php

Tuition Scholarship

Full-time PhD students can apply through the School of Graduate Studies for a Tuition Scholarship which requires a time commitment of eight hours each week. Similar to an Assistantship, the student assists a faculty member with research or other projects. Tuition Scholarships are available in the College of Nursing and other departments on campus. There is no salary provided, but full maintenance fee and out-of-state tuition (when applicable) is waived.

College of Nursing Scholarships

Various scholarships offered by the College of Nursing to graduate nursing students. Eligibility requirements vary. For specific information, please visit https://www.etsu.edu/nursing/scholarships.php .

---

School of Graduate Studies

PhD students can apply for specific scholarships and awards through the School of Graduate Studies. For a complete listing, please visit https://www.etsu.edu/gradschool/funding/paying.php

Intensive Week Schedules

2023 Doctoral Intensive Week Schedules (for DNP and PhD Students) dates are:

| | |
| --- | --- |
| Semester | Dates & TImes |
| Summer 2023 | May 15, 2023. Time 08:15 AM thru 4:30 PM |

PhD Student Dissertations
2023.03 v. 15 | Assistant Dean of Student Services