Research Award
2022 Distinguished Faculty Award in Research - Dr. Kate Beatty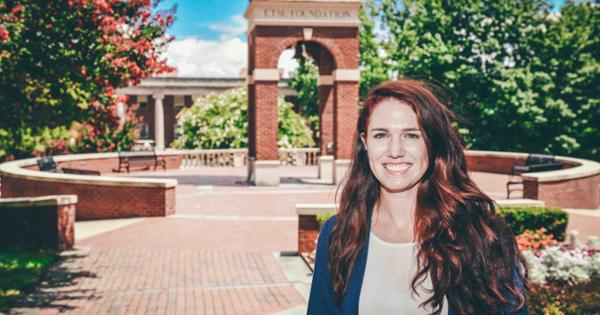 Dr. Kate Beatty, a public health researcher whose work focuses on rural and Appalachian health and advancing health care for rural and low-income women, has won East Tennessee State University's Distinguished Faculty Award for Research.
It is the highest research honor that ETSU presents to a faculty member.
A faculty member who wrote a letter in support of her nomination noted that Beatty's work "is both practical and policy-relevant – critical attributes for meaningful research in the public health arena."
Beatty has been a member of the ETSU College of Public Health since 2014, where she is currently an associate professor in the Department of Health Services Management and Policy.
During her time at ETSU, she has played a role in three major research centers: the Center for Applied Research and Evaluation for Women's Health (CARE Women's Health), the Center for Rural Health Research and the Rural Health Equity Research Center.
Beatty has developed and led a collaborative, externally funded research program with the goal of expanding access to care and improving the quality of care for rural and underserved populations. She has been involved with a wide range of research projects aimed at improving the lives of people through the betterment of practices and engagement with policymakers and funders.
Her work has often focused on rural communities, including Appalachia and the U.S. southeast around issues related to maternal and child health, substance use disorder and the social determinants of health.
She has participated in 18 funded projects for a total of more than $30 million in external funding and has served as principal investigator on eight of those projects.
"To say that Dr. Beatty's work is impactful and life-changing is an understatement," wrote a colleague. "She has worked tirelessly to make a difference for people so they can achieve their health goals and their full potential."
[From ETSU News August 2022]
2021 Distinguished Faculty Award in Research was presented to Dr. Aruna Kilaru, a professor in the College of Arts and Sciences' Department of Biological Sciences.

Kilaru is nationally and internationally recognized for her research on the biochemical regulation of oil biosynthesis and stress tolerance in plants. "She has made numerous notable discoveries in this realm, including identifying novel regulators of oil synthesis in plants and identifying an endocannabinoid lipid and components of its biosynthetic pathway in bryophytes," a colleague wrote in support of her nomination.

During her tenure at ETSU, she has received more than $1.1 million in grant funding for her work, and has published in numerous top journals in her field.

"I've always been passionate about research," Kilaru says, "and the idea that I can contribute to the progress of science doing whatever kind of research I am doing is definitely one of the most motivating factors."

Also important to Kilaru is the influence she can have on her students in helping them to build their critical thinking skills to benefit their careers. Several generations of students from the baccalaureate to the doctoral levels have benefitted from her research, her teaching, and her mentoring, both in the classroom and in the laboratory. Two of her former Ph.D. students are now postdoctoral researchers at Virginia Tech and Columbia University.

Kilaru was recently selected to serve as an agricultural science advisor for the U.S. Department of Agriculture as a recipient of the American Association for the Advancement of Science's Science and Technology Fellowship.

Kilaru received her B.S. in biology and chemistry and M.S. in biotechnology from universities in India and her Ph.D. in environmental and evolutionary biology from the University of Louisiana, Lafayette, in 2005.

[From ETSU News August 2021]

2020 Distinguished Faculty Award for Research - Dr. Mohamed Elgazzar The Distinguished Faculty Award in Research was presented to Dr. Mohamed Elgazzar, professor in the ETSU Quillen College of Medicine's Department of Internal Medicine.

A member of the ETSU faculty since 2010, Elgazzar has gained national recognition for his research focusing on the molecular immunobiology of sepsis and chronic inflammation.

"Dr. Elgazzar is a brilliant researcher," said Dr. Zhi Q. Yao, professor in ETSU's Division of Infectious Diseases and director of the Hepatitis (HCV/HIV) Program at the James H. Quillen VA Medical Center. "He has the ability to recognize and respond to fundamental gaps in our understanding of clinical immunology and inflammatory diseases."

In less than three years of his tenure at ETSU, Elgazzar received extramural funding from the National Institutes of Health (NIH), including one R15 grant and one R01 grant, totaling approximately $1.7 million. Recently, he has been awarded a prestigious NIH R35 grant totaling $1.85 million for his novel discovery of the role of long noncoding RNAs in the development of myeloid-derived suppressor cells in sepsis.

He is also serving as co-investigator with Yao and Dr. Jonathan Moorman, chief of the Division of Infectious Diseases at ETSU, on other NIH-sponsored projects. In addition, he has forged additional collaboration with Wake Forest University School of Medicine.

Elgazzar has actively disseminated his novel research findings through publications and presentations, with 34 original research papers and five review articles published since 2010. His work has been published in multiple prestigious journals and he also served as a reviewer for multiple high-impact journals and as an editorial board member of the International Journal of Immunology and Immunotherapy and Journal of Clinical and Cellular Immunology.

"Promising scientists like Dr. Elgazzar are extremely important to ETSU and the College of Medicine's research programs," Yao said.

Elgazzar graduated from Tanta University in Egypt in 1991 with a master's degree in immunology. He earned a Ph.D. degree in molecular immunology in 2002 from Kumamoto University in Japan. He completed postdoctoral training as a research fellow from 2003 to 2007 at University of Colorado and Wake Forest University.

[From ETSU News August 2020]

2019 Distinguished Faculty Award for Research - Dr. Alok Agarwal Dr. Alok Agrawal was named the recipient of ETSU's 2019 Distinguished Faculty Award in Research. Agrawal is a professor in the Quillen College of Medicine's Department of Biomedical Sciences.

Agrawal earned recognition for his 34 years of research related to C-reactive protein (CRP). His research has contributed immensely to the identification of possible new therapeutic approaches to treatment of pneumococcal infection, cardiovascular disease and rheumatoid arthritis.

"Dr. Agrawal's contributions to research and towards the mission of the College of Medicine and East Tennessee State University are exemplary," said Dr. Bill Block, dean of Quillen College of Medicine. "His work has received international attention."

Agrawal's CRP research at ETSU grew from research he had been conducting as a graduate student in India in the 1980s. Later, he continued the same research as a postdoctoral fellow at the University of Alabama at Birmingham and then as a research assistant professor at Case Western Reserve University. He joined ETSU's faculty in 2002.

Agrawal received his first National Institutes of Health (NIH) RO1 grant funding in 2002, and since that time has received approximately $6 million in NIH funding to expand his CRP research.

"The strong support of Dr. Agrawal's research by NIH funding demonstrates the significance of his findings, and his productivity and independence as a scientist as extramurally and expertly assisted by peer reviewers at the national level," said Dr. Gregory Ordway, senior advisor to the dean for research and professor in the departments of Biomedical Sciences and Psychiatry and Behavioral Sciences at Quillen. "He is an outstanding scientist making major advances in research in cardiovascular medicine and immunology, and a highly respected educator."

Agrawal has authored almost 60 publications on CRP and has presented his research at seminars around the world.

On a national level, Agrawal serves on multiple editorial boards and as an ad hoc reviewer for more than 250 publications. He has participated as an ad hoc reviewer for NIH study sections and review committees on more than 35 occasions.

At ETSU, Agrawal has trained and mentored many young research scientists and earned numerous university awards for his teaching and research, including the Dean's Distinguished Research Award in 2009 and 2017. For 12 consecutive years, he has received the Biomedical Sciences Graduate Student Award for either or both "Course Director of the Year" and "Professor of the Year."

Agrawal holds both bachelor's and master's degrees from Banaras Hindu University and a Ph.D. from Visva Bharati University.

[From ACCENT Faculty and Staff Newsletter, September 3, 2019]

.
PAST DISTINGUISHED FACULTY AWARD RECIPIENTS FOR RESEARCH
2018-2011
2018 - Courtney Hall, College of Clinical and Rehabilitataive Health Sciences, Department of Physical Therapy
2017 - David Harker, College of Arts and Sciences, Department of Philosophy and Humanities
2016 - Jonathan Moorman, Quillen College of Medicine, Department of Internal Medicine
2015 - Krishna Singh, Quillen College of Medicine, Department of Biomedical Sciences
2014 - Richard Kortum, College of Arts and Sciences, Department of Philosophy and Humanities
2013 - Gregory Ordway, Quillen College of Medicine, Department of Biomedical Sciences
2012 - John Yao, Quillen College of Medicine, Department of Internal Medicine
2011 - Joel Hillhouse, College of Public Health, Department of Community Health