SCHOLARSHIPS & COURSE OFFERINGS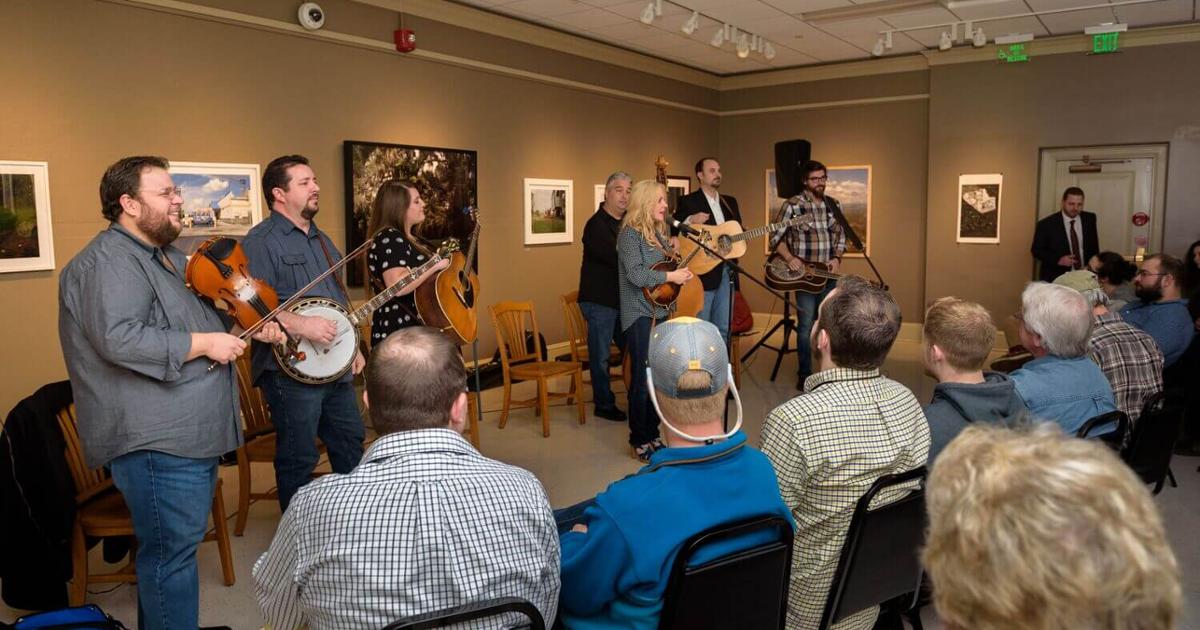 The Bluegrass, Old-Time, and Roots Music Studies Program at ETSU is dedicated to helping students study music from a variety of vantage points and prepare for success in a wide array of pursuits. Graduates from our program occupy positions all throughout the industry, as entertainers, studio musicians, recording artists, songwriters, journalists for trade magazines, artist managers or promoters, audio engineers, road managers, museum managers and curators, and more. Coursework is designed to help students experience music deeply, understand its history and culture, and cultivate the ability to express themselves creatively and effectively.
Educational Experiences and Classes
Find Curriculum outlines for the BLUE major here: Audio Production Concentration, Old-Time Music Concentration, Bluegrass Music Profession Concentration, Scottish and Irish Music Concentration. An outline for the Minor can be found here.






Scholarships
Students in Bluegrass, Old-Time and Roots Music Studies participate in several kinds of scholarships. Creative Arts Scholarships are for out-of-state and international students, allowing students to attend at the in-state rate. Endowed Scholarships are for all full time students. All eligible students are encouraged to apply--a student may receive both a Creative Arts Scholarship and an Endowed Scholarship. Many students also participate in the Honors program and related scholarships.
Endowed Scholarships

Requirements and Directions for Applying

Any full-time student in Bluegrass, Old-Time, and Roots Music Studies is eligible for the endowed scholarships. Only one application is necessary to be considered for all available endowed scholarships. In the application, you will submit three videos and respond to questions regarding your future goals and aspirations. The amount of the scholarships vary from $50 to more than $10,000.

Important Note: Part of what will be considered in a scholarship application is the applicant's ability to follow the directions closely. Please read and adhere to the submission guidelines carefully. You can preview and fill out the application here. Please email endowedscholarships@gmail.com with any questions.

For Incoming Students: While there is a March deadline for Endowed Scholarships for returning students, there is no deadline for incoming students. As there are limited funds, incoming students are encouraged to apply as soon as possible in order to be considered for a scholarship before funds are depleted.

About the Scholarships:

The Benny Sims Scholarship is endowed through the support of the family of Leon Kiser, the Appalachian Cultural Music Association, the Birthplace of Country Music Alliance, and numerous private donors. Benny Sims left an indelible mark on the bluegrass music world during his time with Lester Flatt, Earl Scruggs and the Foggy Mountain Boys from 1949- 50. Sims fiddled on the first recordings of such classics as "Pike County Breakdown," "Little Girl In Tennessee," and "Foggy Mountain Breakdown." And it was Sims' singing that helped make "Old Salty Dog Blues" the classic that it is today. Sims left the group to become a staff musician on the WNOX "Mid-Day Merry-Go-Round" and "Tennessee Barn Dance" in Knoxville, Tenn. He played with Jack & Curly Shelton in the late 1940's. In 1954 he joined the BonnyLou and Buster Moore program on WJHL-TV in Johnson City, Tenn. Sims retired from music in the 1960's and went on to become an insurance salesman in the Johnson City-area as well as a formidable fiddle teacher, producing several instructional books for Joe Morrell Music Distributors. Although he passed away in 1996, Sims still inspires young bluegrass musicians through a scholarship sponsored by the BCMA in his name.

The ACMA / Leon Kiser Memorial Scholarship is ETSU Bluegrass, Old-Time, and Country Music Studies' first full-tuition scholarship. The Appalachian Cultural Music Association, Inc. (ACMA)/Leon Kiser Memorial Scholarship provides tuition and fees at the in-state level for one academic year (approximately $2,000 per semester). Leon Kiser was the founder of Kiser Supply and a local advocate for furthering bluegrass, old-time, and traditional country music. Since his passing in 1997, the Kiser Family has supported the annual Leon Kiser Memorial Tribute Show. Designated proceeds from this benefit production, combined with gifts from the ACMA and the Kiser Family, support this endowment.

The Lester P. Seaton Scholarship has been endowed by Mr. Seaton's family and friends, in memory of his love of bluegrass and country music. Lester Seaton grew up in Maryville, Tennessee, and played on Knoxville radio while still a boy. Although he never played professionally, he retained his love of music throughout his life. His collection of recordings, sheet music, and instruments was donated to ETSU in 1998.

The Roy Huskey Jr. Scholarship was established by Psi lota Xi, a service organization that, through the combined efforts of its members throughout the United States and overseas, supports a variety of worthy causes. Huskey began his career at the age of 16 backing up Del Wood on the Grand Ole Opry in 1971. His first job as a touring musician was with Roy Acuff as one of his Smoky Mountain Boys. Eventually his work spanned a range of music styles including bluegrass, country, folk, Cajun and folk-rock. Huskey received a Grammy with Emmylou Harris and the Nash Ramblers for their 1992 live album At the Ryman. He was also honored with a number of "Bass Player of the Year" awards from organizations such as the IBMA, SPBGMA, and ACM.

The Joe Morrell Scholarship was established by the friends and family of Joe Morrell. Mr. Morrell was a musician, playing professionally as a young man with country music bands in New England and locally with Curly King on the "Farm and Fun Time" radio program in the 1950's. Having founded Morrell Music in 1960, Joe Morrell created a family business that has endured for decades serving musicians in the area. In the 1980's, Morrell designed and built a Bristol landmark, the "Grand Guitar," off of Interstate 81. The structure, 70 feet long and three stories tall, has been featured in newspapers and magazines worldwide. It houses a country music museum and the weekend operations of historic WOPI radio station. Admission is free and open to the public. In his retirement, Morrell played steel guitar with his band, Blue Country. He loved the Bristol area and country music.

Creative Arts Scholarship

The Creative Arts Scholarship is for new (first-time freshmen or transfer students of any level) full-time, degree-seeking students from outside Tennessee who do not qualify for in-state tuition though another award -- such as the Border County Program or Academic Common Market. These programs are preferable for some students, as they do not have a time limit – the Creative Arts Scholarship entitles students to pay in-state tuition rates for eight semesters. Students from outside the United States are invited to apply as well, in consultation with International Student and Scholar Services at ETSU. The deadline to apply for a Creative Arts Scholarship is July 30th.

Award Requirements

Applicants must apply for admission to East Tennessee State University and demonstrate both performance skills and academic achievement that indicate a strong potential for success in Bluegrass, Old-Time, and Roots Music Studies.

First-time freshmen should have a 21 ACT (990 SAT) or a 2.75 high school GPA, while transfer students should have a cumulative GPA of 2.5 or higher on 12 or more transferable credit hours. Exceptions will be considered.

Scholarship awardees commit to:

Declare Bluegrass, Old-Time, and Roots Music Studies as a major or minor course of study;
Enroll and achieve passing grades in at least 15 credit hours of coursework per semester (including at least one individual instruction class and one band class each semester);
Maintain an overall 2.0 cumulative grade point average, as well as a 3.0 GPA in all BLUE courses for each semester;
If a freshman, live on campus for the first two semesters;
Participate in public performances, as agreed upon with the faculty of Bluegrass, Old-Time, and Roots Music Studies (typically 2-4 performances per semester) and assist with additional public performance-related activities as needed;
Develop musical and performance skills as well as the ability to work productively with faculty and other students;

Application Information




In addition to documentation of the student's academic record and ETSU admission status, a completed application form will include the following:

links to YouTube videos documenting the student's performance skills in three songs or tunes. See instructions. If necessary, applicants can also send video files using the ETSU Dropbox;
an explanation of the material he/she is performing, what performance skills are featured in each recording, and why the student chose each song or tune;
a 200-300 word essay summarizing the student's experience with bluegrass, old-time, Celtic, and/or country music to date as well as what he/she hopes to achieve musically in the future.

The application form is located here. If you have any questions or need any accommodations in submitting your application, please contact the Bluegrass, Old-Time, and Roots Music Studies office at 423-439-7072 - or- bluegrass@etsu.edu.

Timeline for New Applications

Students matriculating in the Fall semester are encouraged to apply by March 5 in order to ensure a timely response, however, all applications will be considered.

Students matriculating in the Spring semester are encouraged to apply by November 1 in order to ensure a timely response, however, all applications will be considered.

Acceptance letters will be sent within a month of receipt of all application materials.

For Tennessee Residents

BLUE Performance Scholarships

A limited number of BLUE Performance Scholarships are available for Tennessee Residents. This award provides $1500 per semester, renewable for up to eight semesters ($3000 per academic year; $12,000 total). It may only be applied to spring and fall semesters (no summer or winter terms) and cannot be stacked with a university Academic Performance Scholarship at any level (Presidential, Provost, Dean, or Faculty) – OR – an Athletic Bands Service Award. Additionally, it may not be stacked with other major ETSU scholarships as outlined in the Scholarship Office Policies (click on "Other Policies").

Eligibility requirements:


Tennessee resident or an approved border county resident (designated counties in North Carolina and Virginia)
New freshmen or transfer student (have not previously been enrolled at ETSU)
High school GPA of 2.50 minimum OR college transfer GPA of 3.00 minimum

Maintenance requirements:
Maintain a 2.5 term GPA
Maintain a 2.5 cumulative GPA




Enroll in Individual Instruction each semester (may be waived with approval of the Academic Director)
Enroll in a band (may be waived with approval of the Academic Director)
Complete 25 hours of service as assigned by the Department of Appalachian Studies each semester. This may include helping to set up and tear down for classes and performances, run sound equipment for performances, or participate in outreach or other performances.

To be considered for this award, contact Nate Olson at olsonn@etsu.edu to express your interest. Dr. Olson can also answer any questions pertaining to this scholarship.

Outside Scholarships

A number of organizations outside of ETSU offer awards and scholarships for which students can apply. This list will be updated as we learn of additional opportunities. If you would like a scholarship listed on this page, contact Nate Olson at olsonn@etsu.edu.

The IBMA Foundation lists several scholarships for musicians, songwriters, and even future sound engineers. See their list here.

Steve Gulley Memorial Scholarship - this is a $5000 award given to a college student who best represents the future of bluegrass music.

Helen White Higher Education Scholarship - this is a $2000 award for students in a field of study related to: Traditional Appalachian or American music, any level of elementary, middle or high school education or counseling, or Appalachian studies. Applicants must have completed at least one year participation in a JAM affiliated program.






Bert C. Bach Fine and Performing Arts Scholars Program

The Bert C. Bach Fine & Performing Arts Scholars program at ETSU Invites high-achieving students to join a community of artistically and academically talented undergraduate scholars pursuing excellence in the many arts represented on our campus. Many Bluegrass, Old-Time, and Country Music students have participated in the program with great success. The program provides full-tuition scholarships for in-state students and many benefits for out-of-state students as well.
Click here to go to the ETSU Scholarships page.