About Us Welcome to the Department of Internal Medicine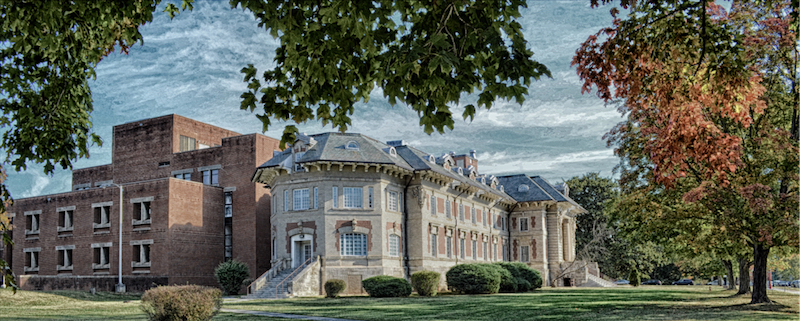 Building 1, Dogwood Avenue, Mountain Home, Tennessee
The Department of Internal Medicine is housed in the historic Building 1 on the Mountain Home Veteran's Administration Campus in beautiful east Tennessee; the white brick, with red trim, building originally dates from 1903. A modern medical research facility designed with local red brick and white trim was added in the 1970's with the formation of the Quillen College of Medicine. The development of the College of Medicine brought a new vitality to East Tennessee State University, The Mountain Home VA Center, along with Johnson City and the surrounding region. If you are a first time visitor to this area, we welcome you to come explore the university and the surrounding region and experience what we are best known for - southern hospitality!
Johnson City is located at the junction of three states, Tennessee, North Carolina and Virginia. Our mountainous terrain makes us a mecca for outdoor enthusiasts. Hiking, mountain biking, white water rafting, car racing, golf, fishing, boating and skiing (both water and snow), are just some of the activities that residents of the region enjoy.
Our Appalachian heritage is reflected in the history of the region; a history predating the formation of the United States. Settlers to the original American colonies moved over the Appalachian Mountains and set up communities just a few miles from Johnson City. The indigenous Native Americans and our original Scottish and Irish immigrants formed a culture rich with music and arts that survives to this day. This arts scene is filled with live music of world class quality ranging from rock to roots, Celtic to country and avant-garde to classical. Large arts and crafts communities exist around the Smoky mountains which is just a short drive from Johnson City. Jonesborough, Tennessee's oldest town, is located just 5 minutes west of ETSU. The historic buildings in Jonesborough are now filled with galleries and restaurants that welcome visitors daily.
If we have managed to elevate your curiosity, you might want to explore the links below that offer more in depth information about this region.
The Mountain Empire is more than just a geographical location, it's a state of mind. To residents of the region, the term "Mountain Empire" is a cultural connection that joins diverse communities across three state lines. When we sent one of our research scientists out to explore the region with camera in hand and curiosity as to what lay around the next bend, this book: The Mountain Empire: A Photographic Travelogue was born.