Ashley Blaske, MD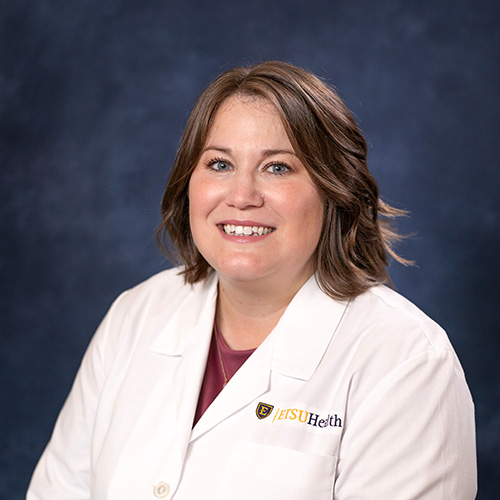 Ashley Blaske, MD
Assistant Professor
Rheumatology
329 North State of Franklin Road, Johnson City, TN 37604
Dr. Ashley Blaske is a dually trained and board certified pediatric and adult rheumatologist. She values the opportunity to build long-term relationships with her patients, working together to treat their disease and achieve their goals. Dr. Blaske enjoys watching her patients return to normal life after treating their physical limitations.
In addition to pediatric and adult rheumatology, her areas of clinical specialty also include systemic lupus erythematosus, juvenile idiopathic arthritis, rheumatoid arthritis, psoriatic arthritis, ankylosing spondylitis, dermatomyositis, scleroderma, and vasculitis.
A native of Lousiville, Kentucky, Dr. Blaske formerly worked in middle Tennessee, where she would often treat patients from the Appalachian Highlands who had no closer alternative for pediatric rheumatology care. After visiting Johnson City, she and her husband fell in love with the community and its natural beauty. She now enjoys the abundance of outdoor activities, including hiking, biking and gardening.
EDUCATION AND TRAINING
Fellowship: Pediatric Rheumatology and Adult Rheumatology, Vanderbilt University Medical Center, Nashville, Tennessee
Residency: Internal Medicine and Pediatrics, Vanderbilt University Medical Center, Nashville, Tennessee
Doctorate: Doctor of Medicine, University of Louisville, Louisville, Kentucky
Undergraduate: B.A. Liberal Studies, Biology, Business Administration (Magna Cum Laude), University of Louisville, Louisville, Kentucky
BOARD CERTIFICATIONS:

American Board of Pediatrics, Pediatric Rheumatology
American Board of Internal Medicine, Rheumatology
American Board of Internal Medicine, Internal Medicine
American Board of Pediatrics, Pediatrics