Suzanne Moore, MD, FACP, FACR Rheumatology
Division Statement | Faculty | Research/Scholarly Activities | Rheumatology at ETSU Health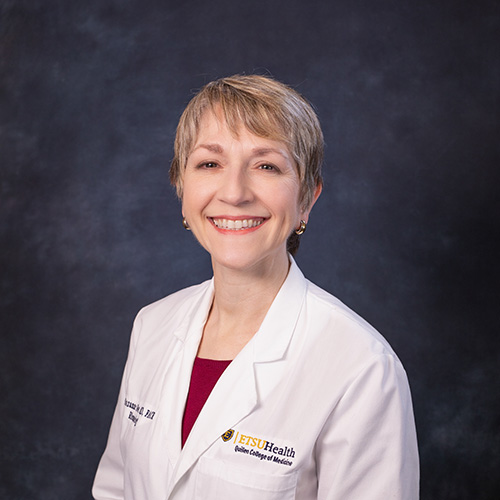 Suzanne Moore, MD, FACP, FACR
Assistant Professor | Rheumatology
329 N. State of Franklin Road
423.979.4100
Undergraduate: Arkansas College (Lyon College), 1988 – 1990, and Rhodes College, 1990 – 1992, BS Biology
Graduate: University of Tennessee, Memphis, Physiology, 1993-1994
Medical School: University of Tennessee, Memphis, 1994 - 1999
Residency: Medical University of South Carolina, Charleston, SC, 1999 - 2002
Fellowship: Rheumatology Fellowship, Scripps Clinic, San Diego, CA, 2007 and University of Tennessee, Memphis, TN, 2010 - 2012
Board Certifications: Diplomat, American Board of Internal Medicine, Internal Medicine (2013 – 2023) and Diplomat, American Board of Internal Medicine, Rheumatology (2012 – 2022)
Brief Bio
Dr. Suzanne Moore joins our practice with 10 years of rheumatology and internal medicine clinical practice experience. She previously taught residents and medical students at the University of Tennessee Health Science Center in Memphis. Dr. Moore got her Bachelor of Science from Rhodes College and MD degree from the University of Tennessee. She completed her internship and residency at the Medical University of South Carolina in Charleston. She did her rheumatology fellowship at Scripps Clinic in San Diego, CA and the University of Tennessee Memphis.
Dr. Moore is a fellow of both the American College of Physicians and the American college of Rheumatology. She is board certified by the American Board of Internal Medicine in both Rheumatology and Internal Medicine.
Dr. Moore focuses on the whole patient, helping patients to make healthy lifestyle changes and prescribing medication as needed. It is her goal to educate patients about medical conditions as they are diagnosed. She believes that patients who are motivated by knowledge and mutually agreeable treatment plan can make the most progress. Dr. Moore will treat patients 18 and over and has a special interest in rheumatoid arthritis.