Zhi Qiang Yao, MD, PhD Infectious, Inflammatory and Immunologic Disease
Division Statement | Faculty | Research/Scholarly Activities | Fellowship | ETSU Health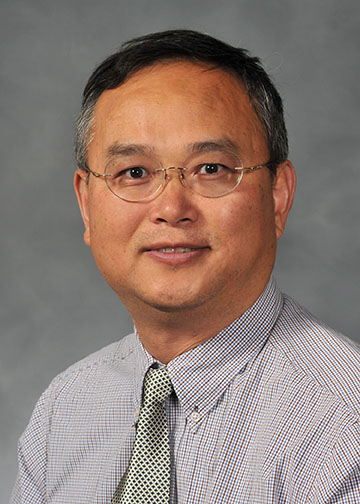 Zhi Qiang Yao, MD, PhD
Professor | Infectious, Inflammatory and Immunologic Disease
VA Building 3
423.439.6380


Graduate: MD, Fourth Military Medical University, China, 1985; PhD Fourth Military Medical University, China, 1991, Infectious Disease
Fellowships: Hepatology, AASLD/Schering , 2001; Infectious Diseases, James H. Quillen College of Medicine, East Tennessee State University, Johnson City, TN, 2008
Board Certifications: American Board of Internal Medicine
Special Areas of Interest: T cell regulation; HCV infection
Brief Bio
Zhi (John) Yao, MD, PhD is Professor of Medicine at East Tennessee State University's Quillen College of Medicine in Johnson City. He also directs the Hepatitis Program at the Veterans Affairs Medical Center in Mountain Home, Tennessee. Prior to joining the faculty in the Department of Internal Medicines Division of Infectious Diseases, Dr. Yao served on the faculty at the University of Virginias School of Medicine and was a Senior Fellow at the City of Hope National Medical Center in Los Angeles.
Dr. Yao earned his medical degree and his Ph.D. in Infectious Diseases from his native China. Prior to moving to the U.S. in 1998, he was Professor of Medicine and Associate Chief for the Division of Infectious Diseases at Tangdu Hospital in Xian, China. He also was a visiting scholar in the Department of Hepatology at the Katholike University of Leuven in Belgium.
Dr. Yao's research interests are in infectious diseases in general, and hepatitis C in particular. He currently serves as principal investigator of an NIH-funded study designed to further understand how certain genetic factors factor into virologic responses during medical treatment for the virus. His goal is to develop new antiviral agents that can better treat the disease. Dr. Yao was recognized for his work in 2012 when he was awarded both the Quillen College of Medicine Deans Distinguished Research Award in Clinical Science and East Tennessee State University's Distinguished Faculty Award for Research.
Author of more than 80 articles in peer-reviewed journals, Dr. Yao has served as a reviewer for several NIH grant programs, and is a member of the American Association for the Study of Liver Diseases, the American Gastroenterology Association, the Infectious Diseases Society of America, and the American Microbiology Society.