Ballad Health Johnson City Medical Center (JCMC)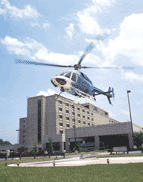 Johnson City Medical Center (JCMC), Ballad Health's flagship facility, is a 445-bed regional tertiary referral center for the entire service area. JCMC is one of six Level 1 Trauma Centers in the state of Tennessee. As East Tennessees leading Heart Hospital, JCMC has been named as a Top 100 Heart Hospitals by Solucient. JCMC is also the leading Cancer Center in the region, enjoying relationships with Harvard, Duke, and Vanderbilt. JCMC is the first and one of two Nurse Magnet hospitals in the State.
Since 1911, Johnson City Medical Center (JCMC) has been dedicated to helping the people of our region attain their highest possible level of health. The second hospital built in Tennessee, JCMC is a comprehensive, acute-care teaching hospital affiliated with East Tennessee State University. JCMC is a major medical referral center and home to Wings Air Rescue, the regions largest fleet of dedicated emergency medical air ambulances with bases in Tennessee, Virginia and Kentucky,
A full range of specialty and subspecialty care services and some of the most advanced diagnostic and surgical techniques are available here. We provide private patient rooms and have separate specialized units for newborn, pediatric, medical and surgical intensive care. JCMC is accredited by The Joint Commission.
For More Information about Ballad Health-Johnson City Medical Center, click here