Student Notifications
Automatic Notifications
Students now have the option to "opt in" to receive SMS text message and email alerts when the instructor completes specific actions in a D2L course. If your students elect to complete this workflow, D2L will automatically notify the students when one or more conditions are met within their courses.

Accessing Notifications
From within the learning environment, click on your name in the top, right-hand portion of the minibar. Select Notifications from the drop-down menu.
---
Follow these steps to enable personal notifications. Note that instructors may complete this workflow, too.
In the Contact Methods section, confirm that your ETSU email displays in the Email Address section. If you would prefer to receive notifications at a different address, click the Change your email settings hyperlink.





If you wish to add a mobile phone number to your notification preferences, click the Register your mobile hyperlink.

In the pop-up window, select a Country, a Mobile Carrier, and enter the Mobile Number. Then, click Save.

You will then be prompted to enter a Confirmation Code. Check your mobile device, and when you receive a text message with the confirmation code, type in that code and the click Confirm.

For each of the Instant Notifications options, mark the checkboxes for Email, SMS (text message) or both.

Select the user's preferences in the Customize Notifications section.

Note that notifications are not course specific. This means, if you elect to receive notifications, you will receive them for all active courses. If you wish to exclude certain courses from the Notifications action, select the Manage my course exclusions and then select the appropriate courses to exclude by check the [X] on the right-hand side of the table.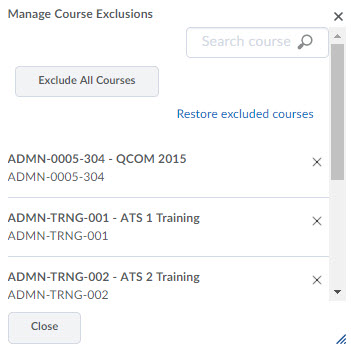 ---
iPhone Screen Captures of Notifications from D2L: