PharmD-MBA Dual Degree Program: Doctor of Pharmacy (PharmD) and Master of Business Administration (MBA)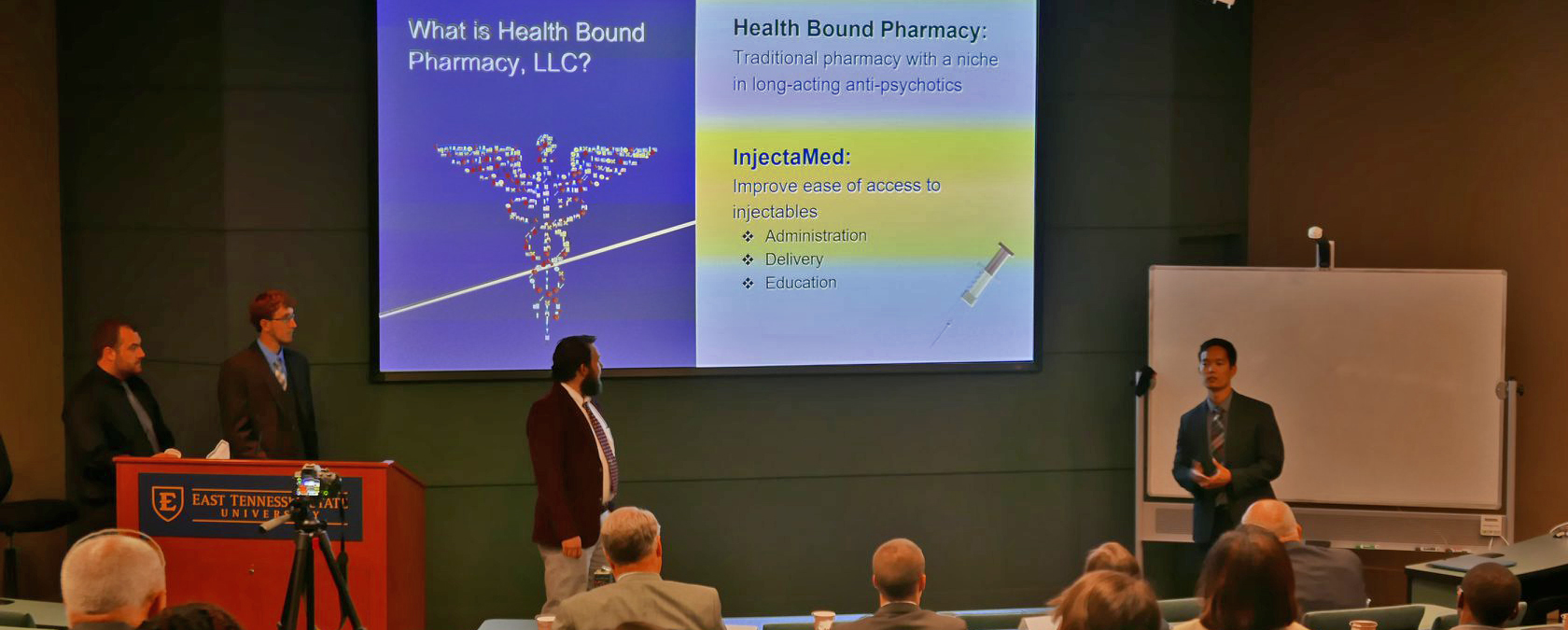 Become a leader in pharmacy
With the ETSU Doctor of Pharmacy (PharmD)-Master of Business Administration (MBA) dual degree program, gain a broader perspective on the business side of pharmacy across various health care settings. Degree offered through ETSU Bill Gatton College of Pharmacy and the College of Business and Technology.
---
Eligibility
Required:
Bachelor's degree or higher. Gatton's bachelor's completion program is an option.
Graduate Management Admission Test (GMAT) may be required.

---




Application
The preferred application deadline is March 1 of the first professional year; however, applications may be accepted after the deadline. Applicants should first inform Academic Affairs regarding their intent to apply; then, submit the following items to Student Affairs:
ETSU Graduate School application to the MBA program, available at the ETSU Graduate School

Application fee will be paid to the ETSU Graduate Schools.
Personal essay of 150-300 words detailing the applicant's reasons for pursuing the articulated PharmD-MBA program
---
Requirements
3 courses (9 credit hours), B or better in PharmD curriculum, serving as MBA electives and MBA stats course
9 courses (27 credit hours) within MBA program.
Online MBA "boot camp" may be required for MBA courses
The PharmD curricular structure is available on the Curriculum page.
---
Program Cost
Save time and money by completing two degrees at the same time. Tuition and fees are determined by the College of Business and Technology. Students pay tuition and fees on a per-course basis. The tuition amount is prorated based on the total MBA program cost. Pharmacy and Business/Technology scholarships may be available to offset the MBA tuition.
---
Timeline for MBA
Learn more from the ETSU catalog listing.



2nd Year
FALL
BADM: Healthcare Economics

BADM 5150: Accounting Information for Decision Making
SPRING
BADM 5180: Economics for Managers

BADM 5430: Applied Corporate Finance
SUMMER
MKTG 5217 - Healthcare Marketing

3rd Year
FALL
BADM 5210: Oper & Tech Strategies


BADM 5230: Strategic Leadership
SPRING
BADM 5500 - Strategic Management Process