Student Mail Services General Post Office Information for Students
All students of East Tennessee State University campus are served by ETSU's Post Office located in the Culp Center. Each student requesting a PO Box is assigned a 5-digit box number to identify his/her mailbox for all mailings. Our window acts as a full service Post Office.
Additionally, some services and stamps are available for purchase from the mail&go kiosk located in our lobby. Outbound package shipping services are available via USPS. UPS, FedEx and DHL available if the package is prepaid and pre-labeled.
For other information, please click on a topic below to scroll to that area of the page.
---
Mailbox Information
Campus mailboxes are available to all students. Assignments are made by the ETSU Post Office. All students who want a post office box must request one from the ETSU Post Office (Lower level of the D.P. Culp Student Center).
Parcels, letters, and periodicals are delivered daily by the US Postal Service. This mail is sorted and placed into the Intelligent Mailboxes or Intelligent Parcel Delivery System (IPDS) early in the business day. Package deliveries from UPS and FedEx are received throughout the day. You will receive an email when you have a package to pick up.
PO Box Manager
Once you have been assigned a PO Box you can log in to the Post Office Box Manager. The PO Box Manager is useful for Mail Forwarding, Adding an Additional Authorized User, Adding Contacts, having Mail put on Hold, Closing your Box and retrieval of a forgotten PO Box Number or Combination. Below is an example of the PO Box Manager.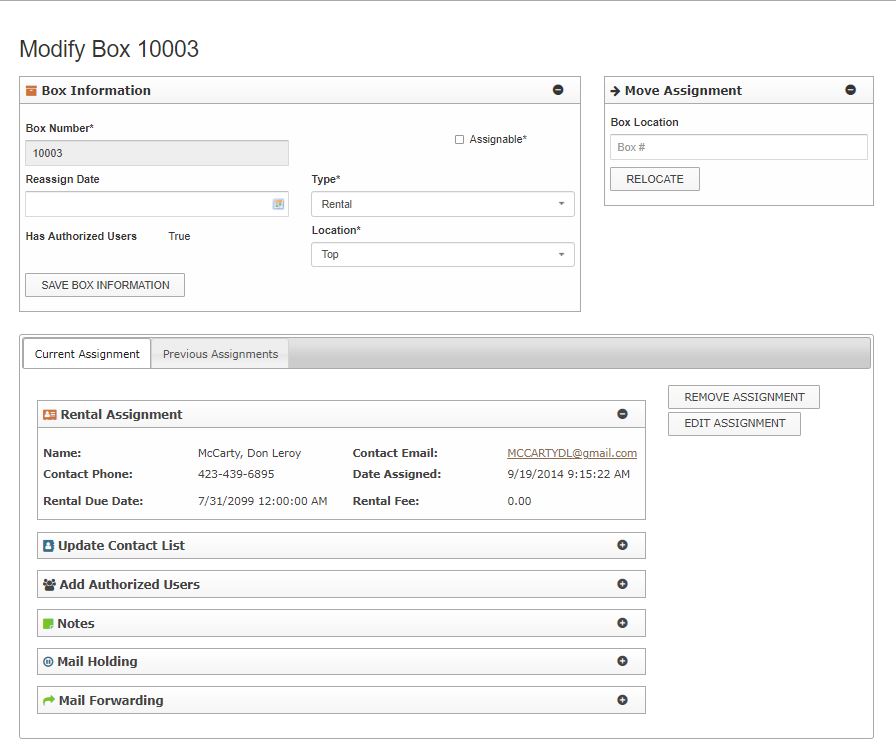 Proper ETSU Mailing & Shipping Address Formatting:
Please use this format for all USPS Mail & Packages sent to students at ETSU. If you are using Private carriers like UPS, FedEx and DHL, you can use this address but please ensure the PO Box and Street address are used.
If you want your items made available for pick-up 24/7 and 365 days a year including holidays at the ETSU Post Office, please use this address below:
USPS, UPS, FedEx and DHL


(Student's Name) ____________
400 JL SEEHORN JR RD
Box _ _ _ _ _ (Enter Student's PO Box)
JOHNSON CITY TN 37614
Additional Information:
The address above may be used for excessively large or heavy items shipped to ETSU or items may also be shipped to the address below for student pick-up at the Central Receiving Office location.
The ETSU Post Office sometimes receives items with an unknown name and/or no mailbox number. This is often from a parent or person ordering merchandise for a student. Items received with an unknown recipient will be delivered based on the best information on the package. If you feel you have a package waiting for you, please contact us or stop by to ensure this case doesn't apply to you.


Note: USPS Mail and USPS Packages should ONLY be sent to the address above.
Additional Central Receiving Information:
Location: 325 Treasure lane (beside Bucky's Pantry), Map to Central Receiving
Hours: 8:00 am to 4:30 pm
Ample free parking available
Shuttlebus Service to our front door-Bucky's Stop
Limited delivery is available for large, heavy, bulky items to residence halls
Package Shipping/Receiving Information


The campus post office provides full USPS shipping services that include: calculating cost, the providing of shipping materials, and parcel label printing. In addition to providing all USPS shipping services, the ETSU Post Office can accept all pre-labelled and pre-paid packages to be shipped via UPS and FedEx.
United Parcel Service, UPS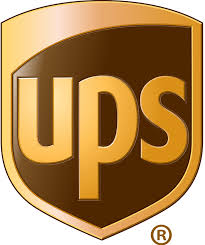 You must have your packages pre-paid and labelled (See below) before dropping them at ETSUs Post Office for delivery. UPS services are most economical for heavy packages, multi-package shipments, and packages being sent to business addresses.
UPS Pre-payment and labelling services can be completed by clicking the following link (You must pay online and be able to print your package label):
To Track your package, please have your UPS tracking number ready and follow this link:
Federal Express, FedEx

This service is the best for overnight shipping, hazardous material shipping and a viable option for international packages that need tracking. Central Receiving uses FedEx Express & FedEx Ground. Shipping via FedEx Ground or FedEx Freight is available to Departments through Central Receiving.
FedEx Pre-payment and labelling services can completed by clicking the following link (You must pay online and be able to print your package label):
To Track your package, please have your FedEx tracking number ready and follow this link:
If you have any questions please have your tracking number (if applicable) and call ETSU Postal Services at (423)439-4232.
Mail Forwarding
Moving off campus, leave of absence or leaving the university
If you leave ETSU or wish to close your PO Box for any reason, it is your responsibility to inform the ETSU Post Office of your new address via the PO Box Manager.
We will forward all USPS first class mail, packages and periodicals for a period of 4 months.
We cannot forward mail to an international address. Domestic addresses only.
We cannot forward items sent by a private carrier (UPS, FedEx, etc.) These items will be returned to the sender
Be sure to inform all parties that send you mail of your new address as soon as possible. Be sure to update your address with all online retailers (Amazon, e-bay, etc) that you frequently use.

It is the box holder's responsibility to confirm all correspondences use the correct address format. Your correct name and mailbox must appear on all items sent to you. First class mail incorrectly addressed will be subject to delay or returned to the sender for address correction.
For Mail Holding – Box Holders can have their mail put on hold or held while they are away from the University for an extended amount of time (2 weeks up to 4 months). This can be done by going into PO Box Manager and adding a Mail Holding for the dates needed. It can also be deleted at any time if the Box Holder should return earlier than planned.
For Adding Contacts and Adding your Phone Number to your PO Box: Box Holders: Contacts Names and Phones Numbers can be added to PO Boxes by going into PO Box Manager and adding them under Update Contact List. They can be deleted this way also.
Retrieving your PO Box Number and/or Combination to your PO Box – to retrieve your PO Box Number and/or Combination to your PO Box you can log in to PO Box Manager using your ETSU Email user name and password.
Closing your Box – You can close your PO Box when you no longer need it by logging in to PO Box Manager and use Close Box Request and select the date you would like your PO Box to close.
Misdelivered or Damaged Mailings or Packages
If you receive mail in your mailbox that was incorrectly delivered or a package that was erroneously released to you, please return it to the ETSU PO immediately. DO NOT OPEN IT. Students are responsible for immediately returning to Mail Services any items (letters and packages) received in error or not addressed to you.

If you receive damaged packages, please contact us. The ETSU PO will make note of items that appear to be damaged as they are received from the carrier. If you discover additional internal damage or missing contents you must report this to the carrier. Mail Services can assist you if necessary, but all claims must be handled through the original shipper and shipping service. You should not discard any packaging until the carrier instructs you to do so, they may wish to inspect the item.
Restricted Items for Mailing
Some items are either forbidden or restricted from being mailed. Please review the following links if you arent sure of your items limitations.
General Information -https://www.usps.com/ship/can-you-ship-it.htm
Infographic - http://about.usps.com/posters/pos37/pos37_v05_revision_092012.htm
Keep the Mail Safe - http://about.usps.com/posters/pos138.pdf
International Mail - http://about.usps.com/posters/pos701l.pdf
Mail Safety - http://about.usps.com/notices/not128.pdf
Check before mailing - http://about.usps.com/notices/not700.pdf
Lithium Batteries - http://about.usps.com/notices/not704.pdf
Suspicious Mailings info
East Tennessee State University receives numerous packages and mailings every day. Employees, students, and other customers who receive suspicious mail should immediately contact East Tennessee State University Public Safety (423-439-4480 or 911).
When encountering a suspicious package or letter, the best protection for you is your personal knowledge and actions. You are the only one with the ability to identify a package or letter that is unlike mail you ordinarily receive. Becoming familiar with the following procedures will ensure proper handling of suspicious mailings:
If you identify a suspicious letter or package, (i.e. obvious contamination or specific written threats):
Do not open
Avoid further handling and isolate item as best possible
Evacuate the area, close the room and prevent further access
Anyone who made contact should wash their hands and face immediately with soap and water
Call East Tennessee State University Public Safety (423-439-4480 or 911) and follow their instructions while waiting for their arrival.
Turn off any fans, window air conditioners and/or small area heaters
Be aware of letters or packages that have suspicious traits. Several Suspicious traits to consider are:
Envelopes/Parcels sealed with excessive amounts of tape
Handwritten or poorly typed addresses you do not recognize- especially those in hand printed block lettering
Incorrect or non-existent departments or position titles
Misspelling of common words
Powders, oily stains, discolorations or strange odors
Unusual or unverifiable return addresses
Protruding wires, strange odors or stains.
Restrictive endorsements such as Personal, Confidential or Addressee Only
Mail that is inconsistent with the types of mail normally received
The United States Postal Inspection Department may be called by ETSU-Public Safety to assist in the investigation and assessment of the level of threat.
The United States Postal Service has increased security procedures at all of their facilities. For additional information, refer to the Suspicious Mail and Safe Mail Handling fact-sheets from both the USPS and the Department of Homeland Security. Mail Center managers may want to post these guidelines for their employees.
Unsolicited or Unwanted Mailings
Have you been receiving unwanted catalogs, mailings, or credit card and insurance offers? Take a moment, and go to the following sites to have your address removed from unwanted mailing lists. It saves you time and prevents waste for everyone!
For catalogs or mailings: Go to www.catalogchoice.org and www.dmachoice.org to remove your address from their mailing lists. Catalog Choice also offers a Mail Stop Envelope (a mail-in opt-out program).
To be permanently removed from credit card and insurance solicitations, go to www.optoutprescreen.com or call 1-888-5-OPTOU
Additional PO Box Mailing Recipients
If anyone but the assigned PO Box holder will be receiving mail at an alternatively assigned PO Box or accessing it, the assigned Box holder must go into PO Box Manager and add them to their PO Box. This is necessary in authorizing ETSU Postal Services to place any other person's mail in an assigned PO box.