MBA Elevate your Career with Knowledge
The Master of Business Administration (MBA) degree is designed for students who wish to advance their knowledge and preparation for positions of responsibility in business or not-for-profit institutions. It is recognized as a key to success in both large and small organizations. The MBA is available to students whose undergraduate studies were in business or non-business fields. An MBA provides you with valuable business knowledge, leadership skills, and networking opportunities, which can enhance your marketability and open doors to new career paths. Many employers value the advanced business acumen that comes with an MBA, and it can increase your chances of securing managerial or executive positions.
AACSB-Accredited Programs

O.ur MBA programs are fully accredited by the Association to Advance Collegiate Schools of Business (AACSB), which is the highest business education accrediting body in the world – only the top 5% of business schools worldwide have this accreditation.

Flexible Learning Experience

The MBA program is delivered three different ways: on-campus, online, and in an accelerated professional format. This allows students to choose the education that suits their educational preferences.

Practical Educational Opportunities

The capstone experience provides student-led teams the opportunity to gain real world experience by solving problems for actual businesses within the region. Students work with their clients and faculty coaches to deliver key strategy recommendations for each project. The teams apply knowledge taught throughout the curriculum, providing them with a practical learning experience while offering valuable insights to the businesses they are assisting.

Career Opportunities

Graduates from the MBA program have found rewarding career opportunities both regionally and nationally. Common career fields include:

Market Research
Marketing Communications
Supply Chain Management
Sales
Supervisor Positions
Human Resources
Student Spotlight: Cristopher Santana

Cristopher is a graduate of both the Bachelor of Administration in Economics and Bachelor of Administration in Finance programs. As an undergrad, he held leadership roles in the Economics Club, the Students of Finance Association, as well as the Student Government Association. He is now enrolled in the MBA program and serves as Student Trustee on ETSU's Board of Trustees.
For More Information, Contact:
Dana Harrison
Department Chair Director of MBA Programs
Sam Wilson Hall 225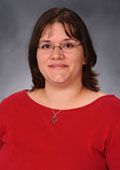 Tracie Gamble
Graduate Business Programs Academic Advisor
Sam Wilson Hall 332