Wellbeing Thrive in our culture of wellbeing.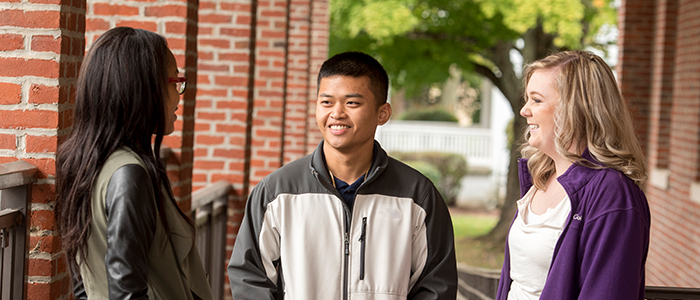 Pharmacy school can be a challenging experience—but it shouldn't come at the cost of your wellbeing. At Gatton College of Pharmacy, we're here to help you maintain your physical, emotional, and mental health so that you can succeed and make an impact in the world. Situated on the beautiful VA Mountain Home campus, the college is surrounded by open green spaces, trees, and walking paths. In fact, the college's restored 100-year-old building was originally constructed with wellbeing in mind, including porches and rocking chairs to help care for injured soldiers after the war with the belief that the mountain air helped heal. We still share this belief, and the porches and chairs have become a favorite place of relaxation for our students, faculty, and staff.
Below is more information about five areas we want to help you with in order to thrive in our culture of wellbeing.
Career Wellbeing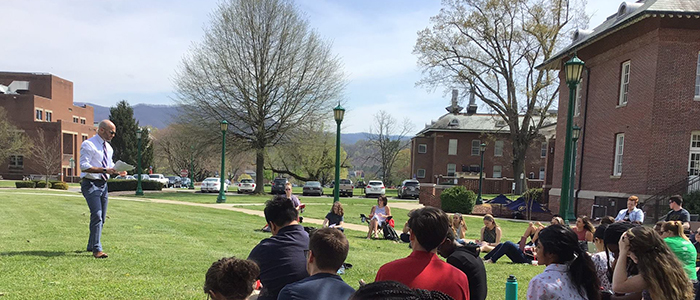 Not only is pharmacy school your present career as a student, but we're helping prepare you for a success career as a pharmacists.
In the P1 year, students will learn more about well-being in "Contemporary Practice of Pharmacy I: Exploring Ourselves, Our Patients and Our Profession (CPOP)." In addition, the college's student mentoring program helps students build relationships with expert faculty and navigate their new environment.
The college's academic success specialist, Dr. Michele Williams, can connect you with a tutor and help support you on your path to become a pharmacist.


Social Wellbeing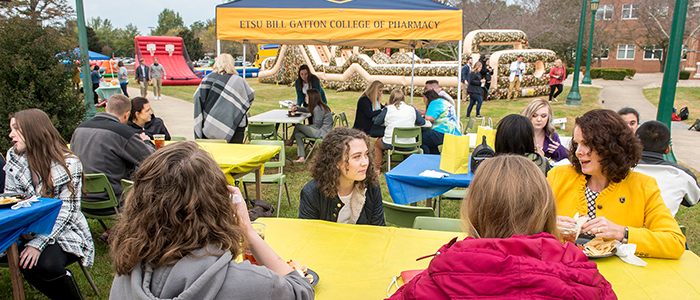 Welcoming, nurturing, inspiring. You'll find a second home here full of personal and professional growth opportunities, as well as a passionate team of faculty who are dedicated to your success. With over 100 opportunities for student leadership, national award-winning organizations and co-ed fraternities, it's easy to get involved.
In an effort to help student, faculty, and staff well-being, there are also college-wide activities planned throughout the year, including the annual fall festival with outdoor games and food.


Physical Wellbeing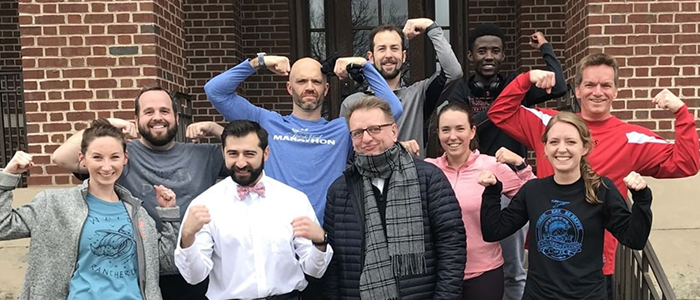 Each Friday, students, faculty, and staff can break out of the classroom or the office and get their blood flowing. Participate in "Phitness Phriday" and not only get your steps in but build relationships in the college's tight-knit community. Students can also participate in intramural sports.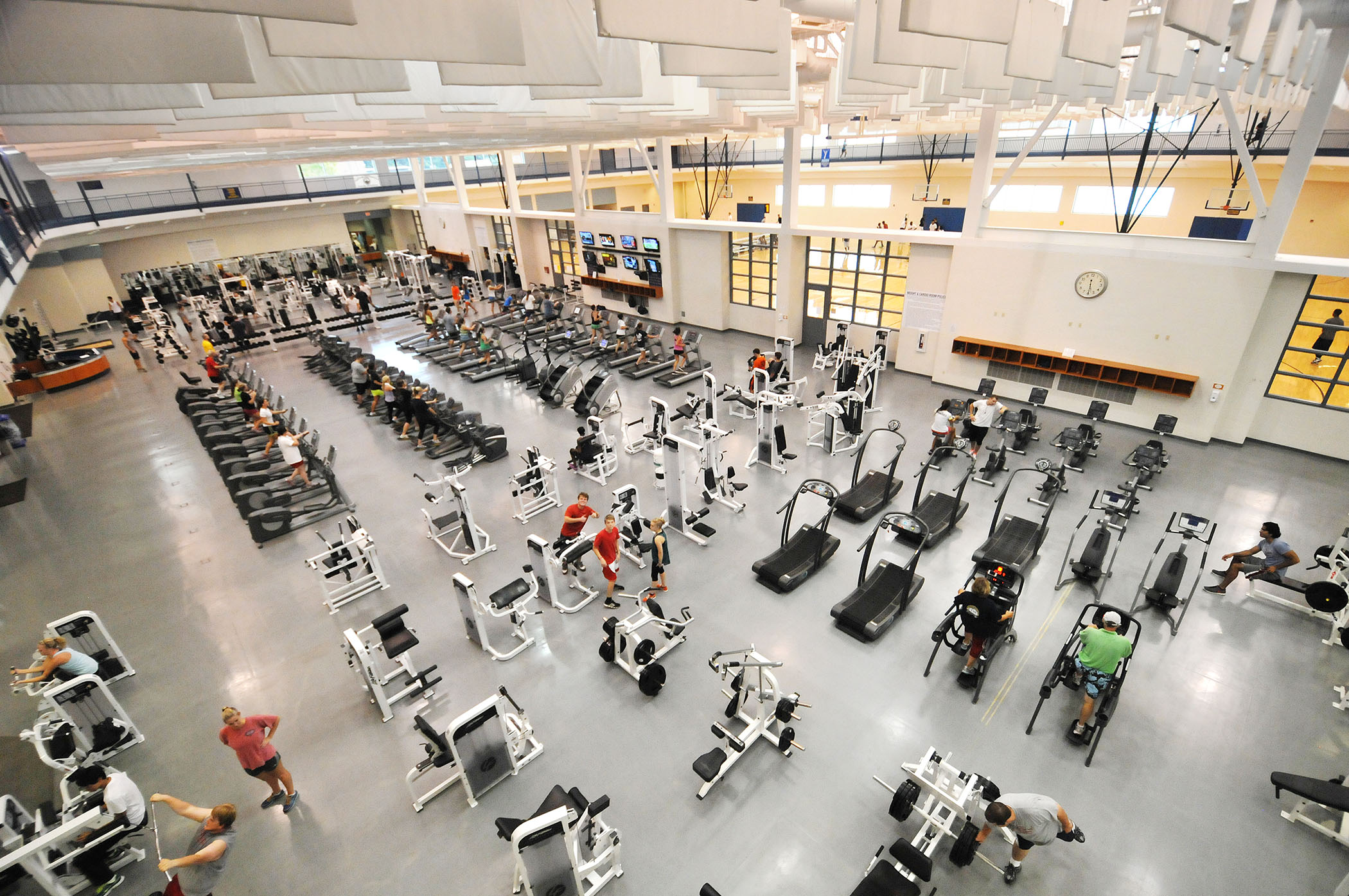 In addition, The Wayne G. Basler Center for Physical Activity (CPA) on main campus offers a 120,000 square foot fitness facility which boasts a 19,000 square foot weight room and cardio room, indoor track, aerobic studio, indoor swimming pool, indoor climbing and bouldering wall, basketball and racquetball courts, equipment rental, and much more. The facility is free to use for students. Watch a video tour.
The University Health Center provides acute and episodic care to students without charge for health provider services. Laboratory services, medications, x-rays, and pap tests are offered at reduced fees. The clinic also provides an array of health education programs specifically designed for students.
The College of Pharmacy offers a counselor independent of the University that is available to pharmacy students free of charge. In addition, ETSU's Counseling Center offers numerous services and resources to ETSU Students.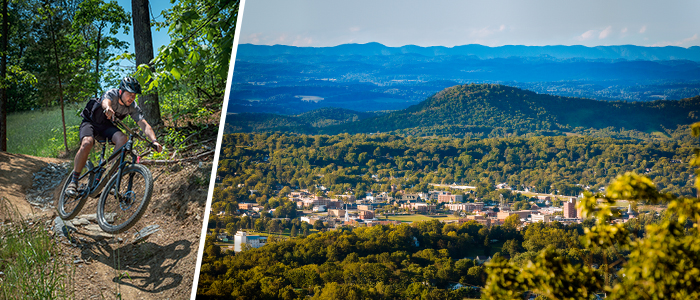 In Johnson City, Tennessee, we're are not only close to a vibrant downtown but minutes away from world-class outdoor recreation that can help you unwind after a rigorous study session. There are numerous trail systems and mountains throughout the region including the Appalachian Trail, Buffalo Mountain, Bays Mountain, Roan Mountain, Tweetsie Trail, and Tannery Knobs mountain bike skills park.
Other outdoor recreation on ETSU's campus includes a team challenge and aerial adventure course, trail system, nine hole disc golf course, and tennis courts.
Community Wellbeing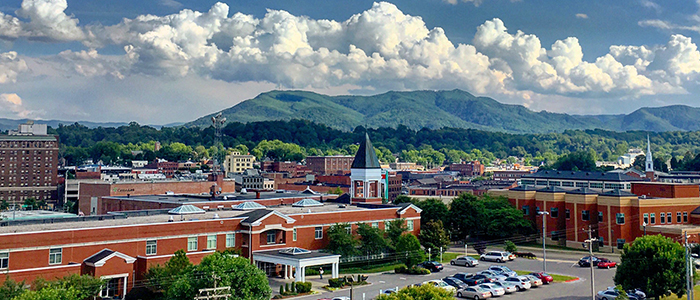 Situated on the beautiful VA Mountain Home campus, the college is surrounded by open green spaces, trees, and walking paths. Johnson City, our hometown, is a fast-growing city with a vibrant downtown that's just minutes away from striking mountain landscapes. Check out a few of Johnson City's recent rankings:
"Top 100 Places to Live," by Liveability.com in 2018
"Top Adventure Town," Blue Ridge Outdoors magazine>, October 2018
Top 5 Happiest Blue Ridge Mountain Towns with Pop. 50K or More," Blue Ridge Country magazine, May 2018
"3rd Most Affordable City in TN," Liveability.com, March 2016
Best Metro Area for a Family Earning $100K," MagnifyMoney.com, July 2017
Safety and security is a priority at Gatton College of Pharmacy. The University's Department of Public Safety is a professional law enforcement agency dedicated to the protection of East Tennessee State University and its diverse community. In addition, since the pharmacy school is also on the federal VA Mountain Home campus, federal police patrol and secure the college's campus.
Community service is a major component of your experience at the college. In 2018-19, our P1-P3 students completed 1,614 hours of service across 170 service events averaging 7.2 hours per student.
Financial Wellbeing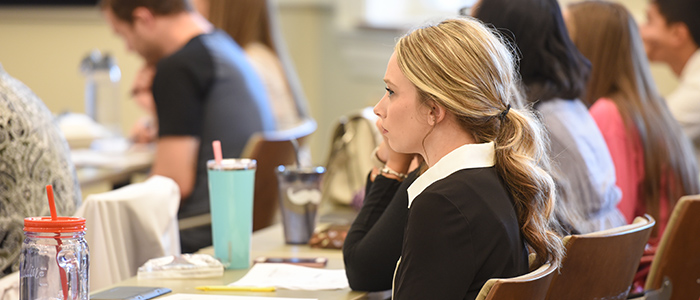 Managing your finances is critical whether you're a student in pharmacy school or a graduate earning three figures. Unfortunately, managing your money can create a lot of extra stress for you that could have a negative impact on your overall wellbeing. That's why we cover personal finances in orientation, CPOP I, and we offer a personal finance elective (PMPR 7117: Foundations in Personal Finance) to P2s and P3s.