Campus ID Services Discover all the features of your campus ID card.
Starting March 1st, 2023 the cost for ID card and badge replacements will be $25 + tax ($27.38) and first-time badges fee will be $10.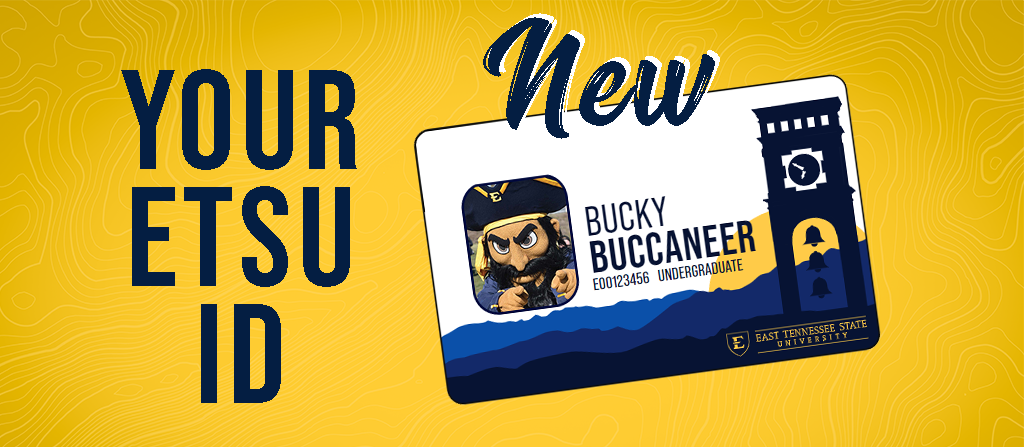 Why Do You Need an ID Card?

The heart of the campus operating system is each person's official ETSU ID card. Each ID card includes features that allow you to embrace campus life to its fullest. Whether it is to gain access to your Residence Hall, your meal plan, print funds, or to use your ID BUC$, your ETSU ID card is there for you to access all the features campus life has to offer! Learn more about your ETSU ID card today! Our office is responsible for producing student, employee, and department guest ID cards. We also print ID badges for medical and nursing programs, internships, and for other department needs. We apply department-requested building/room access onto ID cards, and our office is where you go to deposit money onto your ID BUC$!
Where on campus can you use your ID Card?
and many more!
Follow us on social media to learn about ID BUC$ special offers and up-to-date on ID Office news!
Facebook Instagram
Hours of Operation:
Normal Semester Hours
January 19th - May 5th
Monday
: 8:00 am - 6:00 pm
Tuesday-Friday
: 8:00 am - 4:30 pm
Saturday-Sunday
: Closed
Summer/Winter Hours
May 8th - August 10th
Monday-Friday: 8:00 am - 4:30 pm
Saturday-Sunday: Closed
Closed
Memorial Day: May 29th
Juneteenth: June 19th
Independence Day: July 3rd & 4th
Labor Day: September 4th


Special Hours




On these dates, our office will have limited services due to new-student orientation.
April 22nd,
May 12th,
June 8th - 9th, 15th, 22nd - 23rd
July 13th - 14th, 21st
August 10th - 11th