Visual Resource Center Wide Format printing is by appointment only.
For information about printing or to make an appointment please email sheffieldk@etsu.edu.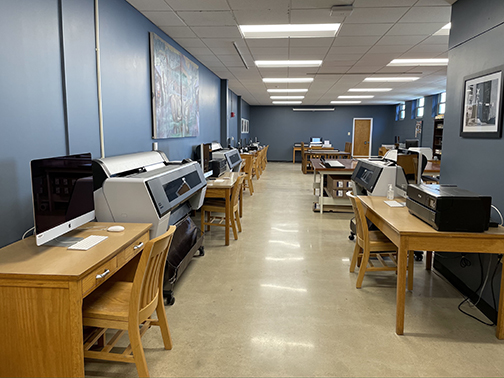 Visual Resource Center Hours:
Monday, Wednesday, Thursday 8am-8pm, Tuesday 8am-4:30pm, Friday 8am-4pm
The Visual Resource Center provides high quality printing, scanning, and other technical assistance to Art & Design students, staff, and faculty. Other available services include photographing or scanning 2D and 3D artwork for students. The Visual Resource Center Curator manages and oversees the space and supervises student workers and graduate assistants who are trained to do a range of duties including assisting students, checking out equipment, as well as printing and scanning.
For Visual Resource Center Information Contact:
Katie Sheffield
Visual Resource Center Curator
Ball Hall 213


sheffieldk@etsu.edu