Partnership Events
The Bert C. Bach Written Word Initiative partners with various groups and departments at ETSU to bring a diverse selection of writers and lectures to campus.


Up Next: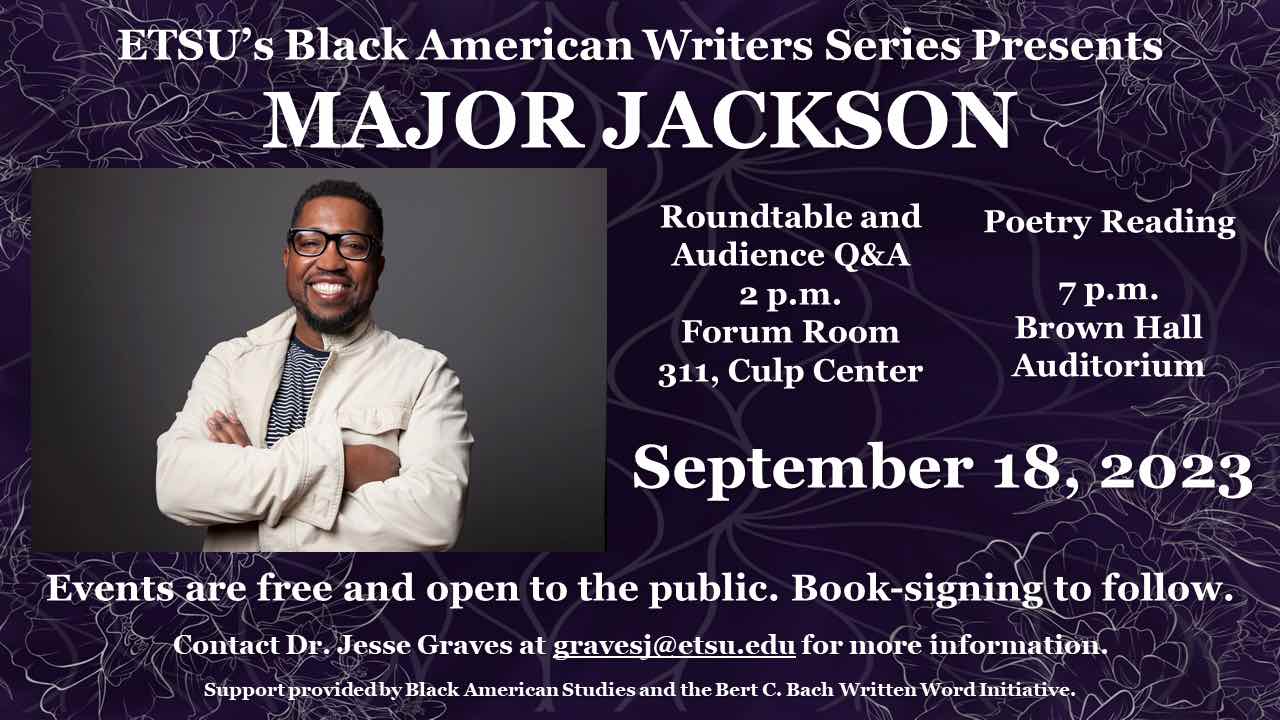 Recent News and Events:

In May of 2023, The Bert C. Bach Written Word Initiative partnered with the Women of Appalachia Project to host a reading of their "Women Speak" Anthology. It brought Appalachian women writers of poetry, fiction, and nonfiction from Tennessee, North Carolina, Kentucky, Virginia, Ohio, and elsewhere to campus to celebrate art, culture, family history, and place.




Kari Gunter-Seymour, poet laureate of Ohio, poses with participants of the Women of Appalachia Project event, "Women Speak," at ETSU on May 13, 2023. Gunter-Seymour is founder and executive director of the Women of Appalachia Project.
Pictured standing from left to right are: Tina Parker, Jane Hicks, Rita Sims Quillen, Lisa J. Parker, Tamara Baxter, Dana Wildsmith, K.B. Ballentine, Catherine Pritchard Childress, Jessica Cory, Sue Weaver Dunlap, and Chrissie Anderson Peters. Kneeling are Lacy Snapp and Kari Gunter-Seymour.
Read more about the founder of the Women of Appalachia Project in an interview with her conducted by Lacy Snapp for Appalachian Places.
Other past partnership events include:

The Black American Studies program and Art & Design's Slocumb Galleries were proud to present internationally recognized poet Nikki Giovanni to speak at East Tennessee State University on September 20, 2022, Tuesday at 6 p.m. at the Brown Hall Auditorium.
There was a Q&A and book signing with Professor Giovanni after the poetry reading.
Nikki Giovanni is a poet, professor, author, and internationally recognized for her distinguished contributions to the field. Her works, such as Black Feeling, Black Talk, Bicycles: Love Poems, and Those Who Ride the Night Winds, have made her one of America's most important voices on the Black experience since the late 1960s. She is also a professor at Virginia Tech University, where she was a powerful voice in the aftermath of the mass shooting there in 2007, representing a campus devastated by the loss of so many lives. Her marks went viral, thus reflecting this simple fact: it is the humanities which explains our world, bringing us together, and supplies the healing balm when tragedy strikes.

This collaborative program is also in partnership with the College of Arts & Sciences' Office of the Dean, the Mary V. Jordan Multicultural Center, Department of Appalachian Studies, Language Culture Resource Center, Film & Media Studies, radio, TV & Film (RTVF), Equity and Inclusion, UMOJA, Bottom Knox and the Langston Centre. For additional information about the event, contact Daryl Carter at carterda@etsu.edu. For disability accommodations, call the ETSU Office of Disability Services at (423) 439-8346.