Department of Music
College of Arts & Sciences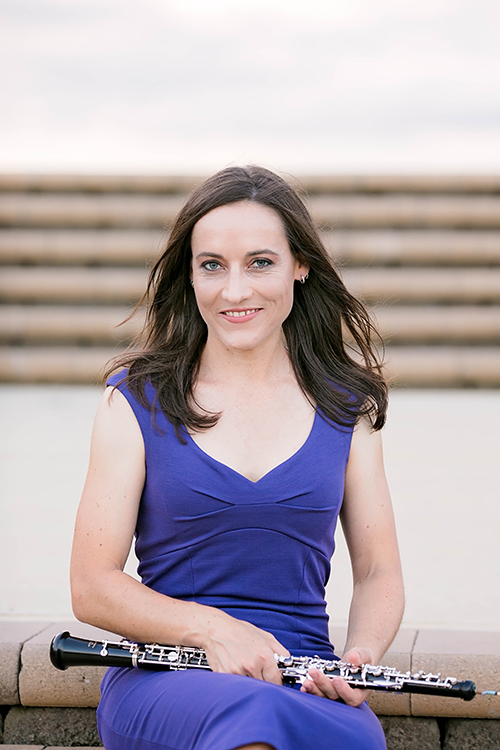 Heather Killmeyer
Associate Professor
---
Heather Killmeyer enjoys a varied career as a recitalist, chamber and orchestral musician, and educator. She currently serves as Associate Professor of Double Reeds at East Tennessee State University. She previously was on the faculty at the University of the Incarnate Word and maintained a large private studio in San Antonio, Texas.
An active artist-clinician, Dr. Killmeyer has taught clinics and masterclasses in California, Nevada, Texas, Virginia, Tennessee, and North Carolina. She has appeared with the Los Angeles Philharmonic, Symphony Silicon Valley, Ballet Silicon Valley, Las Vegas Philharmonic, Reno Philharmonic, San Antonio Symphony, Corpus Christi Symphony, Victoria Symphony, Mid-Texas Symphony, and the Knoxville Symphony. She has worked with artists as diverse as Marvin Stamm, Christopher O'Riley, Elizabeth Pitcairn, Anne-Marie McDermott, David Benoit, actors Martin Sheen and John Cho, and Don Vappie and the Creole Jazz Serenaders.
A sought after chamber musician, she served as principal oboist of the Chamber Orchestra of San Antonio, and has performed with the San Francisco Chamber Orchestra and the contemporary group Nimbus Ensemble. As oboist of the Crosswinds Wind Quintet, she completed a teaching residency at the University of Tennessee-Martin. Her live studio performance with the Sierra Winds aired on KNPR.
Dr. Killmeyer has performed at International Double Reed Society conferences in Birmingham, UK; Provo, Utah; Norman, Oklahoma; Redlands, California; and Tokyo, Japan. An active member of the College Music Society, she has presented recitals and papers at conferences in Knoxville, Tennessee; Missoula, Montana; and Vancouver, British Columbia. Her recent performances include original compositions for solo oboe and her arrangements for amplified oboe and electronics.
Dr. Killmeyer's summer engagements have included the Hot Springs Music Festival, National Music Festival, Mozart Festival Texas, and the Classical Music Festival in Eisenstadt, Austria. Since 2015, she has annually served as one of only two oboists worldwide to perform at the International Fellowship of Conductors, Composers, and Collaborators.
Along with performing, Dr. Killmeyer's research interests include audience engagement and sustainability. She is the creator, artistic director, and oboist of Dada Cabaret, an experimental chamber ensemble blending eclectic contemporary art music with spoken narrative and elements of theatre. In 2016, Dr. Killmeyer received a Community Engagement Seed Grant from the College Music Society to produce Dada Cabaret's Halloween show, which incorporated historical events involving workers' rights protests at the Bemberg rayon factory in Elizabethton, Tennessee.
A passionate advocate for new music, Dr. Killmeyer has participated in numerous commission projects. She received a major grant from the ETSU Research Development Committee to commission a new work by composer Lev "Ljova" Zhurbin for oboe, bluegrass band, and narrator. Appalachian Wind: A Faustian Tale was premiered at the Appalachian Studies Association National Conference in 2015, and she performed the trio version of the work in Tokyo, Japan later that year. Her 2014 faculty recital featured the premiere of Oboe Sonata No. 2 by Bill Douglas. In 2015, she premiered Bill Douglas' Trio for Flute, Oboe, and Piano with Krista Jobson.
Her performance of Eugene Goossens' Oboe Concerto, Op. 45 is published in College Music Symposium.
Heather Killmeyer earned her Doctor of Musical Arts from the University of Southern California, where she studied oboe with Allan Vogel and chamber music with David Weiss and Yehuda Gilad. She completed her Master of Music with Stephen Caplan at the University of Nevada Las Vegas. She earned her Bachelor of Music from the Cincinnati College-Conservatory of Music as a student of Mark Ostoich, and was a recipient of the Marcel Dandois Award. She has had additional studies with Jared Hauser and Brenda Schuman-Post on oboe and Sharon Kuster on bassoon.